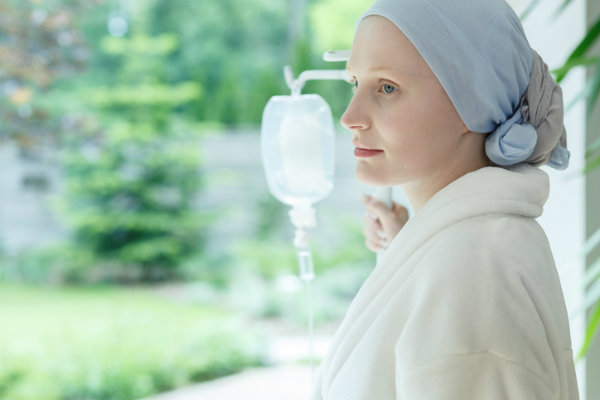 August 30, 2019 | Marilyn McDonald, DHSc
Dr. Marilyn McDonald is a 10-year cancer survivor and an adult gerontology nurse practitioner. She is the program lead for the adult-gerontology nurse practitioner (AGNP) program at Purdue University Global. In this article, she shares her insights on managing chemotherapy side effects, for both oncology nurses and cancer patients alike.
Cancer is a devastating diagnosis. It affects 1 in 3 Americans, and age increases the risk, according to the American Cancer Society. However, the mortality rate from cancer in the U.S. has declined greatly over the past 25 years. Mortality rates are down 27% since 1991.
Advances in chemotherapy have helped that survival rate, but with chemotherapy comes many side effects. Here are some common ways to manage chemotherapy side effects.*
Hair Loss
As patients undergo chemotherapy, one of the first side effects they see is hair loss. That usually occurs within 2 to 3 weeks after the first chemo infusion.
Chemotherapy may cause hair loss from the head and all over the body, for both men and women. Some chemo drugs are more likely than others to cause hair loss. An oncology provider should tell patients if they might expect to see thinning or complete baldness.
Fashion headgear such as wigs, hats, and scarves can help patients cope with hair loss. Wigs.com is a good resource, and the American Cancer Society offers tips on how to wear such headgear.
To Shave or Not to Shave?
Patients often ask whether they should cut their hair short or shave it before their treatment begins. Although not essential, it's often recommended. For those with uneven hair loss, shaving will help to even it out. However, some patients will lose all their hair, so shaving may be unnecessary. For others, shaving may make the transition from long hair to a bald head less abrupt.
If a patient decides to shave, having an experienced barber or hairdresser do it will avoid cutting the scalp.
Fatigue
Fatigue caused by chemotherapy can be debilitating. In addition, pain, depression, inactivity, and insomnia may contribute to the loss of energy.
The National Comprehensive Cancer Network has evidence-based guidelines to manage cancer fatigue. One of the best approaches is to exercise. Although patients may feel too tired to exercise, those who do are less fatigued than those who do not. Here are some low-impact ways to exercise while undergoing cancer treatment:
Take short walks
Use hand weights at home
Stretch to keep limber
Patients should be encouraged to focus on what they can do and not what they can't. Exercise may also help to improve insomnia, anxiety, and depression.
Nausea and Vomiting
Chemo patients will likely be given antiemetics to deal with nausea and vomiting, and as many as three antiemetics might be used. Serotonin receptor blockers are most common, including:
Zofran (ondansetron)
Emend (aprepitant)
Aloxi (palonosetron)
Compazine (prochlorperazine), an antipsychotic, may also be tried.
Some patients have anticipatory nausea and vomiting before the infusion begins. An anti-anxiety medication like Ativan may help. In patients who are already vomiting, a suppository can be used. Nausea and vomiting can happen at any time before, during, or after chemo treatment. According to NCCN, nausea and vomiting might not begin until several days after treatment.
Drug-Free Options
Along with antiemetics, acupressure wristbands might provide some relief and can be found at most pharmacies. These drug-free wristbands are also used for motion sickness and seasickness.
The American Cancer Society recommends avoiding gum and carbonated beverages (including ginger ale) to reduce production of gas. However, sucking on ginger candy or drinking lemon ginger tea may give some relief, according to breastcancer.org. Distraction is another useful technique to try.
Nutrition vs. Anorexia
Good nutrition is key to battling cancer and the effects of chemotherapy. But some patients, to avoid experiencing nausea and vomiting, may avoid eating altogether. This can bring on anorexia.
Patients who are experiencing anorexia might need intravenous fluids to avoid malnutrition and dehydration.
A nutritionist can help patients choose protein-rich foods. Protein supplements and powders can help, and they can be mixed with ice cream if tolerated. On the other hand, bland foods such as white bread and pasta may be intolerable. Sucking on hard candy might help.
Altered Taste
Another complaint from chemo patients is that things taste different. Many patients complain of a metal taste in the mouth that makes it difficult to enjoy food.
Cisplatinium and Vincristine are two drugs used in chemotherapy that are known to cause that metallic taste. MetaQil is a mouth rinse that may alleviate metal taste as well as sour, bitter, and other unpleasant tastes that may occur after chemo.
Mouth Sores
Painful mouth sores (or oral mucositis) after chemotherapy can occur in some patients. Patients should be advised that mouth sores may appear 1 to 2 weeks after their first infusion. The small cuts or ulcers may interfere with eating, which is already a challenge.
If patients can't tolerate adequate fluids or calories, they may need IV fluids to avoid malnutrition and dehydration.
Here are some things patients might do to minimize damage:
Use a soft toothbrush
Avoid tart, salty, or acidic foods
Eat soft, bland, or cool foods such as ice cream
Avoid alcohol-based mouthwash
The American Cancer Society recommends rinsing before and after meals and at bedtime with 1 teaspoon of baking soda mixed with 2 cups of water, or 1 teaspoon of salt and 1 teaspoon of baking soda mixed with 1 quart of water. Viscous lidocaine may also be swished before meals.
Infection
Chemotherapy lowers the white blood cell count, making the patient more susceptible to infection. Patients should report any fever or chills and avoid crowds and people with colds. Depending on the white blood cell count, the patient may need to wear a mask in public.
A drug called Neulasta is given the day after chemo to boost the white blood cells, which helps reduce the risk of infection.
Constipation
Though some patients will have diarrhea after chemotherapy, constipation is more common. Constipation may be severe, and patients will need to learn how to manage it. Fruits, vegetables, and adequate hydration may not be enough.
Laxatives can be used to alleviate symptoms. Miralax is a non-stimulant liquid laxative that works with the water in the body to hydrate, soften, and naturally unblock the gastrointestinal tract. However, some patients are unable to tolerate the liquid when altered taste occurs. Stimulants such as Peri-Colace and Dulcolax tablets may be needed up to twice daily.
Psychological Support
Most patients will require psychological support. Talking to a counselor or psychiatric provider will help the patient deal with many feelings they may have never experienced before.
Patients can also try online support groups, such as those found at Cancercare.org. They can chat online with a survivor who can offer them encouragement, or with other patients going through a similar experience. Some patients might find meaning in writing a diary of their journey and documenting their progress.
Depression and Alternative Therapies
Anxiety and depression can occur in cancer patients, and antidepressants may help. Patients should discuss this with their doctor.
Alternative therapies for depression may offer relief, too. These include:
Meditation apps to help practice mindfulness and deep breathing
Massage to relieve physical and psychological distress (many massage therapists make home visits)
Reiki
Aromatherapy
Music
Art therapy
Biofeedback
This guide to mindfulness features numerous tips and techniques that are relevant for chemo patients interested in the practice.
Often, a cancer center will offer alternative services free of charge. In other cases, a patient can check with their insurance company to see what types of alternatives may be covered.
Some patients will seek solace in religion, prayer, or other spiritual pursuits. A study published in the Journal of Medicine and Life shows that these techniques can be effective and offer a patient hope. Other research published in the Journal of Fundamentals of Mental Health shows that hope improves a patient's resilience and spiritual well-being.
Sleep Problems
Patients may suffer from insomnia, which can add to cancer-related fatigue. Insomnia may be related to certain chemo drugs or steroids, and anxiety and depression may also contribute to insomnia. It may be difficult to pinpoint the specific cause of the patient's insomnia, as it is likely to have many causes.
There are several things patients can do to stave off insomnia:
Try relaxation techniques before going to bed.
Go to bed at the same time every night.
Try warm, soothing baths.
Avoid caffeine and alcohol.
Don't take daytime naps.
Begin a gentle exercise program.
Patients can also talk to their provider about taking over-the-counter sleeping aids such as melatonin or a prescription sleeping pill. However, cancer patients are on a lot of medications already, and any of them can cause side effects. Try alternatives first.
Chemotherapy Is a Challenging Process
This type of cancer treatment comes with multiple side effects, which can be harrowing for the person experiencing them. Knowing how to help patients manage the side effects of chemotherapy will greatly improve their success, offer them hope, and improve their quality of life.

If you're interested in earning your next nursing degree, Purdue Global offers a breadth of online nursing degrees that helps nurses advance their careers while they work. Request more info today.