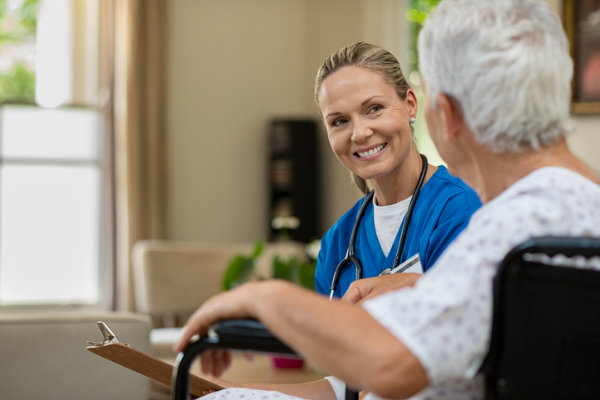 October 7, 2019 | Purdue University Global
|
Updated December 10, 2020
Nursing is the nation's largest health care profession. According to the U.S. Bureau of Labor Statistics, there were more than 3 million RNs in the nation in 2019, and employment of registered nurses is projected to grow faster than the average for all professions from 2019 to 2029.* The American Nurses Association reports that there will be more registered nurse jobs available by 2022 than any other profession.
As COVID-19 causes the health care landscape to shift further and the physician shortage grows steeper, nurses need to know the following trends in nursing for 2021 and beyond.
1. Continued Growth of Telehealth and Privacy Concerns
Use of telehealth services increased dramatically in 2020 due to the pandemic, and with this came security and privacy concerns for all health care providers. It's vital that nurses who provide care via telehealth know the rules of informed consent and HIPAA.
"Every nurse should obtain a patient's consent prior to engaging in telehealth services," says Bonnie Fuller, certified nurse educator, School of Nursing, Purdue University Global. Fuller says, "That consent should include the steps to take in the event of a technology failure during the appointment."
Compliance with HIPAA is always important, but the rapid expansion of telehealth has brought it to the forefront. Nurses must ensure the platform they're using is secure for the communication of sensitive data. The need for privacy and the security of protected health information is a health care trend that we'll see well through 2021.
2. Increased Specialization
"The demand for RNs who specialize in specific areas of medicine—psychiatry, obstetrics, gerontology, etc.—is on the rise," says Fuller.
"Specialization enables the nurse to be an expert in the area in which he or she is providing care," Fuller says. "It also opens the door to opportunities for career advancement."
Specialization, and subsequent certification, provides the patient and the health care institution with assurances that the nurse is highly knowledgeable and competent in a specific area of care. There are many nursing professional organizations that provide certifications in nursing.† Read our list of nursing specialties to learn more.
3. Nurses Moving Into the Community Outpatient Setting
Health care has been increasingly shifting from inpatient to outpatient settings. According to the American Hospital Association's 2019 Hospital Statistics report, outpatient revenue in 2017 was 95% of inpatient revenue, further closing the gap that existed between the two. This shift is in response to the need to control health care costs and the emergence of new and better health care technologies.
"Wellness is what nurses work toward, and wellness begins in the community," Fuller says. "Our goal is to help people get and stay healthy, and this is enhanced when nurses are working in the community, providing preventive and restorative care. Decreasing unnecessary visits and stays in acute care institutions helps decrease health care costs, and nurses are in a prime position to make a great impact."
4. Rise of the Nurse Navigator
Nurse navigators are nurses who use their medical knowledge along with their management and people skills to guide patients through their health care journey. They help patients navigate the health care system and take holistic approaches to improving their overall quality of life.
"The nurse navigator is an expanded nurse case manager role," says Fuller. "The navigator specifically helps the patient with smooth transitions and care. They help patients understand what's happening to them—the tests, the diagnosis, the medicine, all of the care that they need."
This role has gained importance as the population ages and chronic health conditions become more prevalent. Nurse navigators can work for themselves (more on entrepreneurship opportunities below), for an independent nurse company, for an insurance company, or for physician groups and medical facilities.
Nurse navigators can get certified in care coordination and transition by the American Academy of Ambulatory Care Nursing.
5. Expanding Entrepreneurship Opportunities
Entrepreneurship is a trend in nursing that's on the rise.
"There are many opportunities for nurses to set up their own businesses," says Fuller. "Nurse navigators and nurse practitioners, who provide direct services to patients, are two examples. This is particularly important in rural areas that need services. Those areas are ripe for having nurse entrepreneurs go in and set up a business."
There are also entrepreneur opportunities that don't involve direct patient care. "Nurse informatics is an example," says Fuller. "There are also nurse consultants who visit doctors' offices and clinics to consult on electronic health records (EHRs) to help with scheduling and with documentation. And there are nurse entrepreneurs who work as quality management experts for assisted care and long-term care facilities." For nurses who value independence and autonomy, entrepreneurship may be a good fit.
6. Increasing Need for Doctoral Education
The number of nurses enrolling in doctoral education programs is growing, specifically for the Doctor of Nursing Practice (DNP).
"There's a physician shortage in our country, and we need more direct care providers. Nurse practitioners are increasingly earning a doctoral-level education to fill some of that void," Fuller says.
"In addition, the future of nursing includes a mandate to have more doctorally prepared nurses. There's significant support in the industry for that. We will continue to see this nursing trend grow."
7. Furthering Nursing Education Online
As more employers require their nurses to obtain a Bachelor of Science in Nursing, universities have expanded their online course offerings to include an RN-to-BSN degree program. These programs help nurses further their education in a way that works with their busy schedules.
However, the shift to providing online nursing degrees doesn't apply solely to the RN-to-BSN degree. It has expanded to include the online Master of Science in Nursing and the online Doctor of Nursing Practice.
"Many nurses are getting advanced degrees in online programs," says Fuller. "This is a perfect fit for nurses seeking higher levels of education who are in rural areas without a university nearby. Online education makes it accessible for nurses to earn their advanced degrees."
8. Impact of the Looming Nursing Shortage
The U.S. is facing a nursing shortage. According to the American Association of Colleges of Nursing (AACN), that shortage is expected to increase as baby boomers age and the demand for health care services grows.
"Not only will there be a shortage among nursing care providers, but there is also going to be a significant shortage in nurse educators, which is particularly important since nursing educators are needed to support this job growth," says Fuller. "As a result, employers may offer nurses more money, bonuses, and tuition reimbursement." Nurses will continue to see these benefits as employers aim to fill their vacancies.‡
9. Nurses Getting Involved Through Advocacy and Action
As the largest group of health care providers in the nation, nurses have a significant opportunity to express a voice in the future of health care and the health of our nation.
"Our code of ethics states that advocacy is our responsibility," Fuller says. "We should be advocates for our patients, and we should be involved in developing better health care for all members of our society."
Nurses can seek advocacy opportunities through such organizations as the Nurses on Boards Coalition and the AACN.
10. Implementing Self-Care in Nursing
Many nurses experience pain, stress, and trauma firsthand on a daily basis, and that can take a strong physical and emotional toll. It may affect their mental health, job satisfaction, and overall quality of life. This is why awareness and education on self-care for nurses is being prioritized in the field. A nurse who takes better care of themselves can take better care of their patients.
"Many studies tell us that it is more than just money that keeps nurses in the profession," Fuller says. "Employers that promote self-care and healthy work environments are also on the rise, as we battle nurse burnout and compassion fatigue as a result of the type of work nurses do.
"There is a definite correlation between a healthy work environment and nurses being able to provide high-quality, safe care that influences positive patient outcomes. More institutions are recognizing the importance of a healthy environment for all. This can also be contributed to health care institutions seeking to be Magnet Certified by the American Nurses Credentialing Center, or ANCC."
Earn Your Next Nursing Degree Online With Purdue Global
These trends in nursing will continue to influence how the field grows and shapes in 2021 and in the years that follow. If you're interested in expanding your nursing opportunities, consider earning an online nursing degree at Purdue University Global. We provide a world-class nursing education and the flexibility that working nurses need. Purdue Global offers an RN-to-BSN degree, Master of Science in Nursing, postgraduate certificate programs, and a Doctor of Nursing Practice. Learn more about our online nursing degree programs or request more info today.
Your Path to Success Begins Here
---
Learn more about online programs at Purdue Global and download our program guide.
Request Information
Your Path to Success Begins Here
---
Learn more about online programs at Purdue Global and download our program guide.
Request Information