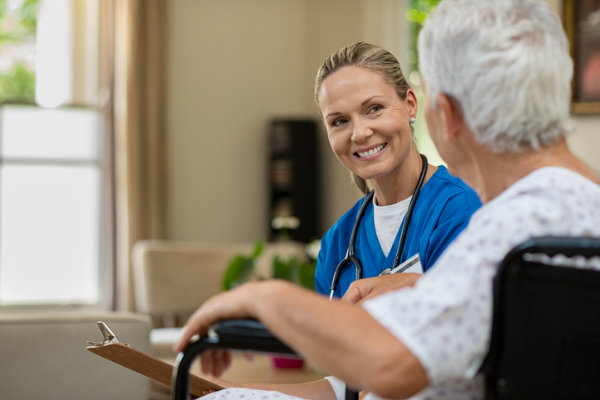 March 15, 2022 | Purdue Global
"The pandemic has reminded all of us how much we all depend on nurses, from our first days to our last, and why all countries must invest in nurses now and for the future."
This poignant quote is from Tedros Adhanom Ghebreyesus, director-general of the World Health Organization. Ghebreyesus was addressing the International Council on Nurses in November 2021, at the International Council of Nurses (ICN) Congress in Geneva. Safe working conditions, self-care, education, and opportunities for leadership are included in the initiatives WHO has committed to for nurses, he said.
These are excellent priorities for the nation's largest health care profession. There are more than 3 million registered nurses in the nation, according to the U.S. Bureau of Labor Statistics. As the physician shortage grows steeper and COVID-19 continues to cause shifts in the health care landscape, it's important for nurses to know the top nursing trends for 2022 and beyond.
1. Looming Nursing Shortage
The statistics point to a national nursing shortage:
More RN jobs are expected to be available by 2022 than in any other profession, according to the American Nurses Association.*
While the BLS projects 9% job growth for registered nurses from 2020 through 2030, that is not enough to make up for the expected loss of nurses in the profession (mostly due to retirement). On average, about 194,500 registered nurse job openings are expected annually between 2020 and 2030, according to the BLS.†
The nursing workforce is aging out. The 2020 National Workforce Survey showed that the median age of the registered nursing workforce was 52. Nurses 65 and older make up 19% of the workforce, and 20% of the workforce plans to retire within the next 5 years.
A shortfall of nurse educators contributes to this trend. Student enrollment in nursing programs increased in 2020, but more than 10,000 qualified applicants were turned away due to nursing faculty shortages, according to a 2021 American Association of Colleges of Nursing report. A shortage of clinical sites and financial constraints compound the problem.
The 2020 Faculty Vacancy Shortage Survey conducted by the American Association of of Colleges of Nursing (AACN) cites the national vacancy rate of nursing faculty at 6.5%. A main reason for this shortage is an inability to attract qualified candidates due to marketplace competition; a practicing nurse often stands to make more than an educator in the field, the report states.
2. Telehealth and Technology in Health Care
The need for privacy and the security of protected health information is a health care trend that is not going away. Nurses must ensure the platform they're using is secure for communicating sensitive data.
Use of telehealth services experienced dramatic increases in 2020 due to the pandemic. The increase in telehealth visits raised security and privacy concerns for all health care providers. It's important that nurses providing telehealth care stay updated on the rules of informed consent and HIPAA compliance.
The Health Insurance Portability and Accountability Act (HIPAA) rules and regulations were revised in 2020 to accommodate the pandemic's impact.
"Every nurse should obtain a patient's consent prior to engaging in telehealth services," says Bonnie Fuller, certified nurse educator, School of Nursing, Purdue Global. "That consent should include the steps to take in the event of a technology failure during the appointment."
>> Read More: Telemedicine, Nursing, and the Future of Health Care
3. Essential Need for Self-Care in Nursing
Many nurses experience stress and trauma on a daily basis, and these pressures can affect their mental health, job satisfaction, and overall quality of life. Awareness and education on self-care for nurses has become a priority in the field. Those who know how to handle stress can better help patients.
"Many studies tell us that it is more than money that keeps nurses in the profession," says Fuller. "Employers who promote self-care and healthy work environments are also on the rise as we battle nurse burnout and compassion fatigue."
Fuller says there is a correlation between a healthy work environment and nurses who are equipped to provide optimum care that promotes positive patient outcomes.
More institutions are recognizing the importance of health equity for all, including health care workers, according to a 2021 National Academies of Sciences, Engineering and Medicine (NASEM) study. This recognition can partially be attributed to health care institutions wanting to be Magnet® recognized by the American Nurses Credentialing Center (ANCC), Fuller adds.
4. Nursing Advocacy and Action
As the largest group of health care workers in the U.S., nurses have a significant opportunity to have a voice in the future of health care and the health of our nation, according to the same NASEM study.
The study supports the growing role of the nurse advocate to address the health equity gap and the social determinants of health. Social determinants of health are conditions and situations that can affect people's lives in several consequential ways, the U.S. Department of Health and Human Services reports.
"Our code of ethics states that advocacy is our responsibility," says Fuller. "We should be advocates for our patients, and we should be involved in developing better health care for all members of our society."
Nurses can seek advocacy opportunities through such organizations as the Nurses on Boards Coalition and the AACN, she says.
5. Evolution of the Workplace
Although the pandemic highlighted the work nurses perform in acute care settings, workplace opportunities for nurses are evolving, too. There are several non-hospital careers for nurses.
Travel nursing continues to grow in popularity. It enables nurses to move between regions with the greatest health care needs and gain financial rewards. Becoming a travel nurse allows early-career nurses to explore nursing opportunities and seasoned nurses to lend their expertise in crises. School nurses are in demand as well.
6. Expanding Distance Education
The pandemic necessitated the use of distance education while highlighting its learning value and benefits. Particularly, students living in rural locations far from college campuses have benefitted from online education.
"Purdue Global moved to implement immersive learning experiences across the School of Nursing and was already using [virtual reality] in our nursing programs before the pandemic," said Michele McMahon, DNP, in an interview for an article on the future of virtual reality in nursing education.
McMahon is the associate dean of graduate nursing and the national senior manager of simulation for Purdue Global. "The pandemic catapulted us a bit faster into that space and helped our vision come to fruition," she says.
7. Interprofessional Partnerships
Interprofessional collaboration, a nursing trend over the last 20 years, is evolving into interprofessional partnerships. The public is demanding more convenient care, and traditional professional boundaries are changing to meet customer demand.
A study published in the Journal of Professional Nursing in October 2021 showed that nursing and pre-med honors students who received interprofessional education reported being more self- and situationally aware and valuing teamwork.
Professionals are sharing information and skills with a teamwork focus. An example of this is pharmacies evolving into community care providers through convenient diagnosing and treating.
8. Entrepreneurship and Intrapreneurship Opportunities
For nurses who value independence and autonomy, entrepreneurship can be a good fit. Technology and rapidly changing health care dynamics are increasing opportunities for entrepreneurs and intrapreneurs in nursing.
Consolidation of health care allows nurses to move within an organization. Such "intrapreneurs" lend their experience and knowledge to benefit organizations and patients.
"There are many opportunities for nurses to set up their own businesses," says Fuller, citing nurse navigators and nurse practitioners who provide direct patient services as examples.
"This is particularly important in rural areas that need services. Those areas are ripe for having nurse entrepreneurs go in and set up a business," Fuller says.
There are also non-direct patient care entrepreneur opportunities. These include nurse informatics, nurse consultants, and nurses who work as quality management consultants for assisted and long-term care facilities, she says.
9. Need for Nurse Navigators
Nurse navigators use their medical knowledge, as well as management and people skills, to help patients make their way through the health care system. As the population ages and chronic health conditions become more prevalent, this role is gaining in importance. Nurse navigators adopt a holistic approach in improving patients' overall quality of life.
"The nurse navigator is an expanded nurse case manager role," says Fuller. "The navigator specifically helps the patient with smooth transitions and care. They help patients understand what's happening to them—the tests, the diagnosis, the medicine—all of the care they need."
Nurse navigators can be self-employed with an independent nursing or insurance company, physician group, or medical facility.
10. Increased Specialization
There is increasing demand for RNs who specialize in specific areas of medicine such as psychiatry, obstetrics, gerontology, and others, Fuller says. "Specialization enables the nurse to be an expert in the area in which they are providing care. It can also open the door to opportunities for career advancement."
>> Read More: How to Choose a Nursing Specialty
Certification assures the patient and the health care institution that a nurse is knowledgeable and competent in a specific area of care. Nurse.org provides a list of common nursing certifications.‡
Earn Your Next Nursing Degree Online With Purdue Global
These top nursing trends for 2022 will influence how the field evolves. If you want to expand your nursing opportunities, consider earning an online nursing degree with Purdue Global.
You'll receive a world-class nursing education and the flexibility that working nurses need. Purdue Global offers an RN-to-BSN degree, Master of Science in Nursing, postgraduate certificate programs, and a Doctor of Nursing Practice. Learn more about Purdue Global's online nursing degree programs and request more information today.
---
Your Path to Success Begins Here
Learn more about online programs at Purdue Global and download our program guide.
Request Information