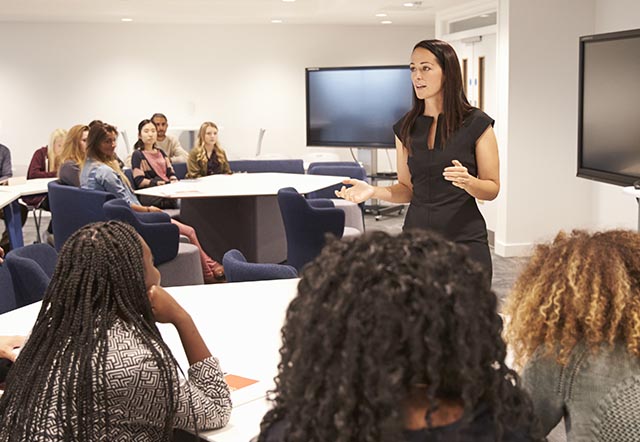 Master of Science in Education
Today's P-12 classrooms come in all shapes and sizes, accommodating students in public and private schools, vocational programs, and even home schooling environments. At Purdue Global, we understand the value of nurturing students in unique teaching and learning environments. Our own virtual classrooms focus on adding a human touch to the high technology of learning online, allowing you to earn a Master of Science in Education entirely on your own schedule from anywhere you have access to the Internet. If you are already teaching and want to enhance your knowledge and advance your career, Purdue Global offers a convenient, flexible solution for earning your master's degree online.*
At this time, residents of Kentucky may not enroll in the online Master of Science in Education program.

Master of Science in Education Program Highlights
Our Master of Science in Education curriculum is designed for P-12 teachers in which you will have the power to influence, motivate, and empower future generations.
The program is an advanced teacher preparation program created for trained teachers—with a consistent group of learners —who want to improve their teaching skills, increase their professional marketability, and pursue career advancement in areas such as teacher leadership, professional development, or mentoring.
Professional instructors will guide you every step of the way as you:
Apply action research and other assessment theories and strategies to evaluate and improve your teaching practice and enhance student performance in the classroom
Explore the reflective decision-maker model and develop competencies required for effective teaching, including various approaches to classroom management and discipline
Focus on designing curricula for K-12 education in accordance with local and national standards
Complete a capstone course in which you will implement the methodologies learned in your online coursework, collect and analyze data, and write an action research report focused on improving student learning
Expand to Learn More
You Could Save Time and Money
Applicants who received National Board Certified Teacher (NBCT) status through the National Board for Professional Teaching Standards (NBPTS) prior to enrollment may receive transfer credit for the following courses: ED 502 Transforming Teaching Practice, ED 532 Curriculum Design, and ED 562 Student Assessment.
In order to receive credit, candidates should request a letter of verification from the National Board for Professional Teaching Standards (NBPTS) by accessing their web form at https://pearsonsacommunity.secure.force.com/nbptsform/sanbptswebform?nbptsid=customersupport and attaching the Articulation Partner Record Request form to their request. NBPTS should send the verification and completed APR to the Office of the Registrar by the end of the first term. Transcripts received by the Prior Learning Assessment Center after the end of the first term may be denied eligibility for an official transfer credit evaluation.
Expand to Learn More
Master of Science in Education Concentrations
Developing expertise in a particular subject is essential, especially for middle and high school teachers who must exhibit a high level of proficiency in the subject area they teach. Purdue Global's Master of Science in Education program offers three concentrations to help you achieve the academic competencies required in a specific area of teaching.
Teaching Literacy and Language: Focus on developing curricula at the elementary and secondary levels in accordance with the National Council of Teachers of English standards. Develop skills for teaching basic reading and writing skills to elementary, middle, and high school students. Explore ways to help students overcome comprehension difficulties and how to develop courses for students with special learning challenges.
Teaching Students with Special Needs: Special education is an area of teaching in great need of qualified and caring instructors who understand the challenges faced by students with learning disabilities, behavior disorders, and physical handicaps. Examine best practices and methods for adapting curricula to accommodate children with special needs. Focus on interventions, transition planning, and complying with federal, state, and local requirements.
Educational Leadership: Study how to improve the school environment for students, teachers, and the community; enhance student learning; and follow nationally recognized standards developed by the Interstate School Leaders Licensure Consortium (ISLLC) and the NCATE/Educational Leadership Constituent Council (ELCC). Examine best practices for educational leadership in the areas of school finance and operations, legal issues in education, curriculum development for school improvement, and supervision and staff development. In addition, focus on the special needs, diversity, and cultural concerns that face site-based administrators.
Expand to Learn More
Licensure Information
Master of Science in Education degree candidates must be current or former prekindergarten through 12th grade teachers and are expected, but not required, to hold a valid state teaching license. Candidates should also have a consistent group of learner in which they could apply theory to practice. The Master of Science in Education does not lead to initial teacher certification or teaching endorsements.
Applicants should contact their school district to ensure that a Purdue Global Master of Science in Education degree will satisfy specific state or district requirements for an increase in pay, renewal of a current license, or recertification of an expired license.
Expand to Learn More
Academic Alliances to Expand Your Teaching Opportunities
The College of Social and Behavioral Sciences is pleased to announce a partnership with Promise Opens Doors, an organization that offers an online certificate program for educators interested in working abroad and helping others learn English. Purdue Global graduates and current students can choose to enroll in Promise Opens Doors' Teaching English to Speakers of Other Languages (TESOL) Core Certificate Program (TCCP), a 4- to 6-month program that includes an online practicum with a real-time classroom in Asia. The certificate is recognized in certain states as fulfilling part of the certification requirements to teach English as a Foreign Language to students in the U.S. Note: this program is not included in the cost of Purdue Global tuition.
In addition, our alliance provides Promise Opens Doors students, alumni, and employees and their immediate family members with a tuition reduction on School of Education programs. Speak to an advisor to learn more.
Tuition reduction may not be combined with Purdue Global scholarships, grants, military tuition reductions, tuition vouchers, or other discounts or Tuition Cap or ExcelTrackTM pricing. Eligible family members include spouses, domestic partners, parents, siblings, and children.
Expand to Learn More
Higher Education at the Highest Standards
Purdue University Global is accredited by The Higher Learning Commission (HLC) and committed to the highest standards. Our specific programs hold additional industry-relevant approvals and accreditations.
What are the Career Opportunities?
The program is designed to help you improve your teaching skills and increase your professional marketability. Graduates may pursue career advancement in areas such as†:
Teacher leadership
Professional development
Curriculum development
Mentoring
Upon successful completion of the program, you may have acquired the knowledge and credentials required to pursue further doctorate-level studies.‡
Request Info
What Courses Will I Take?
Through sustained learning, job-embedded activities, collegial discussions, and engaging follow-up, you will acquire knowledge and practical teaching skills that can have a positive impact on student achievement. Courses include:
Transforming Teaching Practice
Action Research
Classroom Management
Curriculum Design
Educational Leadership
Student Assessment
See All Education Courses
Can I Afford This?
Here are some of the ways we can help lower the cost of your tuition and help you graduate sooner.
Tuition and Fees
Tuition Rates
Select Your Options
Desired Track
Standard Track
Leadership Track
Enrollment Location:
Online, Rockville, Indiana, Missouri, Wisconsin
Maine
Hagerstown
Iowa, Nebraska
Tuition Discount Options:
Select One
Active-Duty Military
Military Veteran
Military Spouse
International
Indiana Residents
Alumni
Online, Rockville, Indiana, Missouri, Wisconsin
$420.00
cost per credit
---
number of credits
Tuition does not include University fees and associated program fees. View tuition and fee information or contact an Admissions Advisor for more information.
Indiana resident military veterans: tuition for online undergraduate degree and certificate programs is $220.00 per quarter credit hour.
Gainful Employment Disclosures
Access gainful employment information, including program length, tuition costs, financing options, and success rates.§
Leadership Track
View Disclosures
Helpful Information
Whether you are on your way up the corporate ladder or just getting started, our degree programs and certificates could help you prepare to take your career to a higher level.
View Brochures
NOTES AND CONDITIONS
*This program is not state approved for teacher certification or endorsements of any kind. Purdue Global makes no representations or warranties as to whether the degree or any individual courses meet the requirements for any specific state or school system for pay increase or job advancement purposes, or licensure or certification. Refer to the University Catalog for additional information.
†Purdue Global cannot guarantee employment or career advancement.
‡The University cannot guarantee that students will be granted admission to any future programs.
§Purdue University acquired Kaplan University in March 2018 and created Purdue University Global, which is following the same curriculum format and instructional delivery methods as developed and used by Kaplan University. These disclosures are based on Kaplan University data reported prior to the acquisition.