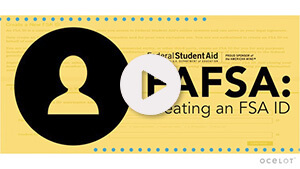 Your U.S. Department of Education Federal Student Aid Identification (FSA ID) account will be used as your electronic signature. It allows you to electronically sign your FAFSA, check its status online, and access your account information. Getting your FSA ID is the first necessary step in the financial aid process.

To obtain your FSA ID, go to the "Create an Account (FSA ID)" section of the Federal Student Aid website. Simply complete the application and submit it. You can choose to instantly view your FSA ID online, receive an email with your FSA ID information, or have your FSA ID information sent by mail within 7 to 10 days. Once you receive it, use it to sign your application and keep it in a secure place. Only you can create your FSA ID using your personal information. Do not share your FSA ID with anyone.
Financial Aid for Non-U.S. Citizens
Aid From Your Home Country
Contact the cultural section of your country's embassy or ministry of education to inquire about financial aid options and their requirements.
Aid From the U.S. Government
The majority of U.S. government financial assistance is not available to international students. The U.S. government does provide aid to students from specific countries—you can get more information from your embassy or the U.S. State Department.