Online Master of Science Degree in Finance
Program at a Glance
Services provided by financial managers, such as planning, directing, and coordinating investments, are expected to remain in demand as the economy grows.*
Gain the advanced technical knowledge needed to make decisions based on the analysis of financial information.
Focus your degree plan by choosing from three concentration areas: financial analysis, financial planning, or treasury management.
Graduates may be eligible to sit CFA® or CFP® exams, depending on their concentration.
Upcoming Start Dates
We offer multiple start dates to give you flexibility in your education, life, and work schedules.
Course Effort
20 Hours per Week
Course Length
6-Week Sessions
Average Completion
2 years
Of Full-Time Study
Graduate Faster. Save on Tuition.
See how fast you can complete your degree.
Master of Science in Finance Overview
The world of finance is constantly evolving. To pursue senior and leadership positions, you must have advanced credentials, skills, and knowledge. Our online master's in finance is designed to help you excel in all areas of this increasingly complex and diversified field. If you already have a bachelor's degree and want to advance your career, our master's program can prepare you with the strategic skills and business expertise you'll need to compete.
Purdue Global's online master's degree in finance program provides comprehensive training—including assignments, reports, presentations, and group projects—to prepare you with the knowledge and skills to find solutions to real-life financial situations. You will study how to:
Use financial and other information to make and justify business decisions.
Identify financial risk and create a plan to minimize exposure.
Apply financial theory to facilitate overall guidance of an organization and improve day-to-day processes such as the interpretation of financial data.
Comply with laws, regulations, and financial principles while developing and living by a personal code of ethics.
Compose and report clear and accurate financial information to stakeholders.
Master's in Finance Degree Concentrations
Concentrations are built into the program requirements to help you develop proficiencies that can apply to your future profession. Choose from three concentrations:
Financial analysis: Gain the skills relevant to portfolio management and investment analysis.
Financial planning: Develop financial plans, evaluating the appropriate principles, concepts, and frameworks for financial decision making.
Treasury management: Learn to forecast and manage an enterprise's holdings, using customized solutions to simplify financial operations and strengthen the bottom line.
See the University Catalog for policy and degree plan information specific to this program.
Applicants with an MBA can enroll in the program without a Peregrine assessment or an undergraduate degree in business.
Prepare for CFA® or CFP® Certification
Graduates who choose the financial analyst concentration may be eligible to sit for the Chartered Financial Analyst® (CFA) exam.†
The Master of Science in Finance with a concentration in financial planning is a CFP Board-Registered Program and meets the specific criteria for educating individuals who wish to fulfill the education component for obtaining CFP certification.‡
Purdue Global Is Accredited by the Higher Learning Commission
The HLC (HLCommission.org) is an institutional accreditation agency recognized by the U.S. Department of Education.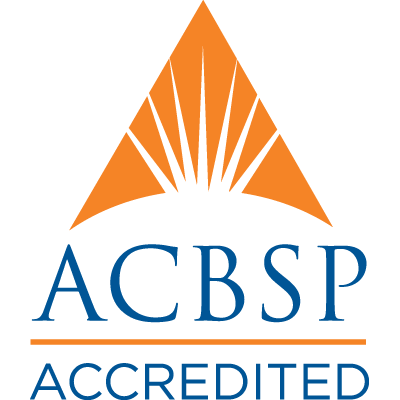 Purdue Global's business programs are accredited by the Accreditation Council for Business Schools and Programs (ACBSP).
Admissions Requirements
To enroll in the Master of Science in Finance, you must possess a bachelor's degree in the field of business from an accredited college or university or 45 credits of undergraduate coursework across the ACBSP's Common Professional Components (CPC) and foundational coursework in finance. Refer to the University Catalog or speak to an Advisor to learn more.
Program Cost Estimator
Calculate your estimated tuition and ways to save
What Courses Will I Take?
Courses help increase your understanding of the factors that influence high-level decision making and provide you with opportunities to develop and implement your critical thinking skills to solve complex financial problems.
The Master of Science in Finance curriculum is reviewed and revised continually by our dedicated curriculum department and advisory board to ensure it reflects the most recent developments in the field of business.
See All Finance Courses
Sample Courses
Financial Planning

Corporate Finance

Banking

Financial Markets

Investment Management
Core Credits

40

Elective Credits

16

Total Credits

56
Choosing a Master's Degree in Finance
Learn how to advance your credentials with a graduate degree in finance. See industry projections for this growing, in-demand field.
These growing fields lead to a variety of in-demand career options. Learn the differences between the two and find which suits you best.
Visualize the road to success in your career. Learn what roles you may be qualified for in the finance field.
Career Opportunities
Earning your online master's degree in finance at Purdue Global can help you develop valuable skills that could be applied to a broad range of financial positions in a variety of work environments including financial companies, insurance companies, security dealers, banks and credit unions, and government.§
Top 5 Skills Employers Are Looking for:
Active Listening
Critical Thinking
Judgement and Decision Making
Speaking
Mathematics
Top Jobs With This Degree
Labor market, salary, and projected growth information are supplied by Emsi. Average salary range is based on national data. Projected growth represents the estimated change in total employment over the projections period (2018–2030) at the state level and is based on your geographic location. Actual outcomes vary by geographic area, previous work experience, and opportunities for employment. Purdue Global cannot guarantee employment placement, salary level, or career advancement.
Get to Know Our Faculty
Purdue Global faculty members are real-world practitioners who bring knowledge gained through the powerful combination of higher learning and industry experience.
View Business Faculty Directory

98%
Faculty members who have advanced degrees

51%
Faculty members who hold a doctorate

395
Faculty publications in 2021–2022

More Than 38,000
Professional development hours logged by faculty in 2021–2022
Statistics include all Purdue Global faculty members and are not school or program-specific calculations. Source: Purdue Global Office of Reporting and Analysis, July 2022. 2021–2022 academic year.
Take a Career Assessment
Discover your work interests, and use them to chart your ideal career path.
Program Brochure
Download our brochure to learn more about the Master of Science in Finance program and the benefits of earning your degree at Purdue Global.
NOTES AND CONDITIONS
*Source: U.S. Department of Labor, Bureau of Labor Statistics, Occupational Outlook Handbook, Financial Managers, on the Internet at www.bls.gov/ooh/Management/Financial-managers.htm. National long-term projections may not reflect local and/or short-term economic or job conditions, and do not guarantee actual job growth.
†Certification Exams: Students are responsible for understanding the requirements of optional certification exams. The University cannot guarantee students will be eligible to sit for or pass exams. In some cases, work experience, additional coursework beyond the Purdue Global program, fieldwork, and/or background checks may be necessary to be eligible to take or to successfully pass the exams.
‡ CFP® Certification: Certified Financial Planner Board of Standards Inc. owns the certification marks CFP®, Certified Financial Planner™ and federally registered CFP (with flame design) in the U.S. Purdue Global does not certify individuals to use these marks. CFP certification is granted solely by Certified Financial Planner Board of Standards Inc. to individuals who, in addition to completing an educational requirement, have met its ethics, experience, and examination requirements.
§Employment and Career Advancement: Purdue Global does not guarantee employment placement or career advancement. Actual outcomes vary by geographic area, previous work experience, and opportunities for employment. Prior experience may be required for leadership roles. Certain finance positions may require further certification and/or licensing by individual states. Programs were not designed to meet any specific state's requirements for licensure or certification, and Purdue Global makes no representations or warranties as to whether the degree or any individual courses meet such requirements. Refer to Purdue Global's State Licensure and Certifications page for state-specific information on licensure and state authorizations.