Welcome to the Graduation Center. Here you will find details and information for upcoming commencement ceremonies.
Below is a list of upcoming ceremonies. Students may attend any ceremony that takes place after their final term ends. Ceremonies are open to all Purdue Global and Concord Law School graduates. Additional dates will be added when available.
Download the Graduation Eligibility Calendar to determine which ceremony you will be able to attend. Note: graduates who completed their degree more than a year prior to a ceremony should reach out to graduation@purdueglobal.edu for permission to attend.


2019 Graduation Schedule
August 10, 2019—Washington, D.C.
Registration for this ceremony has ended. Registered attendees can visit the East Coast Ceremony page to view more details and the ceremony schedule.


2020 Graduation Schedule
February 27, 2020—Los Angeles, CA
Guest limit: 3 guests per graduate. More details and registration for this ceremony will be available in late October.
Indianapolis, IN—TBD

Washington, D.C.—TBD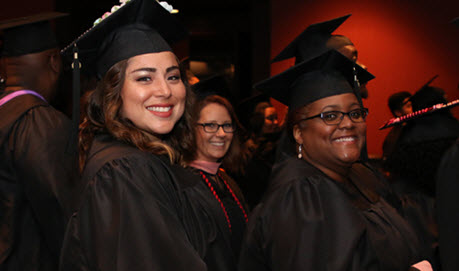 General Ceremony Information
Participation and Eligibility
Graduates may attend any ceremony that is held after their final term ends, provided they register by the registration deadline posted for their chosen ceremony. All candidates attending the graduation ceremony who registered by the deadline will be listed in the program booklet.
Graduate Check-In
Some venues require graduates to check in order to pick up their ceremony reader card. All graduates walking in the ceremony are required to have a reader card to cross the stage. If check-in is not required, reader cards will be mailed to graduates. See the schedule for your chosen ceremony for check-in information.
Graduation Ceremony Guide
A Graduation Ceremony Guide, which includes important ceremony details, will be mailed to registered graduates approximately 2 to 3 weeks before the ceremony.
Guests at Graduation
The guest limit varies with each ceremony, as it is determined by the number of seats in the theatre as well as the number of graduates expected to attend. The guest limit will be posted with other details for your chosen ceremony.
Attire—Caps and Gowns
Graduates are responsible for ordering their caps and gowns. Online ordering begins approximately 4 months prior to the ceremony date and ends 7 weeks prior to the ceremony date. Orders placed after 7 weeks are not guaranteed and may be subject to late and rush shipping fees. The ordering link will be available with the ceremony details. See the Cap and Gownpage for guidelines. Caps and gowns will not be available at the ceremony venue.
Academic Honors
Associate's- and bachelor's-level graduates who complete their degrees with cumulative grade point averages (GPAs) of 3.70 or higher will achieve academic honors status. Certificate- and master's-level graduates are not eligible for academic honors. Academic honors statuses will be noted on diplomas and transcripts.
The academic honors statuses are as follows:
Cumulative GPA of 3.70–3.79 Cum Laude
Cumulative GPA of 3.80–3.99 Magna Cum Laude
Cumulative GPA of 4.0 Summa Cum Laude
Associate's- and bachelor's-level graduates attending the ceremony with final GPAs that qualify for academic honors will receive a cord at Graduate Check-In to wear at the ceremony. Because the honor cords are part of the academic regalia, only those in attendance who qualify for honors will receive these items at the ceremony.
Eligibility for academic honors is verified by the Office of the Registrar. For questions regarding your GPA and academic honor eligibility, please contact the Office of the Registrar at rsupport@purdueglobal.edu or call 866.522.7747 (Toll Free).
Honor Society Honors
Graduates who are members of an honor society may wear their honor society regalia (cords, stoles, pins, etc.) at the ceremony. Members should contact their society's chapter representative or visit the respective society's website to order regalia items.
Note: Graduates must be existing honor society members prior to their final term.
Cancellation Policy
Ceremony cancellations must be received in writing at graduation@purdueglobal.edu no later than 5 weeks prior to the ceremony. An email will be sent by the Graduation Department within 5 business days of submission to confirm the cancellation has been processed.
Cancellations received after the deadline will result in a nonrefundable fee of $125 charged to the graduating student's account. Please note: The cancellation fee also applies to graduates who are confirmed for the event but do not attend. All student accounts must have a zero balance before diplomas are released.
Graduation Ceremony Expenses
Purdue Global does not charge a fee to attend a graduation ceremony for students or their guests. However, students are responsible for all expenses incurred for travel to and from the ceremony, including finding and securing their own hotel rooms.