Online Bachelor of Science Degree in Cybersecurity
Program at a Glance
According to a 2022 report, there are a total of 755,743 open cybersecurity jobs in the U.S.*
Develop foundational knowledge to prepare for industry certifications.
Gain additional real-world experience through an optional internship at the end of your undergraduate program.
Shorten your path to a graduate degree with the accelerated bachelor's to master's option.
Choose from ten cybersecurity concentrations:
Course Effort
15–18 Hours per Week
Course Length
10-Week Terms
Average Completion
4 years
Of Full-Time Study
Credits Required
180
(120 Semester Credits)
Graduate Faster. Save on Tuition.
See how fast you can complete your degree.
Purdue Global Career Outcomes 2020–2021
Each year, our Center for Career Advancement sends a NACE First Destination survey to our graduating class to learn more about their career choices and potential income within 18 months of graduation. We're proud of our recent Purdue Global alumni accomplishments.
Graduates in Purdue Global's Bachelor of Science in Cybersecurity program were employed or continued their education within 18 months of graduation.
Bachelor of Science in Cybersecurity Overview
Many organizations are now identifying cyberattacks themselves, rather than relying on the services of external sources. Our online cybersecurity bachelor's degree helps you develop the skills and knowledge to protect companies from a wide range of cyberthreats.
This online cybersecurity degree provides rigorous training to help you master the fundamentals of cybersecurity, recognize best practices, and identify IT security threats and products.
Coursework in this program is focused on preparing you to:
Analyze a complex computing problem to apply principles of computing and other relevant disciplines to identify solutions.
Design, implement, and evaluate a computing-based solution to meet a given set of computing requirements in the context of the program's discipline.
Communicate effectively in a variety of professional contexts.
Recognize professional responsibilities and make informed judgments in computing practice based on legal and ethical principles.
Function effectively as a member or leader of a team engaged in activities appropriate to the program's discipline.
Apply security principles and practices to maintain operations in the presence of risks and threats.
Course Outcomes
Students are assessed each term on their mastery of the course outcomes, which measure the skills, knowledge, abilities, and behaviors employers expect. View a summary of these assessments and access recent enrollment and graduation rate data.
See the University Catalog for policy and degree plan information specific to this program.
Purdue Global Is Accredited by the Higher Learning Commission
The HLC (HLCommission.org) is an institutional accreditation agency recognized by the U.S. Department of Education.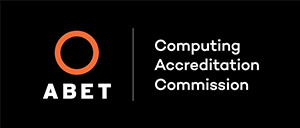 Purdue Global's School of Business and Information Technology has received programmatic accreditation for the following programs:
With ABET accreditation, students, employers, and all those served by the University can be confident that a program meets the quality standards that produce graduates prepared to enter a global workforce.
National Center of Academic Excellence

Purdue Global has been designated by the National Security Agency (NSA) and Department of Homeland Security as a National Center of Academic Excellence in Cyber Defense Education (CAE-CD) for the Bachelor of Science in Cybersecurity.
Visit the Purdue Global Cybersecurity Center
Admissions Requirements
You must be a high school graduate or possess a General Educational Development (GED) certificate or other equivalency diploma. You are also encouraged to complete orientation before you start classes. Refer to the University Catalog or speak to an Advisor to learn more.
Accelerated Master's Degree Option
Earning a minimum course grade in select bachelor's degree courses can gain you entry into a shortened version of Purdue Global's master's degree in information technology or cybersecurity management
Complete both your bachelor's degree and master's degree in less time and at a lower cost than completing both programs separately. For details and eligibility requirements, speak to an Advisor.
Accelerate Your Career With ExcelTrack®
Forget what you know about earning a degree. ExcelTrack® is personalized learning that gives you more control over your education, getting you to the same degree faster and for less money.
Program Cost Estimator
Calculate your estimated tuition and ways to save.
Take the Next Step in Your Education and Career
Prepare to Sit for Industry Certifications
The bachelor's degree program provides you with the depth and breadth of materials to pursue many of the critical certifications recognized by the information assurance community and for Department of Defense (DoD) personnel, as mandated by DoD Directive 8570.1.†
Earn Credit for Prior Certifications
If you've already completed certification exams, you may be eligible for credit toward your degree. Learn more about eligible IT certification exams.
Military Transfer Credit
Servicemembers and veterans can earn a degree faster with our PME2Degree® program. Use our Military Transfer Credit Estimator to see how much of your training counts as credit.
How Many Credits Have You Earned?
What Courses Will I Take?
Courses focus on the fundamentals of cybersecurity and applying industry-accepted and emerging practices to solve real-world security problems.
All courses are updated regularly by our dedicated curriculum department and advisory board to ensure they reflect the most recent developments in the field.
See All Cybersecurity Courses
Sample Courses
Ethical Hacking

Network Security

Python Programming

Digital Forensics

Intrusion Detection and Response
Core Credits

45

Major Credits

85

Elective Credits

50

Total Credits

180
Cybersecurity Concentrations
Concentrations in cybersecurity allow you to focus on an area of study that best fits your career path.
Why Choose a Bachelor's in Cybersecurity
Cybersecurity professionals are in demand. See how an online cybersecurity degree can get you started.
Cybersecurity professionals make a difference by protecting assets online. Explore recent trends and see where your online cybersecurity degree can take you.
Explore the growing demand for cybersecurity professionals and the industry trends that drive such demand in this infographic.
See the many job opportunities available to you when you have earned a degree in cybersecurity.
Career Opportunities
According to the Bureau of Labor Statistics, information security analyst is among the top 10 fastest growing occupations from 2021 to 2031 and is projected to grow 35% in the same time, much faster than the average for all occupations.‡ Develop the knowledge and job skills to meet industry demands with an online cybersecurity degree.
Top 5 Skills Employers Are Looking for:
Critical Thinking
Active Listening
Judgment and Decision Making
Complex Problem Solving
Systems Analysis
Top Jobs With This Degree
Labor market, salary, and projected growth information are supplied by Emsi. Average salary range is based on national data. Projected growth represents the estimated change in total employment over the projections period (2018–2030) at the state level and is based on your geographic location. Actual outcomes vary by geographic area, previous work experience, and opportunities for employment. Purdue Global cannot guarantee employment placement, salary level, or career advancement.
Get to Know Our Faculty
Purdue Global faculty members are real-world practitioners who bring knowledge gained through the powerful combination of higher learning and industry experience.
View Information Technology Faculty Directory

100%
IT faculty members who have advanced degrees

36%
IT faculty members who hold a doctorate

395
Faculty publications in 2021–2022

More Than 38,000
Professional development hours logged by faculty in 2021–2022
Advanced and Doctoral Degrees: Statistics include all Purdue Global IT faculty members. Source: Purdue Global Office of Reporting and Analysis, May 2022.
Publications and Development Hours: Statistics include all Purdue Global faculty members and are not school- or program-specific calculations. Source: Purdue Global Office of Reporting and Analysis, July 2022. 2021–2022 academic year.
Take 3 Weeks to Get to Know Us
Not sure if Purdue Global is right for you? Experience a Purdue Global undergraduate program for an introductory 3-week period.
There's no financial obligation and no cost to apply.
That's the Purdue Global Commitment.
Program Brochure
Download our brochure to learn more about the online Bachelor of Science in Cybersecurity and the benefits of earning your degree at Purdue Global.
Prepare yourself for success with a bachelor's degree in cybersecurity.
NOTES AND CONDITIONS
†Certification Exams: Students are responsible for understanding the requirements of optional certification exams. The University cannot guarantee students will be eligible to sit for or pass exams. In some cases, work experience, additional coursework beyond the Purdue Global program, fieldwork, and/or background checks may be necessary to be eligible to take or to successfully pass the exams.