Online Master's Degree in Business Administration
Program at a Glance
Employment of management positions is projected to grow faster from 2020 to 2030, resulting in more than 906,000 new jobs.*
Customize your MBA by choosing from 7 optional concentrations.
Gain relevant, practical skills, and immediately apply the concepts you learn in the classroom to challenges in the business world.
We are part of the Purdue University system, which includes Purdue University, one of the most respected research universities in the world.
Upcoming Start Dates
We offer multiple start dates to give you flexibility in your education, life, and work schedules.
Course Effort
20 Hours per Week
Course Length
6-Week Sessions
Average Completion
2.5 years
Of Full-Time Study
Credits Required
60–76
(40-51 Semester Credits)
Graduate Faster. Save on Tuition.
See how fast you can complete your degree.
Purdue Global Career Outcomes 2020–2021
Each year, our Center for Career Advancement sends a NACE First Destination survey to our graduating class to learn more about their career choices and potential income within 18 months of graduation. We're proud of our recent Purdue Global alumni accomplishments.
Graduates in Purdue Global's Master of Business Administration program were employed or continued their education within 18 months of graduation.
Master of Business Administration Overview
Purdue Global's online Master of Business Administration (MBA) is designed to give working business professionals the real-world tools they need to pursue leadership and management positions in an increasingly competitive marketplace. Today's employers are looking for MBA graduates who are ready to take on responsibilities right away—those who can understand global issues, manage relationships across cultures, and grow businesses in emerging world markets.

Our online MBA curriculum has been developed by a select panel of global business professionals and features international business case studies as well as unique examples.
Program Outcomes to Support Your Career Growth
Build the core skills and competencies that employers demand. You will study how to:
Create value in production and distribution of goods, services, and information throughout the supply chain.
Apply business knowledge to take well-reasoned action in diverse situations.
Address business issues or establish new procedures within an existing process.
Generate a new business or establish new procedures within an existing business.
Demonstrate the leadership necessary to accomplish business goals and maximize organizational performance.
Evaluate the ethical and social implications of business decisions in a global context.
See the University Catalog for policy and degree plan information specific to this program.
Education Abroad
Interested in a unique education abroad opportunity? Take part in an international virtual or travel experience that will allow you to grow global, marketable skills in business and earn the internationally recognized Global Competence Certificate (GCC).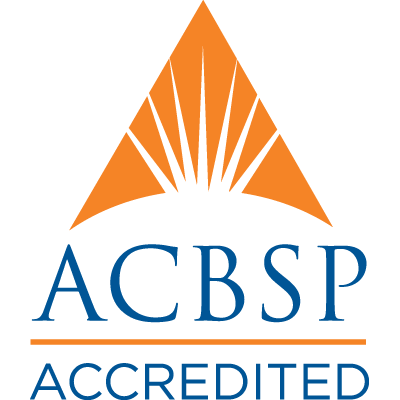 Purdue Global's business programs are accredited by the Accreditation Council for Business Schools and Programs (ACBSP).
The human resources concentration aligns with the Society for Human Resource Management's HR Curriculum Guidebook and Templates.
Purdue Global Is Accredited by the Higher Learning Commission
The HLC (HLCommission.org) is an institutional accreditation agency recognized by the U.S. Department of Education.
Admission Requirements
A bachelor's degree is required to enroll in a master's degree program. You will need to provide an official transcript that shows completion of your bachelor's degree from an accredited institution, though an unofficial copy may be provided during the application process. Refer to the University Catalog or speak to an Advisor to learn more.
Accelerate Your MBA Degree With ExcelTrack®
ExcelTrack® is a personalized, competency-based degree path that gives you more control over how you learn—allowing you to earn your online MBA faster, for less money. Build off your existing knowledge and experience and concentrate only on the skills you need to learn.
Why Should You Earn an MBA?
Purdue Global School of Business and Information Technology Dean Jeff Buck discusses the power of earning an MBA.
Program Cost Estimator
Calculate your estimated tuition and ways to save
What Courses Will I Take?
Courses in the MBA program put a focus on the knowledge, skills, and abilities necessary to make sound business and management decisions.
See All Business Courses
Sample Courses
Business Analytics

Economics for Global Decision Makers

Managing the Value Chain

Leadership Strategies for a Changing World

Designing, Improving, and Implementing Processes
Core Credits

60

Elective Credits

16

Total Credits

76
Core Credits

60

Total Credits

60
Optional MBA Degree Concentrations
Specialized knowledge and expertise can prepare you for leadership roles in today's competitive business environments. Complete four or more additional courses in one of these MBA concentrations:
Why Choose an MBA
Learn how an online MBA can help grow your career while you're still working.
Career Opportunities
This professionally focused program is designed to provide you with knowledge and skills to become a more effective leader and more valued employee in your current career. As a graduate of Purdue Global's online MBA program, you can pursue employment opportunities in areas such as finance, marketing, operations, management of information systems, and human resources.‡
Top 5 Skills Employers Are Looking for:
Active Listening
Coordination
Speaking
Critical Thinking
Social Perceptiveness
Top Jobs With This Degree
Labor market, salary, and projected growth information are supplied by Emsi. Average salary range is based on national data. Projected growth represents the estimated change in total employment over the projections period (2018–2030) at the state level and is based on your geographic location. Actual outcomes vary by geographic area, previous work experience, and opportunities for employment. Purdue Global cannot guarantee employment placement, salary level, or career advancement.
Get to Know Our Faculty
Purdue Global faculty members are real-world practitioners who bring knowledge gained through the powerful combination of higher learning and industry experience.
View Business Faculty Directory

98%
Faculty members who have advanced degrees

51%
Faculty members who hold a doctorate

395
Faculty publications in 2021–2022

More Than 38,000
Professional development hours logged by faculty in 2021–2022
Statistics include all Purdue Global faculty members and are not school or program-specific calculations. Source: Purdue Global Office of Reporting and Analysis, July 2022. 2021–2022 academic year.
Earn a Law Degree 1 Year Sooner
Upon graduating, you can apply some of your courses toward an Executive Juris Doctor (EJD) degree at Concord Law School. Save up to $14,250 in tuition and graduate a year sooner. You could earn both a master's and EJD degree in as few as 4 years.§ See which courses transfer.
Unlike the JD, which prepares you to sit for the bar exam and practice law, the online EJD is designed to help you build legal expertise to use in your career.
Download the Program Brochure
Download our brochure to learn more about the online Master of Business Administration and the benefits of earning your degree at Purdue Global.
Prepare yourself for success with a master's degree in business administration.
NOTES AND CONDITIONS
*Source: U.S. Department of Labor, Bureau of Labor Statistics, Occupational Outlook Handbook, Management Occupations, https://www.bls.gov/ooh/management/. National long-term projections may not reflect local and/or short-term economic or job conditions, and do not guarantee actual job growth.
†Testimonial: This testimonial was obtained by Purdue Global. The views and opinions expressed are those of the individual; student experiences may vary.
‡Employment and Career Advancement: Purdue Global does not guarantee employment placement or career advancement. Actual outcomes vary by geographic area, previous work experience, and opportunities for employment. Prior experience may be required for leadership roles. Certain finance positions may require further certification and/or licensing by individual states. Programs were not designed to meet any specific state's requirements for licensure or certification, and Purdue Global makes no representations or warranties as to whether the degree or any individual courses meet such requirements. Refer to Purdue Global's State Licensure and Certifications page for state-specific information on licensure and state authorizations.
§Purdue Global alumni are eligible for a 20% tuition reduction on Concord programs. Tuition savings calculated as 36 credit hours x reduced per credit tuition rate of $412 = $14,832. Savings will vary based on the courses completed in the student's master's degree program. Credits apply toward open elective and/or specialty electives in the EJD program.

Time savings based on a student who applies 36 credit hours from the MBA with a concentration in human resources toward the 3-year EJD program; remaining 36 credits can be completed in 2 years of study. MBA with a concentration in human resources can be completed in 2 years of study when adhering to the recommended course-load each term, taking courses in sequence, and without interruptions such as a leave of absence.