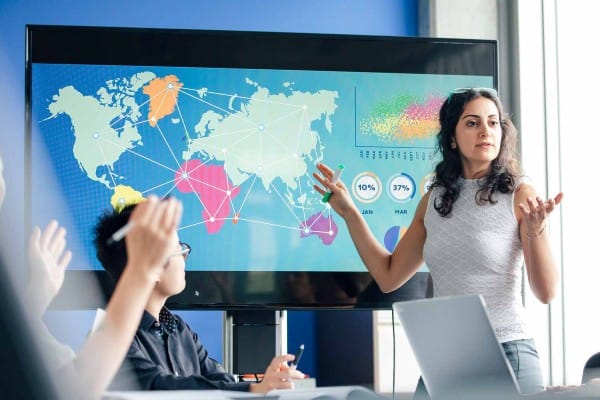 February 1, 2022 | Purdue Global
Global business and the study of it has been around for decades, but with the advances in technology in the last 20 years or so, both have skyrocketed. Having skills in international business (and intercultural fluency in general) is vital to moving forward in this increasingly globalized world.
A survey by the National Association of Colleges and Employers (NACE) lists knowledge of global cultures as one of its 8 key career competencies. Also, in a survey by the Association of American Colleges & Universities, 53% of managers said the ability to communicate or work with people from different cultural backgrounds is an important skill. That said, less than half of employers think college graduates are "very well prepared" in these skills. This is why studying business on a global scale is vital.
"The idea of learning about cultures in a two-dimensional pen-pal or book-reading way is completely gone," says Jennifer Teague, Purdue Global faculty member. "Kids are playing games online with people in another country. We are commenting on Instagram pictures with people 5,000 miles away. We are amalgamating into a global culture."
We talked with Teague about the importance of global business and the skills you need for a global business career.
Why Is Studying Global Business Important?
Although some of the biggest companies in the world are headquartered in the United States—think Apple, eBay, Google—their operations span the globe. To interact with the places these companies do business, a knowledge of different cultures and how they operate is key to survival in the marketplace.
Under its Equity & Inclusion section, the NACE competency statement lists these activities as some of those indicative of career readiness:
Demonstrate flexibility by adapting to diverse environments.
Keep an open mind to diverse ideas and new ways of thinking.
Seek cross-cultural experiences and interactions globally that enhance one's understanding of people from different demographic groups and lead to personal growth.
Solicit and use feedback from multiple cultural perspectives to make inclusive and equity-minded decisions.
"Regardless of what kind of job you're going to have or where you're located, you're going to need to be able to know how to interact with different cultures," Teague says. "You need to know how this new globalized society and economy is impacting you personally and professionally."
What Skills Are Needed to Be Successful in Global Business?
The skills learned in pursuing a global business degree or certification can be used in many different fields. These top skills are often sought by international companies:
Adaptive thinking – This skill helps you thrive in an always-changing environment, making you well placed for success.
Collaboration – Among other qualities, collaboration requires humility, allowing others to take the lead and share credit for success.
Cross-cultural communication skills – This would require diplomacy, respect, and sensitivity to cultural differences.
Emotional intelligence – People strong in this skill are self-aware and in control of their emotions, making them better able to react and adapt.
Excellent networking abilities – This includes developing strong relationships outside of your home country.
Interpersonal influence – This is the skill of encouraging others to get on board with your ideas because they understand their value.
Resilience – Working across time zones and cultures involves long hours and unique challenges, which requires mental toughness.
These soft skills can be a true advantage in the global business world.
What Job Titles Can You Have in Global Business?
Knowledge of global business isn't limited to any one field. With fluency in global issues, you can open up job opportunities in a number of countries to your expertise, and you can do business around the world.
Teague says different job titles may be available with this degree, which she says is unlike most degrees. For example, a specific course of study such as an accounting degree leads to an accounting role, but global business degrees can broaden your options.
"There are many things this degree may lead to," she says, "Global business skills can be used in any field."
What Do You Study in an International Business Degree Plan?
Global business degrees typically focus on competencies, both practical and research-based, to understand the impact of differences in cultural, economic, legal and political systems. Teague says Purdue Global's degree programs focus on three key areas:
How to recognize, respect, and strategize with major areas of difference. "For example, those could be cultural, or political, or legal," she says.
How to understand the strategy of multinational organizations. "How do you set up operations to support branches in multiple locations? How do you manage your manufacturing and your distribution channels in multiple markets?" Teague says.
How to develop entry strategies to successfully move into a foreign market. "What does it look like to 'go global'?" she says.
Teague says a number of different kinds of business people could benefit from a global business degree.
"Anybody who is operating in a domestically based role serving either consumers or customers from diverse backgrounds could benefit from a global business program," she says. "That includes somebody who is currently working or wants to work for a multinational organization that has branches in different geographic locations."
How Does Studying Abroad Help You in Your Global Business Degree?
International internships, training programs, or studying abroad can also provide a helpful way to immerse yourself in global business.
At Purdue Global, both the MBA with a specialization in global business and the MS in Management and Leadership with a specialization in global business offer an option to learn abroad, in person or virtually, by working with organizations and scholars outside of the U.S.
"It's one thing to learn about a culture or what global operations might look like," Teague says, "but it's a very different thing to go and immerse yourself in that culture and observe what global supply chain logistics might entail while you're standing on a manufacturing floor in a country 5,000 miles from your home."
There is also an option for a virtual education abroad experience at Purdue Global.
"We know that students sometimes have a lack of funds or a lack of time, and it's just not practical for them to leave their home," Teague said. "So we've designed this option for them to have this immersive experience live, but from the comfort of their home office or sofa."
How Purdue Global Can Give You a Global Business Edge
Purdue Global's graduate-level programs in global business are available as concentrations within our online MBA and master's in management and leadership degree programs and as a graduate micro-credential. A global business elective course, Building Global Competence, is available to all Purdue Global graduate students.
All of these degree concentrations and courses offer you a chance to position yourself for a global future. Purdue Global's first-ever educational travel abroad experience is also being offered with the master's programs, both virtually and in person.
Reach out today to learn more about programs at Purdue Global.