Online Bachelor's Degree in Accounting
With a growing economy and a complex tax and regulatory environment, the Bureau of Labor Statistics predicts a 10% growth rate for accountants and auditors through 2026. Most of these positions will require at least a bachelor's degree in accounting or a related field.*
Accountants and auditors are needed to set up books, prepare taxes, and provide management advice.* At Purdue Global, you can earn your bachelor's degree, prepare to become an accountant, and study to attain these job proficiencies to prepare for a career in accounting.† Purdue Global's campus and online accounting degree programs offer flexible start dates.
Bachelor of Science in Accounting Program Highlights
Throughout their course of study, accounting bachelor degree students will work closely with faculty members who are experienced in the accounting field and are dedicated to helping students:
Acquire a solid background in economics, finance, management, law, information systems, quantitative methods, and taxation.
Apply the Generally Accepted Accounting Principles (GAAP) to business applications.
Improve skills in communication, teamwork, and decision making while gaining a strong professional ethic and practical experience.
Complete a capstone project in accounting to demonstrate their ability to apply theories and concepts learned to real-world accounting practices.
Expand to Learn More
Bachelor of Science in Accounting Concentrations
Accounting is a diverse field that offers many career paths. Purdue Global's Bachelor of Science in Accounting (BS in Accounting) allows students to customize an accounting degree program by focusing on a concentration that is best suited to your interests and career goals.
Auditing-Forensic Accountancy: Develop the knowledge and skills to detect, recognize, and prevent specific types of fraud committed against organizations and individuals. Combine your accounting and finance skills with law and investigative techniques to judge whether or not an activity is illegal. Work with law enforcement or lawyers, potentially serving as an expert witness during trials.
Managerial Accountancy: Management accountants (also called cost, managerial, industrial, corporate, or private accountants) record and analyze financial information. Develop skills in strategic planning and budgeting, performance evaluation, and cost and asset management. Management accountants are also responsible for financial report preparation, financial analyses, and cost accounting.
Public Accountancy: Develop skills for handling auditing, tax, and consulting for corporations, governments, nonprofit organizations, or individuals. Focus on procedures required to conduct comparisons in financial accounting and develop an understanding of basic cost accounting terminology and principles, cost classification, and manufacturing of inventories.
Tax Accountancy: Develop knowledge of how tax laws affect partnerships, S-corporations, C-corporations, and other business entities. Study tax laws applicable to not-for-profit entities, estates, trusts and multijurisdictional issues. Focus on tax reporting, tax planning, and tax research skills.
Expand to Learn More
Certification
Certification is often a condition of employment for accounting jobs, and may help you pursue positions in today's competitive job market. Successful completion of Purdue Global's Bachelor of Science in Accounting program could put you on the way to meeting the educational requirements to sit for the Certified Public Accountant (CPA) or Certified Management Accountant (CMA) examinations.‡
Expand to Learn More
Accreditation
Purdue University Global business programs are accredited by ACBSP.
Higher Education at the Highest Standards
Purdue University Global is accredited by The Higher Learning Commission (HLC) and committed to the highest standards. Our specific programs hold additional industry-relevant approvals and accreditations.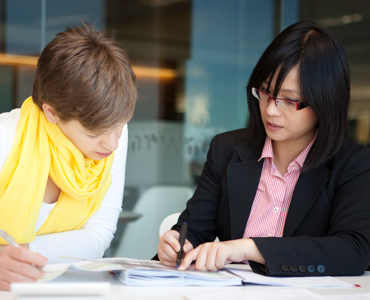 What are the Career Opportunities?
Organizations in nearly every industry require employees, consultants, or independent practitioners with accounting knowledge and expertise. As a graduate of this bachelor's degree in accounting program, you may pursue opportunities in work environments such as the following†:
Public or private organizations, including accounting firms
Corporate accounting or tax departments
Not-for-profit organizations
Large and small businesses
Governmental agencies
Request Info
What Courses Will I Take?
You can customize your Bachelor of Science in Accounting by focusing on a concentration that is best suited to your interests and career goals. Choose from the following:
Public accountancy
Tax accountancy
Managerial accountacncy
Auditing/Forensic accountancy
See All Accounting Courses
Can I Afford This?
Here are some of the ways we can help lower the cost of your tuition and help you graduate sooner.
Tuition and Fees
Tuition Rates
Select Your Options
Desired Track
Only one track is available for this program.
Enrollment Location:
Online, Rockville, Indiana, Missouri, Wisconsin
Maine
Hagerstown
Iowa, Nebraska
Tuition Discount Options:
Select One
Active-Duty Military
Military Veteran
Military Spouse
International
IN Residents
Online, Rockville, Indiana, Missouri, Wisconsin
$371.00
cost per credit
---
number of credits
Tuition does not include University fees and associated program fees. View tuition and fee information or contact an Admissions Advisor for more information.
Indiana resident military veterans: tuition for online undergraduate degree and certificate programs is $220.00 per quarter credit hour.
Gainful Employment Disclosures
Access gainful employment information, including program length, tuition costs, financing options, and success rates.§
View Disclosures
Helpful Information
Whether you are on your way up the corporate ladder or just getting started, our degree programs and certificates could help you prepare to take your career to a higher level.
View Brochures
NOTES AND CONDITIONS
*Source: U.S. Department of Labor, Bureau of Labor Statistics, Occupational Outlook Handbook, Accountants and Auditors, on the Internet at www.bls.gov/ooh/Business-and-Financial/Accountants-and-auditors.htm. National long-term projections may not reflect local and/or short-term economic or job conditions, and do not guarantee actual job growth. Certain accounting positions may require further certification and/or licensing by individual states.
†Purdue Global cannot guarantee employment or career advancement.
‡To sit for the CPA Exam, states require students to have obtained 150 semester hours or 225 quarter credit hours. This program is 180 quarter credit hours (120 semester hours). To be eligible to sit for the CPA exam, a student who has completed Purdue Global's Bachelor of Science in Accounting would need to complete the University's Master of Science in Accounting or its equivalent elsewhere. The University cannot guarantee students will be eligible to sit for or pass exams. This program was not designed to meet any specific state's requirements for licensure or certification, and Purdue Global makes no representations or warranties as to whether the degree or any individual courses meet such requirements. Refer to the University Catalog for additional information.
§Purdue University acquired Kaplan University in March 2018 and created Purdue University Global, which is following the same curriculum format and instructional delivery methods as developed and used by Kaplan University. These disclosures are based on Kaplan University data reported prior to the acquisition.