Master of Science Degree in Accounting
With stricter laws and regulations, particularly in the financial sector, it's expected that many businesses will seek accounting and auditing professionals to comply with new standards.* If you have successfully completed a bachelor's degree in business with a major in accounting or finance, Purdue Global's Master of Science in Accounting could be your next step in pursuing your career potential and discovering new mid-to-senior-level opportunities.† This master's degree in accounting online program is designed to provide students with critical-thinking and problem-solving skills, as well as the fundamental knowledge relevant to successful professional practice within the field of accounting.
Master of Science in Accounting Program Highlights
The Master of Science in Accounting program is designed to prepare graduates to pursue mid-to senior-level management positions in both the public and private sectors. The curriculum is designed to enrich skills in auditing, taxation, cost accounting, and financial accounting while providing students the opportunity to choose elective courses and a concentration to meet their specific interests and goals. Graduates may be eligible to sit for professional certification examinations, which include the Certified Public Accountant (CPA), Certified Internal Auditor (CIA®), and Certified Management Accountant (CMA®) examinations.‡

The curriculum focuses on:
Familiarizing you with overall department management
Generating and analyzing accounting data
Creating quality improvement processes, compliance strategies, and reimbursement procedures
Conducting research
Addressing risk management and legal issues
Expand to Learn More
Master of Science in Accounting Concentrations
In addition to developing a broad foundation in accounting principles, this master's in accounting program is designed to enhance your proficiency and knowledge in your desired area of concentration.
Audit: Focus on the development, design, and implementation of accounting systems with an emphasis on internal control. Study fraud examination and forensic accounting, and learn techniques for obtaining evidence and interviewing subjects. Apply preventive, detective, and investigative strategies to identify the causes of fraud. Design and assess internal control systems and become familiar with risk assessment and management.
Finance: Study research methods for assessing how accounting information impacts business and decision making. Explore the evolving nature of risk, expectations about its management, and the pressure it has placed on previous working practices. Investigate the relationship between international accounting, global business, and investment decisions, including the influences of cultural, political, and economic variations.
Government: Consider the financial and managerial accounting concepts specific to the planning and administration of public, quasi-public, and nonprofit organizations. Concentrate on the development, design, and implementation of accounting information systems with an emphasis on internal control. Design and assess internal control systems and become familiar with risk assessment and management.
Tax: Examine the United States income tax on foreign-earned income and the taxation methods of other countries. Study the concepts, processes, and information sources relevant to tax research, including the Internal Revenue Code, treasury regulations, and federal and state tax cases. Explore federal estate and gift taxes, and the impact of income tax. Topics include an introduction to interstate succession, wills, gifts, marital property, and more.
Expand to Learn More
Accreditation
Purdue University Global business programs are accredited by ACBSP.
Higher Education at the Highest Standards
Purdue University Global is accredited by The Higher Learning Commission (HLC) and committed to the highest standards. Our specific programs hold additional industry-relevant approvals and accreditations.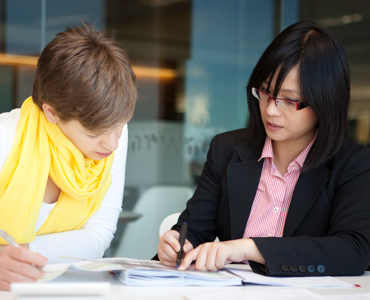 What are the Career Opportunities?
Employment opportunities for graduates with an accounting degree may exist within government, private, nonprofit, and public accounting. In addition, many entrepreneurial opportunities may exist for small business accounting and consulting services.
Specific careers may include the following†:
Public accountant
Management accountant
Government accountant
Internal auditor
Tax accountant
Request Info
What Courses Will I Take?
This outcomes-based program is designed to help you develop your skills and pursue greater career opportunities in the accounting field. You'll further customize your degree by selecting a concentration in one of the following areas:
Audit
Finance
Government
Tax
See All Accounting Graduate Courses
Can I Afford This?
Here are some of the ways we can help lower the cost of your tuition and help you graduate sooner.
Tuition and Fees
Tuition Rates
Select Your Options
Desired Track
Only one track is available for this program.
Enrollment Location:
Online, Rockville, Indiana, Missouri, Wisconsin
Maine
Hagerstown
Iowa, Nebraska
Tuition Discount Options:
Select One
Active-Duty Military
Military Veteran
Military Spouse
International
Indiana Residents
Alumni
Online, Rockville, Indiana, Missouri, Wisconsin
$485.00
cost per credit
---
number of credits
Tuition does not include University fees and associated program fees. View tuition and fee information or contact an Admissions Advisor for more information.
Indiana resident military veterans: tuition for online undergraduate degree and certificate programs is $220.00 per quarter credit hour.
Gainful Employment Disclosures
Access gainful employment information, including program length, tuition costs, financing options, and success rates.§
View Disclosures
Helpful Information
Whether you are on your way up the corporate ladder or just getting started, our degree programs and certificates could help you prepare to take your career to a higher level.
View Brochures
NOTES AND CONDITIONS
*Source: U.S. Department of Labor, Bureau of Labor Statistics, Occupational Outlook Handbook, Accountants and Auditors, on the Internet at www.bls.gov/ooh/Business-and-Financial/Accountants-and-auditors.htm. National long-term projections may not reflect local and/or short-term economic or job conditions, and do not guarantee actual job growth. Certain accounting positions may require further certification and/or licensing by individual states.
†Purdue Global cannot guarantee employment or career advancement.
‡To sit for the CPA Exam, students may need to take additional courses at the undergraduate or graduate level to meet individual state requirements. This program was not designed to meet any specific state's requirements for licensure or certification, and Purdue Global makes no representations or warranties as to whether the degree or any individual courses meet such requirements. Refer to the University Catalog for additional information. The University cannot guarantee students will be eligible to sit for or pass exams. In some cases, work experience, additional coursework beyond the Purdue Global program, fieldwork, and/or background checks may be necessary to be eligible to take or to successfully pass the exams.
§Purdue University acquired Kaplan University in March 2018 and created Purdue University Global, which is following the same curriculum format and instructional delivery methods as developed and used by Kaplan University. These disclosures are based on Kaplan University data reported prior to the acquisition.