Credit for Work and Life Experience
Have you acquired learning outside a traditional classroom?
You may be able to earn credit toward your undergraduate degree.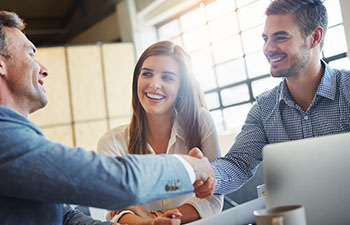 Whether you've been working for years, served in the military, or spent time volunteering, showcasing your knowledge through our credit-for-work-experience courses could save you thousands of dollars and help you finish your undergraduate degree faster.*
We offer two courses that teach you how to articulate and organize your skills and experiences into an online portfolio that's ready to be assessed for undergraduate credit applicable toward your degree at Purdue Global.
Risk-Free Guarantee
Each of the credit-for-work experience courses listed below is completed online, provides access to a mentor to help you navigate the process, and requires a $1,500 portfolio evaluation fee. Enrolled students may use financial aid to cover the evaluation fee.
If your portfolio earns credits valued below the $1,500.00 assessment fee, you will receive a tuition grant equal to the difference toward the next term of your Purdue Global degree (up to the entire $1,500.00).
Remember, prior learning credit may equal a maximum of 75% of your degree plan. See below for average credits earned.†
EL 206: Academic Prior Learning Portfolio is a course for students who have already started classes at Purdue Global. This 10-week, instructor-led course is open to those in their second term or later. The course is 6 undergraduate credits at Purdue Global, and current tuition rates apply.
LRC 100: Documenting Your Experiences for College Credit, on the other hand, is for students who have not yet started classes at Purdue Global. This self-paced, self-directed course is offered online through Open College at Purdue University Global and has no tuition cost (but does have a portfolio fee if one is submitted). LRC 100 is also a non-credit bearing course.
How is a credit-for-work experience portfolio evaluated?
Your portfolio will be assessed to determine equivalency to college-level coursework through supporting documentation such as
Job description
Description of equipment used
Description of the work environment
Verification of knowledge, skills, and abilities by a supervisor or employer
Other appropriate forms of documentation verifying learning
You must document the fulfillment of course outcomes, based on chosen courses, and must follow the portfolio development and assessment process.
A key criterion in the evaluation of the portfolio is your ability to organize and present verifiable evidence of college-level learning through proper documentation and a narrative that explains the rationale for the claim for credit.
Learn more about our credit-for-work experience courses:
Try the calculator to see if our credit-for-work-experience courses could be right for you.