Online Bachelor of Science Degree in Fire Science
Program at a Glance
Purdue Global is recognized by the U.S. Fire Administration as an official Fire and Emergency Services Higher Education (FESHE) institution.
This degree is accredited by the International Fire Service Accreditation Congress (IFSAC).
Build foundational skills in firefighter safety, building codes, fire prevention, code inspection, and firefighting strategy and tactics.
An internship option allows you to gain valuable real-world experience.
Develop competencies for management with a concentration in business foundations.
Upcoming Start Dates
We offer multiple start dates to give you flexibility in your education, life, and work schedules.
Course Effort
15–18 Hours per Week
Course Length
10-Week Terms
Average Completion
4 years
Of Full-Time Study
Credits Required
180
(120 Semester Credits)
Graduate Faster. Save on Tuition.
See how fast you can complete your degree.
Bachelor of Science in Fire Science Overview
Purdue Global's online fire science degree offers fire service professionals or those interested in the fire science field an opportunity to enhance their skills, develop a broad spectrum of knowledge, and advance in the field.
This bachelor's degree program focuses on providing in-depth knowledge of interagency coordination, fire incident command, arson investigation, and life safety education. Focus on firefighter safety, building codes, fire prevention, code inspection, and firefighting strategy and tactics.
Course Outcomes
Each term, fire science and emergency management students are assessed on their mastery of the course outcomes, which measure the skills, knowledge, abilities, and behaviors employers expect. View a summary of these assessments. For additional information related to prior learning credits transferred into the program, student success rates, capstone survey results, and the number of graduates for the program, view this document.
Accelerated Master's Degree Options
You can work toward a Purdue Global master's degree in criminal justice, homeland security and emergency management, public administration, educational psychology, human services, legal studies, or psychology while you earn your fire science degree online. Complete both your bachelor's and master's degrees in less time and at a lower cost than completing both programs separately.
See the University Catalog for policy and degree plan information specific to this program.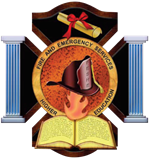 FESHE Recognized and IFSAC Accredited
Purdue Global is recognized by the U.S. Fire Administration as an official FESHE institution, and this degree program closely follows the FESHE curriculum model. In addition, this degree program is accredited by IFSAC.
Military Transfer Credit
Servicemembers and veterans can earn a degree faster with our PME2Degree® program. Use our Military Transfer Credit Estimator to see how much of your training counts as credit.
HOW MANY CREDITS HAVE YOU EARNED?
Purdue Global Is Accredited by the Higher Learning Commission
The HLC (HLCommission.org) is an institutional accreditation agency recognized by the U.S. Department of Education.
Admissions Requirements
You must be a high school graduate or possess a General Educational Development (GED) certificate or other equivalency diploma. You are also encouraged to complete orientation before you start classes. Refer to the University Catalog or speak to an Advisor to learn more.
Earn Credit Toward Your Degree
We offer several options to help you earn your bachelor's degree in fire science online faster:
Articulation agreements with fire academies and fire service associations help you receive credit for previously completed courses and professional learning.†
If you earned your certifications through an organization that is accredited by the International Fire Service Accreditation Congress (IFSAC) or the Pro Board, including the U.S. Department of Defense Firefighter Certification System, you may be eligible to receive credit toward your bachelor's degree.
Courses completed through the National Fire Academy may also be eligible for credit.

For details and eligibility requirements, speak to an Advisor.
Alliances to Help You Save on Tuition
We partner with specific organizations, such as the International Association of Fire Fighters (IAFF), to provide members, staff, and immediate family members a significant tuition reduction on our fire science degree programs.‡
Program Cost Estimator
Calculate your estimated tuition and ways to save.
What Courses Will I Take?
In the first course, you'll have the opportunity to develop your degree plan with a faculty member to align your degree path with your career outcomes. Program curriculum focuses on:
Analytical approaches to fire protection and investigation
Disaster and fire defense planning
Community risk reduction
Fire protection structure and system design
See All Fire Science Courses
Sample Courses
Advanced Principles of Firefighter Safety and Survival

Community Risk Reduction for Fire and EMS

Fire Prevention Organization and Management

Research Analysis for Fire Emergency Services
Core Credits

45

Major Credits

110

Elective Credits

25

Total Credits

180
Concentration Requirements
Core Credits

45

Major Credits

110

Elective Credits

5

Concentration Credits

20

Total Credits

180
Career Opportunities
A bachelor's degree can lead to leadership opportunities in the industry. In fact, departments may require candidates for positions higher than battalion chief to hold a bachelor's degree in fire science or a related field to be considered for promotion.*
Top 5 Skills Employers Are Looking for:
Active Listening
Critical Thinking
Judgement and Decision Making
Operation Monitoring
Coordination
Top Jobs With This Degree
Labor market, salary, and projected growth information are supplied by Emsi. Average salary range is based on national data. Projected growth represents the estimated change in total employment over the projections period (2018–2030) at the state level and is based on your geographic location. Actual outcomes vary by geographic area, previous work experience, and opportunities for employment. Purdue Global cannot guarantee employment placement, salary level, or career advancement. Additional academy training and education may be required for firefighting or emergency management jobs.

98%
Faculty members who have advanced degrees

51%
Faculty members who hold a doctorate

395
Faculty publications in 2021–2022

More Than 38,000
Professional development hours logged by faculty in 2021–2022
Statistics include all Purdue Global faculty members and are not school or program-specific calculations. Source: Purdue Global Office of Reporting and Analysis, July 2022. 2021–2022 academic year.
NOTES AND CONDITIONS
*Source: Bureau of Labor Statistics, U.S. Department of Labor, Occupational Outlook Handbook, Firefighters, on the Internet at www.bls.gov/ooh/protective-service/firefighters.htm. National long-term projections may not reflect local and/or short-term economic or job conditions, and do not guarantee actual job growth.
†Credit for Prior Learning: Purdue Global does not guarantee transferability of credit from any of these sources. See the University Catalog for the Prior Learning policy.
‡Contact an Admissions Advisor for details. Tuition reduction may not be combined with Purdue Global tuition reductions or ExcelTrack® pricing.