Online Bachelor of Science Degree in Psychology—Addictions
Program at a Glance
The Bachelor of Science in Psychology in Addictions is accredited by NASAC.
Purdue Global is an NAADAC Approved Education Provider.
Coursework fulfills the educational requirements to sit for the NCAC, Level I and II certification exams.
Upcoming Start Dates
We offer multiple start dates to give you flexibility in your education, life, and work schedules.
Course Effort
15–18 Hours per Week
Course Length
10-Week Terms
Average Completion
4 years
Of Full-Time Study
Credits Required
180
(120 Semester Credits)
Bachelor of Science in Psychology in Addictions Overview
If you have a passion for making a difference in the lives of those suffering from a substance use disorder or other potentially harmful process addiction, such as gambling or eating disorders, a psychology degree may be the path for you.
Many individuals in our communities face the serious psychological issue of addiction. Substance use disorder is often one of the unfortunate results. Addiction professionals are trained to assist these individuals and are committed to helping improve their quality of life.

Purdue Global is a NAADAC Approved Education Provider. NAADAC, the Association for Addiction Professionals, represents the professional interests of more than 100,000 addiction counselors, educators and other addiction-focused health care professionals in the United States, Canada, and abroad.
As a student in this bachelor's degree program, you will
Examine the process of addiction, pharmacology, the recovery process, prevention, and case-management skills.
Study ways to guide clients in maintaining their sobriety.
Focus on using the scientific approach to problem solving to evaluate behavior and mental processes while applying psychological principles to personal, social, and organizational issues.
See the University Catalog for policy and degree plan information specific to this program.
Explore Other Learning Opportunities
Students are invited to join organizations such as the Psychology Club for further networking and educational opportunities. An internship option gives you the opportunity to earn credit while building your resume and networking.
Purdue University Global Is Accredited by the Higher Learning Commission
The HLC (HLCommission.org) is an institutional accreditation agency recognized by the U.S. Department of Education.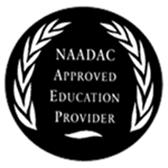 NAADAC Approved and NASAC Accredited
Purdue Global is a NAADAC Approved Education Provider.

This program is also accredited by the National Addiction Studies Accreditation Commission (NASAC).
Admissions Requirements
You must be a high school graduate or possess a General Educational Development (GED) certificate or other equivalency diploma. You are also encouraged to complete orientation before you start classes. Refer to the University Catalog or speak to an Advisor to learn more.
Program Cost Estimator
Calculate your estimated tuition and ways to save.
Take the Next Step in Your Education and Career
Prepare for Certification
Students who complete the program will meet the coursework requirements to take the National Certification Commission for Addictions Professionals' (NCC AP) National Certified Addiction Counselor, Level I and II (NCAC I & II) certification examinations.* Applicants must meet additional requirements to qualify, including field experience and licensure requirements.
Accelerated Master's Degree Options
You can work toward a Purdue Global master's degree in public administration, educational psychology, human services, legal studies, or psychology while you earn your bachelor's degree. Complete both your bachelor's and master's degrees in less time and at a lower cost than completing both programs separately. For details and eligibility requirements, speak to an Advisor.
Take a Career Assessment
Discover your work interests and use them to chart your ideal career path.
Learn More
What Courses Will I Take?
The BS in Psychology in Addictions curriculum is designed to equip you with a fundamental understanding of the major concepts, values, theories, studies, research methods, and historical trends in psychology.

Course topics focus on addiction science, assessment, prevention, intervention, treatment, and case management.
See All Psychology Courses
Sample Courses
Health Psychology

Clinical Psychology

Abnormal Psychology

Case Management in Clinical Settings

Psychopharmacology of Alcohol and Drugs
Core Credits

45

Major Credits

111

Elective Credits

24

Total Credits

180
Choosing a Bachelor of Science Degree in Psychology—Addictions
Specialize your career in a rewarding field. Learn industry trends and find additional resources on pursuing a bachelor's degree in psychology—addictions.
You've got questions, we've got answers. Learn the role of substance abuse counselors and find out if this path is right for you.
Adapt to the needs of an ever-evolving world. Learn how technology is creating new addictions and how to combat them in health care.
A Bachelor of Science in Psychology in Addictions can open the door to many professional opportunities. Possible work settings include schools, government, nonprofits, small agencies, sober living homes, assisted living facilities, hospitals, and corporate treatment centers.
Top 5 Skills Employers Are Looking for:
Speaking
Active Listening
Writing
Reading Comprehension
Social Perceptiveness
Top Jobs With This Degree
Labor market, salary, and projected growth information are supplied by Emsi. Average salary range is based on national data. Projected growth represents the estimated change in total employment over the projections period (2018–2030) at the state level and is based on your geographic location. Actual outcomes vary by geographic area, previous work experience, and opportunities for employment. Purdue Global cannot guarantee employment placement, salary level, or career advancement.
The professional practice of psychology is regulated by each state, and the degree requirements of this program do not guarantee or prepare you for licensure in any state upon graduation.
Get to Know Our Faculty
Purdue Global faculty members are real-world practitioners who bring knowledge gained through the powerful combination of higher learning and industry experience.
View Psychology Faculty Directory

98%
Faculty members who have advanced degrees

50%
Faculty members who hold a doctorate

237
Faculty publications in 2020–2021

More Than 36,000
Professional development hours logged by faculty in 2020–2021
Statistics include all Purdue Global faculty members and are not school or program-specific calculations. Source: Purdue Global Office of Reporting and Analysis, September 2021. 2020–2021 academic year.
Take 3 Weeks to Get to Know Us
Not sure if Purdue Global is right for you? Experience a Purdue Global undergraduate program for an introductory 3-week period.
There's no financial obligation and no cost to apply.
That's the Purdue Global Commitment.
Program Brochure
Download our brochure to learn more about the Bachelor of Science in Psychology in Addictions and the benefits of earning your degree at Purdue Global.
NOTES AND CONDITIONS
*Refer to www.NAADAC.org for full eligibility requirements. Students are responsible for understanding the requirements of optional certification exams. The University cannot guarantee students will be eligible to sit for or pass exams. In some cases, work experience, additional coursework beyond the Purdue Global program, fieldwork, and/or background checks may be necessary to be eligible to take or to successfully pass the exams.