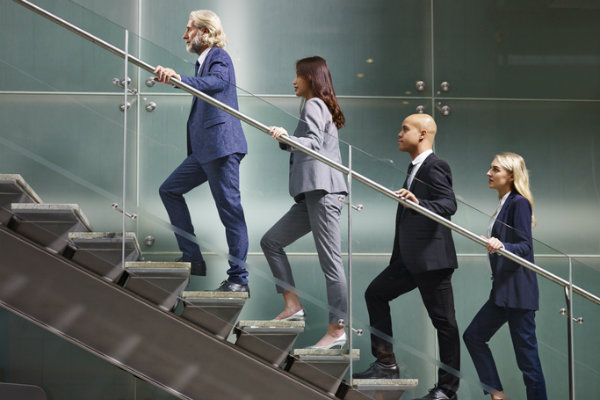 August 19, 2019 |
|
Updated August 27, 2021
Are you worried that your education is becoming outdated? Perhaps you're feeling stagnant in your career, or your employer is requiring more relevant skills. Maybe you're seeing that the competition is more aggressive, especially for younger candidates.
These are common reasons that people earn a Master of Business Administration (MBA). Master's degrees in business are the most popular type of master's degree awarded in the United States, according to the National Center for Education Statistics. At the master's level, the greatest number of degrees (197,100) in 2018–2019 were conferred in business fields.
An MBA can help you build credibility and reputation, open job opportunities, and connect to a better network. This article examines five excellent reasons to get an MBA.
1. An MBA Enhances Your Career Opportunities
Recruitment of MBA graduates is increasing, reports the Graduate Management Admission Council (GMAC). According to its 2020 survey, 89% of U.S. companies planned to hire recent MBA graduates.
In an increasingly competitive work environment, earning an MBA widens career prospects and sets you apart from other job seekers. Once you earn your MBA, you have shown that you have earned a quality education and that you are interested in lifelong learning.
MBA programs foster thought leadership, innovation, and corporate social responsibility on a global scale. Since the norm has shifted from staying at a company for the majority of one's career to a state of steady change, an MBA can prepare and cross-train you in all aspects of business, so you are a more marketable employee.
2. An MBA Can Give You the Skills and Knowledge You Need to Be Successful
An MBA can give you the technical skills and knowledge you need to succeed in your chosen career path. You'll learn the latest business trends, how to develop solutions to business problems, and how to be a good manager.
When you enroll in an MBA program, you'll find that much of the work is done in a team environment that reflects how things operate in today's workplace. This is invaluable experience for any future job you hold. Learn more about what you can do with an MBA.
3. Many Companies Require an MBA for Leadership Roles
Certain industries may expect or even require an MBA for promotion to more senior positions.* This can be especially true in:
Business operations
Finance
Accounting
Health care management
Global management
Information technology
Human resources
Any industry in a complex regulatory environment
Employers in these industries are looking for the sophisticated management and communications skills that earning an MBA provides.
A 2020 GMAC report on business hiring indicated that recruiters are most confident that business schools can prepare graduates to be successful in strategic thinking, communication skills, and versatility.
4. MBA Alumni Consistently Report That the Degree Is Rewarding
According to the GMAC's latest Alumni Perspectives Survey: The Value of a Graduate Management Education:
94% of alumni described their business school education as personally rewarding
89% said it was professionally rewarding
79% rated the value of their graduate management education as outstanding or excellent
The 2018 findings are similar to survey findings in years past. Overwhelmingly, MBA alumni report being satisfied with their degree.
5. You'll Make Valuable Business Connections
In the same GMAC report, 95% of respondents said they would recruit someone from their alma mater for an open position with their company.
Being in an MBA program gives you access to mentors, thought leaders, and business leaders. You'll make important connections via internship opportunities as well. Such networking opportunities are vital to success in the business world. Plus, the teamwork among your fellow students leads to great networking opportunities and is often a catalyst in obtaining a new position after earning your degree.
Learn More About the Online MBA From Purdue Global
Experts believe that business schools are focused on continually staying relevant in today's ever-changing global marketplace, and that educators at the schools strive—most successfully—to provide their students with the best education possible.
The consensus is that if you have earned your MBA, you have an advantage over your competition. This is especially true if the school is accredited, which shows that the university meets the accrediting body's quality standards.
Earning your MBA can be an intellectually stimulating and fun experience, and these reasons to get an MBA show the value of this degree.
If you're ready to take the next step toward increasing your career opportunities and acquiring more valuable business skills, learn more about Purdue Global's online MBA program. Our business programs are accredited by the Accreditation Council for Business Schools and Programs (ACBSP), and our convenient online format gives you the flexibility you need to continue working while going to school. Request more information today.
For more information on Purdue Global's ACBSP accreditation, visit
www.acbsp.org
---