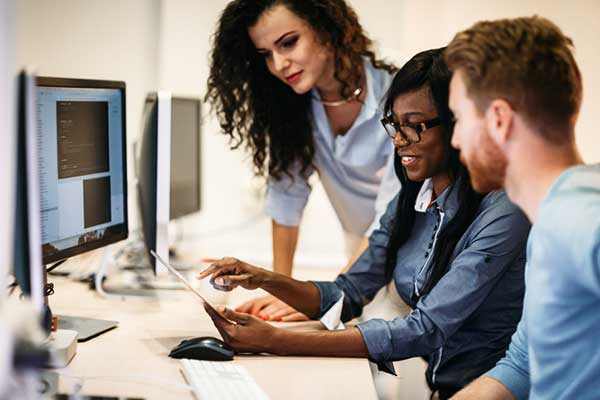 June 22, 2018 | Purdue Global
|
Updated December 7, 2022
Returning to school when you have a full-time job and a family requires sacrifice and hard work, and you want your investment to pay off. That's why it's important to pick the right program for your future.
You may have several reasons for being interested in going back to school. Whether you want to ensure your education stays up to date or you're looking for career growth opportunities, a Master of Business Administration can help prepare you for management and leadership roles in an increasingly competitive work environment. There's an additional consideration, too—more U.S. jobs are requiring an advanced degree like an MBA, according to the BLS.
Before exploring careers for MBA graduates, find out how this advanced degree can prepare you for today's complex business environment.
Why Do MBAs Continue to Be a Valuable Investment?
More employers say they intend to hire MBA graduates, according to the annual Corporate Recruiters Survey. In the survey, 95% of recruiters are planning to hire MBA graduates, led by the technology, consulting and finance/accounting fields.
Graduate school business alumni also feel positive about their education, according to Alumni Perspectives on the Value of Graduate Management Education. Nine in 10 respondents report a positive return on their investment in a graduate business education. Overall, 70% report their experience as excellent or outstanding.
Here are some other reasons an MBA continues to bring value.
Employers Continue to Favor Those with Advanced Degrees
The U.S. Bureau of Labor Statistics reports that those with an advanced educational credential are less likely to be unemployed. In 2021, unemployment levels were:
2.6% for people with a master's degree
3.5% for people with bachelor's degree
4.6% for people with an associate's degree
5.5% for people who have some college but no degree
What Are the Best Reasons to Pursue an MBA?
Here are three ways an MBA can contribute to your long-term success in business:
1. Accelerate Your Career
Many companies offer executive roles only to those with an MBA or similar graduate degree. Even if it's not a hard requirement, it gives you an advantage over those who don't have a postgraduate degree.
2. Gain the Advanced Knowledge Needed to Be Successful
Today's high-tech world requires businesspeople to understand a wide variety of functions, including finance, information technology, marketing, and change management. Students learn this advanced knowledge in an MBA program.
You'll also be taught additional skills such as teamwork, communication, and critical thinking, which might make you more attractive to employers in growing fields.
3. Expand Your Network
By enrolling in an MBA program, you access a vast team of instructors, peers, and alumni with whom you can network. They, in turn, can help you make additional connections. Many MBA programs offer networking events and other opportunities to help facilitate your network growth.
Potential Careers for MBA Graduates
An MBA could prepare you to become any of the following:
Administrative Services Managers
These people plan, direct, and coordinate all the supportive services of a company. Although their responsibilities may vary by industry and the specific organization they work for, they're usually in charge of maintaining the facilities and activities related to recordkeeping, mail distribution, and office upkeep. While the BLS states that a bachelor's degree is the typical requirement for someone to become an administrative services manager, holding an MBA may give prospective job candidates an advantage.
The BLS projects that employment of administrative services managers will grow 7% from 2021 to 2031, about the average for all occupations.
General and Operations Managers
These executives plan policies and strategies to ensure an organization meets its goals. They coordinate and direct the operations of their companies and organizations. The BLS says a bachelor's degree and considerable work experience are the minimum requirements for the occupation, but some companies prefer those with an MBA to take leadership positions.
The BLS estimates the growth in general and operations managers to be about 6% from 2021 to 2031, about the same as average.
Management Analysts
Also known as management consultants, people in these roles advise companies on how to improve efficiency. They make suggestions on how to become more profitable through reduced costs and increased revenues. According to the BLS, a bachelor's degree is required to become a management analyst, but some companies prefer to hire someone who holds an MBA.
The BLS projects that employment of management analysts will grow 11% from 2021 to 2031, faster than the average for all occupations.
Sales Managers
Sales managers direct an organization's sales teams. They analyze data, develop training programs, and set sales goals for organizations' sales representatives. Most sales managers have bachelor's degrees, according to the BLS.
The BLS says the outlook for sales managers is about average, with 5% growth from 2021 to 2031.
Transportation, Storage, and Distribution Managers
These managers, sometimes called supply chain managers, coordinate, direct, or plan transportation, storage, or distribution of companies while staying in compliance with organizational policies and government laws and regulations. The Occupational Information Network of the U.S. Department of Labor says many managers have bachelor's degrees, but some organizations may prefer top leadership to have MBAs.
The BLS projects growth in this field at 8% from 2021 to 2031, about average for all occupations.
Elevate Your Value as an Employee with an MBA
You may want to earn your MBA to make yourself more attractive to new employers, land a job in a different field, or make a greater contribution in your current position. A Master of Business Administration from Purdue Global is designed to prepare you for business management and corporate leadership roles, including such positions in:
Finance
Marketing
Operations
Management of information systems
Human resources
Purdue Global's online MBA program prepares students to face the workforce challenges of tomorrow with seven different specializations in the online MBA degree:
Finance – Analyze strategies for investing in various markets and explore mergers and acquisitions and financial management issues for international businesses.
Global Business – Learn the practical and research-based competencies needed to understand the impact of differences in cultural, political, economic, and legal systems.
Health Care Management – Focus on navigating the changing health care field, including rigorous patient-privacy regulations, staffing challenges, and issues of cost control.
Human Resources – Explore recruitment and hiring practices, employee training, corporate policies, change management, and executive leadership.
Information Technology – Examine critical concepts relevant to the IT professional including systems analysis and design and the management of technology in a business environment.
Marketing – Apply marketing research methods and techniques to analyze and implement strategic advertising and develop the skills to manage a sales force.
Project Management – Strategize, plan, schedule, implement, and determine project deliverables and milestones, and address business needs and manage costs.
To learn more about our online MBA program, request more information.