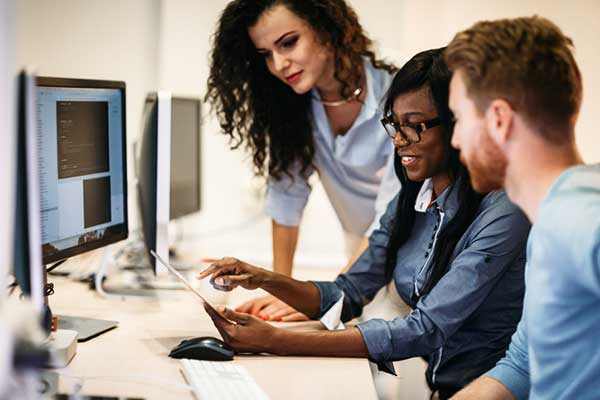 June 22, 2018 | Purdue University Global
|
Updated June 17, 2022
Returning to school when you have a full-time job and a family requires sacrifice and hard work, and you want your investment to pay off. A Master of Business Administration can help prepare you for management and leadership roles in an increasingly competitive work environment. There's an additional consideration, too—more U.S. jobs are requiring an advanced degree, like an MBA.
Before exploring MBA career paths, let's discuss how this advanced degree can prepare you for today's complex business environment.
Today's Jobs Increasingly Require Advanced Degrees
The U.S. Bureau of Labor Statistics (BLS) estimates that jobs requiring a master's degree or higher will grow faster than all others. Occupations that typically require a master's degree are projected to grow at a rate of 16.7% through 2026, more than twice the 7.4% growth rate projected for all occupations.*
Individuals With Degrees Are Less Likely to Be Unemployed
The BLS reports that those with an advanced degree are less likely to be unemployed. In 2020, unemployment levels were:
4.1% for people with a master's degree
5.5% for people with bachelor's degree
7.1% for people with an associate's degree
8.3% for people who have some college but no degree
If pursuing employment in an in-demand business field is your goal, consider preparing for your future with an MBA.
5 Potential Careers for MBAs
Here are five types of jobs you could pursue with an MBA and the expectations for job growth in those fields in the coming years.†
1. General and Operations Managers
General and operations managers coordinate and direct operations at private- or public-sector organizations. They often make policies and manage daily operations for multiple departments or locations. According to O*NET Online, most of these roles require at least a bachelor's degree. An MBA may raise your career prospects and give you an advantage over competitors.
O*NET projects that employment of general and operations managers will grow between 5% and10% from 2020 to 2030, as fast as average for all occupations.
2. Administrative Services Managers
These people plan, direct, and coordinate all the supportive services of a company. Although their responsibilities may vary by industry and the specific organization they work for, they're usually in charge of maintaining the facilities and activities related to recordkeeping, mail distribution, and office upkeep. While the BLS states that a bachelor's degree is the typical requirement for someone to become an administrative services manager, holding an MBA may give prospective job candidates an advantage.
The BLS projects that employment of administrative services managers will grow 9% from 2020 to 2030, as fast as average for all occupations.
3. Management Analysts
Also known as management consultants, people in these roles advise companies on how to improve efficiency. They make suggestions on how to become more profitable through reduced costs and increased revenues. According to the BLS, a bachelor's degree is required to become a management analyst, but some companies prefer to hire someone who holds an MBA.
The BLS projects that employment of management analysts will grow 14% from 2020 to 2030, faster than the average for all occupations.
4. Construction Managers
Construction managers may work from an office or on-site as they plan, budget, oversee, and coordinate construction projects. Although a bachelor's degree is considered the entry-point for these positions, candidates who hold an MBA can bring in-depth business administration knowledge to the job.
This position is expected to grow more rapidly than average, with 11% growth projected between 2020 and 2030, according to the BLS.
5. Social and Community Service Managers
If serving your community or humanity is your goal, an MBA can prepare you to become a social and community service manager. This leader manages social service and community programs that assist the public.
Although some positions only require a bachelor's degree, the BLS states that some organizations require a master's degree.
The BLS estimates that employment in this field will grow 15% between 2020 and 2030, much faster than average.
Elevate Your Value as an Employee with an MBA
You may want to earn your MBA to make yourself more attractive to new employers, land a job in a different field, or make a greater contribution in your current position. An online Master of Business Administration from Purdue University Global is designed to prepare you for business management and corporate leadership roles, including positions in†:
Finance
Global business
Health care management
Human resources
Information technology
Marketing
Project management
Purdue Global's online MBA program prepares students to face the workforce challenges of tomorrow. To learn more, request more information.