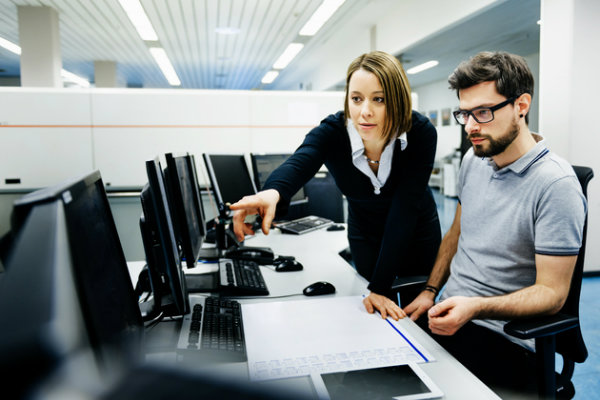 November 30, 2020 | Purdue Global
Cybersecurity is an expanding field, and the COVID-19 crisis has only grown the need for these experts as more people and companies conduct business online.
One of the benefits of working in cybersecurity is that it's always changing. Asher Eliefja, who earned a Bachelor of Science in Cybersecurity and a Master of Science in Information Technology with an emphasis on information security and assurance, both from Purdue Global, knows what it's like to work in the industry.*
"It's one field that's not going away," Eliefja says. "You can always learn something new and develop your skill set. There's always room for growth and improvement."
What Does a Cybersecurity Professional Do?
Cybersecurity professionals plan and implement security measures to protect an organization's computer networks and systems, according to the U.S. Bureau of Labor Statistics. As the number of cyberattacks increases, the responsibilities of cybersecurity experts are continually expanding.
Some of the basic roles of a cybersecurity expert include:
Building security systems
Installing software to protect sensitive information
Monitoring for and responding to attacks
Searching for vulnerabilities in hardware and software
Suggesting ways for businesses to secure their IT infrastructure
The cybersecurity job outlook is bright. According to the Bureau of Labor Statistics, employment of information security analysts is projected to grow 31% from 2019 to 2029, more than 7 times the average for all occupations.†
Lenny Simon, a senior security engineer and Purdue Global faculty member, agrees that jobs will be plentiful and cybersecurity is a good career.
"Technology is always changing, and adversaries are getting more sophisticated," says Simon. "That's why there is so much growth."
Roger Ofarril, an information security manager and Purdue Global faculty member, points to the growth in ecommerce due to the COVID-19 pandemic as another reason job opportunities are increasing.
"Almost everyone is working from home, and stores are shifting to an online model," Ofarril says. "There are numerous big changes now, and a lot of them involve technology."
What Is a Typical Day Like for a Cybersecurity Professional?
The routine of cybersecurity professionals can change hourly as needs make themselves known. Some days, you'll monitor for unusual activity, and other days, you'll fight a potential breach. You'll upgrade computer security systems and troubleshoot. This variety is one of the perks of the job.
"It's definitely a mixture of everything," says Simon. "If you like to accept these types of challenges, security is definitely a good choice. There's something different every day."
Here is a list of some of the more specific tasks you'll encounter in any one day:
Monitor Vulnerabilities
As a cybersecurity professional, you will be expected to spend time watching the network and systems for unusual activity. You'll also respond to requests and emails from system users who report problems.
Learn About New Attacks
You need to be aware of new threats reported throughout the cybersecurity world. Any larger company that deals with critical or proprietary information will be a target for determined hackers.
Maintain Communication
Cybersecurity professionals communicate across the entire company, not just with other techs. Because many threats are directed at unsuspecting employees in departments such as accounting, human resources, and marketing, you'll have to educate them about unsafe practices to prevent hacks and phishing.
Have an Up-to-Date Toolkit
As a cybersecurity professional, you should be ready to run tests, dig through system logs and network traffic, and maintain hardware. You will be the first to address problems and respond to attacks, so you must have the latest tools.
Remain Persistent
Not all problems will be solved easily. As a cybersecurity worker, you must be ready to go deeper and run multiple tests, collect information, address defects, and find solutions.
Ask Questions
When investigating problems, you will deal with people who are less informed about systems and vulnerabilities. The right questions will draw out the right answers, lead to solutions, and protect from attacks.
How Do You Get Into Cybersecurity?
Most cybersecurity positions require a bachelor's degree in a computer-related field. Employers usually prefer analysts with experience in a related occupation, according to the BLS.
There are many options for students interested in cybersecurity, Eliefja says.
"Because there are so many options within cybersecurity, sometimes it can be difficult to choose a specialization," Eliefja says. "You have log management, data analytics, ethical hacking, and more."
Purdue Global offers a Bachelor of Science in Cybersecurity and a Master of Science in Cybersecurity Management.
BS in Cybersecurity—This program teaches cybersecurity fundamentals combined with industry-accepted and emerging practices to address security problems encountered in the real world. You will learn how to evaluate security trends, recognize best practices, and understand IT security products and threats.
MS in Cybersecurity Management—Students will learn to develop, evaluate, implement, and update the policies and practices that help organizations respond effectively to emerging threats. You'll learn asset classification and control, compliance management, management of information continuity, incident response, and the administration of IT infrastructure.
Ofarril says that people interested in cybersecurity should get experience in the field.
"If you have interest in forensics, the cloud, security, or any other specialty, make sure you're doing some hands-on work in it," he says. "I interview people for jobs and they say, 'I have passion, and I want to do this.' When I ask them, 'What have you done with that interest recently? Do you have a lab at home? Have you programmed anything?' and they haven't.
"If you can say 'Yes, I did this in my lab. I've been playing with this in the cloud,' that will help you stand out from someone else who isn't doing that," Ofarril says.
What Skills Do You Need to Work in Cybersecurity?
There is a certain set of skills needed to work in this field. Most often, these are broken down into hard skills and soft skills.
Hard Skills
Hard skills are learned abilities that grow through education, practice, and repetition. Hard skills are considered important because they increase productivity and efficiency.
Some hard skills you'll be expected to have, according to cybersecurity firm Varonis, include:
Being familiar with attack tools and techniques
Explaining technical topics in plain English
Having knowledge of at least one programming or scripting language
Knowing computer science fundamentals
Making high-risk decisions
Managing multiple pieces of evidence
Picking a subfield in which to gain expertise
Tracking complex engagements
Soft Skills
Soft skills are character traits and interpersonal skills that characterize your relationships with other people. Soft skills have more to do with who people are, rather than what they know.
Among the soft skills cybersecurity employers look for, according to Varonis, are:
Actively seeking new skills and information
Adapting to circumstances
Communicating clearly
Listening carefully
Paying attention to detail
Remaining calm amid confusion
Retaining a team mindset
Solving problems creatively and technically
Earn a Cybersecurity Degree Online With Purdue Global
Purdue Global offers online information technology degrees in such disciplines as cybersecurity, analytics, cloud computing, and more. Learn more about our online IT degree programs. For more information on Purdue Global programs, reach out today.
---
Your Path to Success Begins Here
Learn more about online programs at Purdue Global and download our program guide.
Request Information