Graduation Programs, Videos, and Photos
Graduation is a time to celebrate the hard work and accomplishments of our students. Access Purdue University Global commencement programs and view videos and photographs from the ceremonies.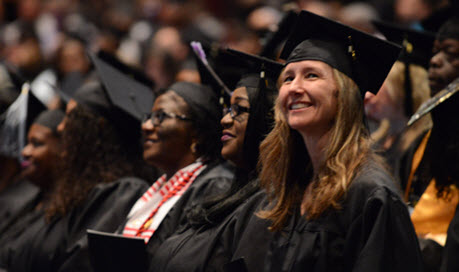 Photography
Lifetouch Special Events is the photographer for all Purdue Global Graduation Ceremonies. Photos are posted on their website approximately 2 weeks after the ceremony and typically stay on the website for 2 to 3 months afterward. If photos are not showing, reach out to Lifetouch Special Events.
Lifetouch Special Events
Website: https://events.lifetouch.com/purdueglobal
Tel: 800-505-9496
Email: specialevents@lifetouch.com
Graduation Ceremony Programs
Commencement programs are published for each ceremony and include the names of graduates who registered to attend. In addition, Purdue Global publishes an annual graduation program that includes the names of all candidates who graduated within that calendar year. You can find a full list of graduation programs and videos below.
2019 Graduation Programs and Videos