Caps and Gowns
All graduates and faculty will dress in traditional cap, gown, and tassel in accordance with their degree level (see Regalia Guide below). When choosing attire to wear under your gown, remember that the gown falls mid-calf. Business or business casual clothing and comfortable shoes are recommended.
Caps, gowns, and tassels may be purchased online through Jostens at least 7 weeks prior to the ceremony date to avoid penalty fees. Online orders are unique to Purdue Global's colors, and we recommend ordering online to ensure the correct items are received. Ordering link will be available on the ceremony's location page when registration opens.
Ordering Instructions
Review the Regalia Guide below to determine your Jostens selection.
Find your graduation ceremony and click the ordering link on your ceremony's page.
Select the appropriate gown for your degree level.
Enter exact height and weight details for an accurate fit.
Select your major/curriculum to receive the correct tassel or hood (see Listing of Degree Colors below).
Fill in your billing and shipping details.
Complete your order.
Print or save your confirmation.
Cap and gown order deadlines are designed to ensure orders are received in time. Graduates who miss their ceremony's ordering deadline should contact Jostens' Customer Service at 800-854-7464 to see if a late order will be accepted. Late orders are not guaranteed and may be subject to express mailing fees. Do not place your order over the phone unless you've missed the deadline.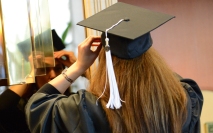 Regalia Guide
| | | | | | |
| --- | --- | --- | --- | --- | --- |
| Degree Level | Cap | Gown | Tassel | Hood | Jostens Gowns Selection |
| Associate's Degree | Black | Black | Degree color | No hood | Student-All other degrees |
| Bachelor's Degree | Black | Black | Degree color | No hood | Student-All other degrees |
| Pre-Master's Certificate | Black | Black | Degree color | No hood | Student-All other degrees |
| Master's Degree | Black | Black | Black | Degree color | Student-All other degrees |
| Post-Master's Certificate | Black | Black | Black | No hood | Student-Post-Master Certificate |
| Doctorate Degree (Non-Concord) | Black | Black | Black | Degree color | Student-All other degrees |
| Juris Doctorate/EJD (Concord) | Black | Black | Black | Purple | Student-Concord Law |
Listing of Degree Colors
| | | |
| --- | --- | --- |
| Degree | Degree Color | Jostens Selection |
| Accounting | Drab | Business |
| Addictions | Gold | Psychology |
| Applied Behavioral Analysis | Gold | Psychology |
| Autism | Gold | Psychology |
| Business Administration | Drab | Business |
| Child and Family Services | White | Social and Behavioral Sciences |
| Cisco Networks | Red | Information Technology |
| Communications | White | Social and Behavioral Sciences |
| Computer Forensics | Red | Information Technology |
| Corrections | Peacock | Criminal Justice |
| Criminal Justice | Peacock | Criminal Justice |
| Criminology | Peacock | Criminal Justice |
| Cyber Security | Red | Information Technology |
| Early Childhood Development | White | Social and Behavioral Sciences |
| Education | Light Blue | Education |
| Educational Psychology | Light Blue | Education |
| Environmental Policy | Purple | Legal Studies |
| Finance | Drab | Business |
| Fire and Emergency Management | Peacock | Fire Science |
| Fire Science | Peacock | Fire Science |
| Gerontology | Apricot | Nursing |
| Health and Wellness | Salmon | Health Sciences |
| Health Education | Salmon | Health Sciences |
| Health Information Technology | Salmon | Health Sciences |
| Health Informatics | Salmon | Health Sciences |
| Health Sciences | Salmon | Health Sciences |
| Healthcare Administration | Salmon | Health Sciences |
| Higher Education | Light Blue | Education |
| Homeland Security | Peacock | Criminal Justice |
| Human Resources | Drab | Business |
| Human Services | White | Social and Behavioral Sciences |
| Information Security | Red | Information Technology |
| Information Technology | Red | Information Technology |
| Instructional Design | Light Blue | Education |
| Legal Secretary | Purple | Legal Studies |
| Legal Studies | Purple | Legal Studies |
| Liberal Studies | White | Social and Behavioral Sciences |
| Management | Drab | Business |
| Medical Assistant | Salmon | Health Sciences |
| Medical Billing and Coding | Salmon | Health Sciences |
| Medical Office Management | Salmon | Health Sciences |
| Microsoft Operating Systems | Red | Information Technology |
| Nurse Educator | Apricot | Nursing |
| Nurse Practitioner | Apricot | Nursing |
| Nursing | Apricot | Health Sciences |
| Nutrition Science | Salmon | Health Sciences |
| Oracle Database Management | Red | Information Technology |
| Paralegal Studies | Purple | Legal Studies |
| Practical Nursing | Apricot | Nursing |
| Professional Studies | White | Social and Behavioral Sciences |
| Project Management | Drab | Business |
| Psychology | Gold | Psychology |
| Public Administration | Peacock | Criminal Justice |
| Public Health | Salmon | Health Sciences |
| Software Development | Red | Information Technology |