Beginning with the August 10, 2019, ceremony, all graduates will dress in black caps and gowns with gold and black tassels. Caps, gowns, and tassels must be purchased online through Jostens during the registration window for the specified ceremony to avoid penalty fees. Late orders are not guaranteed, and caps and gowns will not be available for purchase at the theater on graduation day.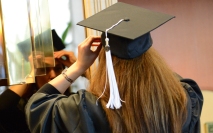 Cap and Gown Packages
Cap and gown packages include:
Associate's, bachelor's, certificate, and diploma graduates: cap, gown, and tassel
Master's graduates: cap, gown with batwing sleeves, tassel, and degree-color hood
Doctorate graduates: cap, gown with degree-color velvet strips, tassel, and degree-color hood

See guide below for master's and doctorate degree colors.
Ordering Instructions
Find your graduation ceremony and click the ordering link on your ceremony's page.
Select the appropriate gown for your degree level.
Enter exact height and weight details for an accurate fit.
Select your major/curriculum to receive the correct hood (master's and doctorate graduates only; see Listing of Degree Colors below).
Fill in your billing and shipping details.
Complete your order.
Print or save your confirmation.
Listing of Hood Colors for Master's and Doctorate Graduates
| Degree | Hood Color | Jostens Selection |
| --- | --- | --- |
| Accounting | Drab | Business |
| Business Administration | Drab | Business |
| Criminal Justice | Peacock | Criminal Justice |
| Cybersecurity | Red | Information Technology |
| Education | Light Blue | Education |
| Educational Psychology | Light Blue | Education |
| Finance | Drab | Business |
| Health Care Administration | Salmon | Health Sciences |
| Health Education | Salmon | Health Sciences |
| Health Informatics | Salmon | Health Sciences |
| Health Information Management | Salmon | Health Sciences |
| Higher Education | Light Blue | Education |
| Homeland Security and Management | Peacock | Criminal Justice |
| Human Services | White | Social and Behavioral Sciences |
| Information Technology | Red | Information Technology |
| Instructional Design and Technology | Light Blue | Education |
| Juris Doctor | Purple | Concord Law School |
| Legal Studies | Purple | Legal Studies |
| Nursing | Apricot | Nursing |
| Psychology | Gold | Psychology |
| Public Administration | Peacock | Criminal Justice |
| Public Health | Salmon | Health Sciences |
| Teaching | Light Blue | Education |