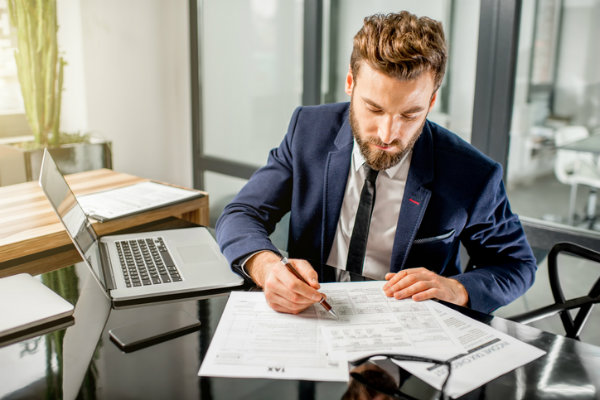 February 14, 2019 | Purdue Global
If you want the potential to advance your career, working in finance or accounting could be an exciting option for you. Companies of all sizes need financial and accounting assistance, and so do individuals.
According to the U.S. Bureau of Labor Statistics, employment of financial and business occupations is expected to grow faster than average for all occupations between 2019 and 2029. More than 476,000 new jobs are expected to be added to the hundreds of thousands of positions already in place in these industries.
In the finance and accounting fields, education matters. Most entry-level positions in these industries require a college degree for candidates to be considered.
If you're looking for professional stability and increased opportunities to advance in your career, check out this comparison between finance and accounting. Both fields can provide career benefits, and each includes diverse career paths to pursue.
What's the Difference Between Accounting and Finance?
Both finance and accounting degrees deal with math and numbers. Both fields are growing, and both require business savvy and meticulous attention to detail. However, they have some key differences.
Finance is the science of planning the distribution of assets and the management of money and investments for individuals, corporations, and governments. Finance professionals manage capital to create value and achieve substantial returns.
Accounting is the art of summarizing, reporting, and recording finance-related transactions. Accountants are in charge of ensuring financial transactions, statements, and account balances are accurate.
Businesses of all sizes, government and nonprofit organizations, and even some individuals need both accountants and finance experts. While the finance expert is typically in charge of analyzing financial statements and making projections, the accountant's role is to prepare those reports and ensure their accuracy.
What Can You Do With a Finance Degree?
Getting your bachelor's degree in finance online can lead to a wide variety of careers. Look at some popular roles for finance graduates:
Financial Analyst
Financial analysts examine the performance of money markets like stocks, bonds, and mutual funds to identify trends and make investment recommendations to individuals and businesses. They may also work in in-house corporate finance, analyzing financial information to create sound business forecasts. They assess investment opportunities and develop strategies so their clients or company can make better investments.
Loan Officer
Loan officers evaluate financial situations of businesses and individuals in order to determine and assign loans for things like housing, business, college, and automobiles. They help guide their clients through the loan application process and make lending recommendations that serve their clients' needs.
Personal Financial Advisor
Personal financial advisors work with individuals and families to help them achieve their financial goals. They learn how their clients want to use their money and analyze their clients' current financial situations. Then, they make recommendations for investments, estate planning, retirement, and more, so their clients can reach their goals.
General and Operations Manager
Because money management is such a big component of whether a business is successful, some finance graduates move into general and operations manager roles. General and operations managers are in charge of organizations and may create policies, manage daily operations, and be in charge of hiring and managing work teams.
Financial Manager
Financial managers are in charge of the financial goals of businesses and organizations. They analyze financial data and prepare financial reports; provide recommendations on optimizing financial practices within an organization; and use market trends to help management make better financial decisions.
Budget Analyst
Budget analysts with a finance background use market trends and industry financial insights to provide organizational budget recommendations. They help organizations ensure budget compliance and make suggestions for how to improve the finance organization.
Credit Analyst
Credit analysts with a finance background assess the creditworthiness of businesses and individuals seeking a loan or credit extension. Credit analysts gather and examine financial statements and credit data to determine lending risk.
What Can You Do With an Accounting Degree?
Like studying finance, pursuing a bachelor's degree in accounting could lead to a variety of roles. Here are some popular ones in accounting to consider:
Accountant and Auditor
Accountants and auditors work with all types of clients, from individuals and families, to governments, to businesses and corporations. They prepare financial records and look at financial statements to ensure legal accuracy. Here are a few different types of accountants and auditors.
Public accountants work with financial documents like tax forms and balance sheets to complete tasks like:

Ensuring financial accuracy
Alerting clients to tax advantages and preparing income tax returns
Investigating financial crimes

Corporate accountants work with businesses to record and analyze financial information.
Cost accountants analyze and determine accurate costs for manufacturing products or providing services.
Management accountants help organizations balance their budgets and optimize their costs through accurate financial planning and statements.
Auditors are hired by organizations, such as the government, to review financial statements and identify accuracy and errors.
Internal auditors work within an organization to check for funds mismanagement.
Budget Analyst
Budget analysts with an accounting background prepare budget reports to be compliant. They analyze spending and review budget proposals to confirm accuracy or identify errors. Budget analysts may work with other managers to provide budget status and confirm availability of funds.
Credit Analyst
Credit analysts with an accounting background are in charge of verifying and preparing credit data reports and financial statements. They may make recommendations on lending money or extending credit based on the level of risk identified in the reports.
Financial Examiner
Financial examiners keep banks and lenders in check by using compliance laws to make sure borrowers receive fair treatment. They monitor financial institutions and their transactions to ensure they're operating legally and optimally.
Tax Examiner, Tax Collector, and Revenue Agent
Tax examiners, tax collectors, and revenue agents are in charge of ensuring people and businesses pay the taxes they owe to local, state, and federal governments. They collect taxes, review tax documents, and conduct audits.
Interested in One of These Careers?
If working with money and helping individuals or organizations manage it sounds like an interesting career path, a degree in accounting or finance can help you land a job in one of these fields.
Learn more about the Purdue Global online Bachelor of Science in Finance and online Bachelor of Science in Accounting degree programs. Contact us today to receive information on how to get your degree.