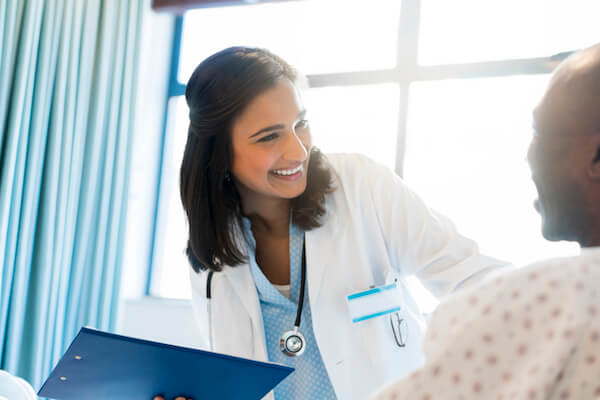 April 18, 2019 | Purdue Global
|
Updated January 4, 2021
Nursing is in a time of radical transformation, and the rise in demand for nurse practitioners (NPs) is a result of that fact. As nurses take on greater responsibilities across the health care landscape, the Bureau of Labor Statistics projects that employment of nurse practitioners will grow 45% from 2019 to 2029, much faster than the average for all occupations.*
If you're looking to earn a master's degree in nursing, you have an opportunity to specialize in a certain area. One of the most popular specialty areas is acute care.
We spoke with Dr. Georgianne Summer, DNP, BSN, RN, AGACNP-BC, the lead faculty member in Purdue Global's acute care nurse practitioner (ACNP) program, about what it's like to be an acute care nurse practitioner.
What Is an Acute Care Nurse Practitioner?
"An acute care NP is an advanced practice registered nurse who specializes in the care of acutely ill, acutely injured patients as well as complex chronically ill patients, typically in a hospitalized setting," says Summer.
Acute care nurse practitioners work in a variety of hospital settings, including:
Emergency departments
Intensive care units
Procedural and interventional settings such as the cath lab, electrophysiology lab, or interventional radiology
Other acute care settings such as acute care home services, urgent care, long-term acute care, rehabilitation services, hospice, and palliative care
What Does an Acute Care Nurse Practitioner Do?
Typically, acute care NPs help manage patients from admission to discharge. Key job functions include:
Conducting physical examinations
Taking patient histories
Coordinating care between specialists
Handling admissions and discharges
Prescribing and reconciling medications
Ordering and interpreting appropriate diagnostic tests
Performing procedures such as intubations, arterial line placement, central line placement, lumbar punctures, and test tube insertions
"You practice in the same function as a physician, overseeing patient care," Summer says. "Physicians are available for collaboration or consultation on difficult cases or are nearby during procedures."
What Degree and Certifications Are Needed?
"A minimum of a master's degree in nursing is required for all nurse practitioner roles, including the acute care NP," Summer says. "But a Doctor of Nursing Practice is preferred and is heading toward becoming the standard for the NP role, including acute care," Summer says.
Which certification you will need depends on the population you would like to work with, Summer advises.† "If you're in pediatrics, you would have to get certified for a pediatric acute care nurse practitioner. For geriatrics, it's combined with the adult, so typically it's an adult geriatric and acute care nurse practitioner."
Why Are Acute Care NPs so Important?
Numerous factors are driving the high demand for nurse practitioners. These include:
The aging baby boomer population
Growing rates of chronic conditions
Insurance reform
Nurses retiring coupled with a shortage of nurse educators
"There's also a physician shortage," Summer says. "I think nurse practitioners are perfect to fill that gap. And we do so while improving patient outcomes.
"Our patient-centered communication is associated with improving patient satisfaction scores, increased compliance to medications and treatment plans, and overall improved patient health."
What's It Like Being an Acute Care NP?
According to Summer, it's "scary, ambitious, autonomous, competitive, flexible, resourceful—and very rewarding."
"Make sure you do your research," she continues. "Make sure you find the right role for you. Think about the setting you want to work in, what you enjoy doing as a nurse, what you want in a work schedule, what you want your life outside of nursing to be, because all of that will come into play later down the road. Think of the big picture and try not to be driven by the money. To me, it's not a money career. It's something I'm passionate about.
Considering a Master's Degree in Nursing?
If you are interested in becoming an acute care nurse practitioner, learn more about Purdue Global's master's in nursing program and the acute care degree path. For those nurses who already hold a master's degree, we offer a postgraduate Adult-Gerontology Acute Care Nurse Practitioner Certificate.
And if you're ready to get started on this exciting career path, request more info today.