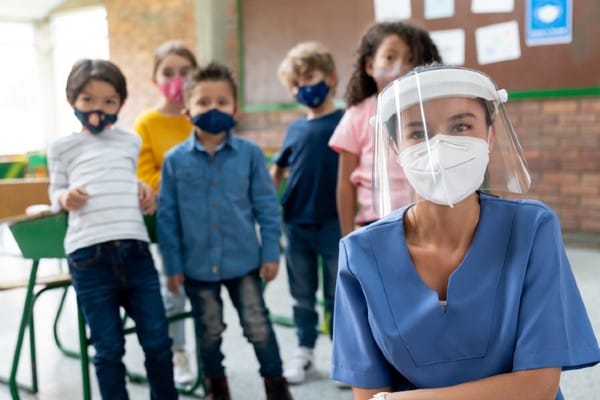 November 10, 2021 | Purdue Global
Jobs for registered nurses are expected to grow 9% through 2030, according to the U.S. Bureau of Labor Statistics. Nurse practitioners can expect even greater job growth; the BLS projects a 52% job growth rate for NPs through 2030, much faster than average.
>> Read 10 Reasons to Become a Nurse
But for a variety of reasons, not all nurses want to work in hospitals.
"You might think it's about stress and pay, but a lot of nurses choose settings outside of hospitals for other reasons," says Melissa Burdi, dean and vice president for the Purdue Global School of Nursing.
Among the reasons nurses choose non-hospital nursing careers are:
More predictable hours—Outside of a hospital, you may have a better chance of regular hours, with weekends and holidays off.
Less physically taxing environment—The work outside of a hospital will likely be less physical.
More autonomy—There are more opportunities to work independently in a small team.
Opportunity to build relationships—Sometimes there can be very little chance to really know patients and gain trust in a hospital.
Wider range of colleagues—You can find yourself alongside social workers, pharmacists, and other case specialists.
Here is a list of 10 non-hospital nursing jobs.
1. Forensic Nurse
A forensic nurse works with law enforcement and helps solve crimes. Those who specialize in death investigations may work with a medical examiner or as a coroner. They may also care for victims of crime and natural disaster survivors.
"This can be a sensitive field," Burdi says. "Forensic nurses can be called on to treat victims of violence and abuse while preserving evidence. They may be dealing with sexual assault or other intentional violence, which requires recognition of the trauma."
Forensic nurses also provide consultation and testimony that can be used in a court of law. They also provide critical expertise to anti-violence programs. They may work in community anti-violence programs, coroner and medical examiner offices, correctional facilities, and psychiatric hospitals.
"Forensic nurses are a critical link between law enforcement, nursing, and medicine," Burdi says.
2. Health Coach
Nurse health coaches work individually with clients to achieve wellness goals, maintain healthy lifestyles, and prevent future health conditions. They may work in health care facilities, insurance companies, and social service agencies.
"Health coaches engage in interactive discussion with patients and apply evidence-based clinical interventions to determine which strategies will work the best," Burdi says. "Their clients usually have chronic conditions or are at risk for developing them."
The American Holistic Nurses Association and the International Nurse Coach Association both offer health coach certification.
3. Home Health Nurse
The U.S. home health care market is projected to grow about 7% annually from $103 billion in 2018 to $173 billion by 2026, according to the Insider Intelligence U.S. Home Healthcare Report. This provides a great opportunity for home health nurses.
Home health nurses provide care in patients' homes, but work from a variety of settings, including community facilities, hospice and homecare organizations, and hospitals.
"There are a wide range of services that a home health nurse provides," Burdi says. "That may include tending to illnesses or injuries, nutrition therapy, medical administration, and anything else that can make a patient comfortable at home."
Home health nurses may need certification and licensure in their state of practice, and must get additional education to administer specialized care.
4. Community Health Nurse/Public Health Nurse
These roles are related but slightly different:
Community Health Nurses
These nurses identify health problems in the community and work to improve well-being by educating people. Community health nurses can provide information about a variety of topics, including:
Illness and disease prevention
Nutrition
Safe health practices
Wellness
Many times, community health nurses see patients who don't have regular access to medical care or who can't afford medical services.
Public Health Nurses
These nurses have similar responsibilities but at a larger scale. These nurses respond directly to public health crises, from disease outbreaks to natural disasters.
Similar to community health nurses, public health nurses typically educate the most vulnerable communities on healthy living. In this outreach role, these nurses may be expected to speak publicly as the need arises.
"In either role, these nurses provide a vital service," Burdi says. "They provide treatment and expertise in some difficult situations, ranging from at-risk populations to victims of major traumatic events like earthquakes or pandemics."
5. Diabetes Educator
The U.S. Centers for Disease Control and Prevention says more than 34 million Americans have diabetes, with 27 million diagnosed and 7 million yet to be diagnosed.
A diabetes educator works closely with patients to help them learn about and manage their condition. These nurses may work in clinics or other health care facilities outside of hospitals.
"A diabetes educator can teach patients how to take care of themselves," Burdi says. "They'll teach patients how to use devices like insulin pens and glucose monitors, and how to identify lifestyle patterns and opportunities for improvement.
"This is an important role because patients with the proper knowledge and support are more equipped to care for their diabetes."
6. Informatics Nurse
An informatics nurse helps information technicians select, set up, evaluate, and implement technology in a medical facility. Because of their medical knowledge, Informatics nurses help connect the medical and the technological sides of nursing. They do not provide direct patient care.
"This is a new era of Big Data," Burdi says, "so the role of informatics is growing. As an informatics nurse, you'll help apply that data directly to health care decisions. Informatics helps with critical advancements in care that directly benefits patients."
Informatics nurses organize electronic medical records and patient care software, using their clinical nursing knowledge. This specialty requires licensure and additional training in informatics.
>> Read The Difference Between Health Informatics & Health Information Management
7. Legal Nurse Consultant
Similar to the role that informatics nurses play as an intermediary, legal nurse consultants help bridge the legal and medical industries. They interpret legal jargon for the medical world, and medical jargon for the legal world.
"Medical terminology and legal terminology are two different languages," Burdi says, "so it's important to have somebody who can understand both. This is vital to avoid both misunderstandings in medical care and the legal complications of that language barrier."
Legal nurse consultants may be called upon by insurance companies, attorney firms, prosecution offices, law enforcement forensic departments, pharmaceutical companies, clinics, and government agencies.
Certification from a national organization, such as the American Association of Legal Nurse Consultants, is required for these specialists.
8. Nurse Educator
Nurse educators share their knowledge with nursing students in a classroom environment at a college, university, educational program, or at teaching hospitals. Many times, they require an MSN with a concentration in nursing education.
Most nurse educators have extensive clinical experience. As an educator, they must stay current with new nursing methods and technologies.
"Nurse educators help shape the nurses that will have a substantial impact on patients, their families, and other nurses," Burdi says.
9. Occupational Nurse
Occupational nurses work primarily for businesses and ensure employees' health and safety. They investigate and treat work-related injuries and illnesses. They also coordinate injury-prevention and wellness programs for employees.
"Occupational nurses focus on prevention of illness and injury, and promotion and restoration of health in a workplace," Burdi says. "They are important in helping a workplace be protected from environmental and work-related hazards."
Among the tasks occupational nurses perform are case management, compliance, counseling, and crisis management.
10. School Nurse
School nurses work for schools or states to provide care as needed to children within the school. There is a need, as the Institute of Education Sciences reports that just over 80% of public schools have at least one full- or part-time nurse. The numbers are lower for charter schools or schools serving lower-income students.
The school nurse's duties include caring for students with illness or injury during school hours, and administering scheduled medications like insulin or behavioral medications. They may also give students basic vision and hearing tests yearly. School nurses may also be called upon to teach health courses.
These specialists may find themselves in any grade level, from elementary to college.
"School nurses are responsible for keeping students healthy and ready to learn," Burdi says.
Grow Your Nursing Career With Purdue Global
If you're looking to expand your nursing career and need further education to do so, learn about Purdue Global's online nursing degree programs. When you're ready for more information, reach out to one of our Advisors.