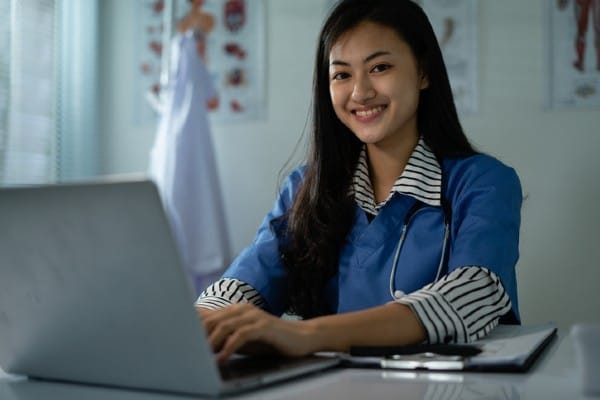 January 7, 2022 | Purdue Global
The career outlook for the nursing field is still healthy, and there are trends that indicate that it will remain so. The job outlook for registered nurses is expected to grow by 9% from 2020 to 2030, according to the U.S. Bureau of Labor Statistics.
That continued growth is driven by many factors, including the growing older population, the loss of nurses due to retirement and job change, and the increasing demand for preventative health care.
"Telehealth services can be incorporated into meeting these needs," says Joan Taylor, faculty member in the Purdue Global School of Nursing. "That translates into an increase in telehealth opportunities now and into the future."
>> Learn more about Telemedicine, Nursing, and the Future of Health Care
We talked to Taylor about nursing education, telehealth, and how new opportunities are opening up for nursing students.
How Has Telehealth Grown Recently?
COVID-19 has been a key factor in the number of people opting for telehealth. Taylor says the pandemic "really pushed the use of telehealth into the forefront of health care."
For example, as the pandemic was raging during the first quarter of 2020, the number of telehealth visits increased by 50% compared with the same period in 2019, according to the U.S. Centers for Disease Control and Prevention. One week alone saw a 154% increase year over year.
By the end of 2020, 30.2% of weekly health care visits occurred via telehealth, according to the CDC.
What Telehealth Job Opportunities Are Available for Nurses?
Aside from COVID-19, patients often seek telehealth nurses for help with minor health problems, especially after business hours. Telehealth nurses can help determine whether patients need to seek emergency care, make an in-person appointment with a care provider, or can be treated with them right there.
Because of this versatility, telehealth nurses provide benefits not only to patients but also to the health care system, Taylor says. Depending on their specialization, telehealth nurses may work in the following areas:
Clinics
Crisis hotlines
Hospitals
Outpatient care facilities
Physicians' offices
Poison control centers
Prisons and jails
Trauma centers
"We are seeing a rising demand not only for nurses but also telehealth opportunities for nurses," Taylor says.
Who Is a Good Fit for Telehealth Roles?
Taylor says telehealth nurses are expected to be grounded in nursing knowledge, competencies, and clinical experiences.
"They need to have a good understanding of telehealth equipment," she says. "Being able to provide nursing care with telehealth technologies, understanding telehealth challenges, and also having developed telehealth etiquette skills would make a nurse a good fit for telehealth roles."
Telehealth nurses also should have the following:
Ability to work well independently. Some telehealth professionals work from home and often practice alone, which should not be a barrier.
Comfort with multitasking. Telehealth nurses might have a high call volume or have to handle multiple cases, requiring them to prioritize as needed.
Confidence in their abilities. Without a coworker for support, telehealth nurses should be secure in their knowledge of health care needs.
Excellent communication skills. Dialog between the patient and the health care professional is important because of the challenges of not being in the same room.
Taylor says the telehealth nurse, either a registered nurse or a nurse practitioner, may have several roles to fill.
"They might be a telehealth manager or a telehealth coordinator," she says. "They could be involved in the development of a telehealth program, creating policies and protocols. They might also provide ongoing management and review of the program."
Taylor says these nurses also might provide direct care, as the health care provider, be an educator, a telepresenter, or a triage nurse.
What Are the Benefits of Being a Telehealth Nurse?
Both patients and nurses can benefit from the growth of telehealth.
"For someone working from home, it can help their family-work balance," Taylor says. "They also might practice in a nursing home or a hospital setting. There are so many different settings, so nurses can find that fit for them."
The following are among the benefits for both nurses and patients:
Better access to health care
Decreased exposure to illness
Flexibility for nurse scheduling
Increased health care employment opportunities
More comfort for patients
Savings of time and money
How Should Nurses Prepare for Roles in Telehealth?
Nurses are not required to be certified in telehealth medicine but still must be licensed and comply with federal and state regulations, including patient confidentiality and HIPAA requirements. Telehealth nursing standards are set by the American Nurses Association and the American Academy of Ambulatory Care Nursing.
Among the steps nurses should take include the following:
Obtain a BSN degree
Pass the NCLEX-RN® exam
Gain first-hand experience
Earn certification
"Nurses already in practice should look for clinical education opportunities outside of their health care organizations such as telehealth microcredentialing courses, webinars, and continuing education," Taylor says.
Taylor emphasized the importance of being aware of resources, such as the National Council of State Board of Nursing.
"It's important that nurses be aware of resources about telehealth available to them," she says. "They need to stay updated on federal and state regulations regarding telehealth, because regulations regarding safety, privacy, as well as state licensure requirements, are just a few areas that can impact a nurse's ability to perform within that telehealth role."
Purdue Global Can Help Your Telehealth Career
Taylor says health care is constantly evolving to meet the needs of the public. She says Purdue Global is ensuring that nursing students are prepared for these roles.
"We are leading nursing education toward the future of nursing practice," she says. "We have already implemented the telehealth micro-credentialing course. The University is also looking to build telehealth encounters into their virtual reality experiences."
Purdue Global is now allowing nursing students to use their telehealth experiences as part of their required clinical hours for appropriate programs, Taylor says, which will help prepare them for this growing role in telehealth.
Learn more about Purdue Global's online nursing degrees and reach out for more information today.
---
Your Path to Success Begins Here
Learn more about online programs at Purdue Global and download our program guide.
Request Information