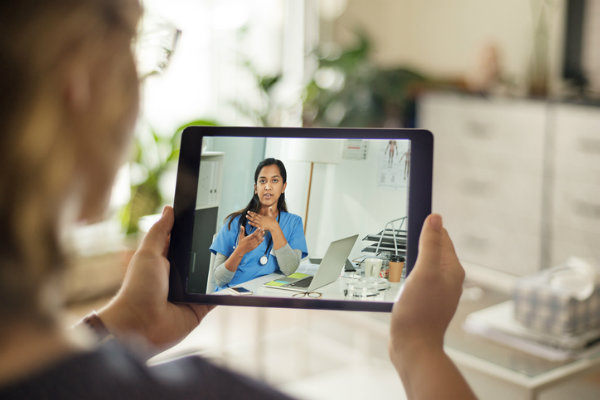 January 7, 2020 | Purdue Global
American health care is plagued by rising costs, a physician shortage, and continued challenges with access to care. Telemedicine may be able to help mitigate these problems.
In its 2019 Global Health Care Outlook report, Deloitte writes, "Investments in technology such as virtual health and telehealth could expand services while also helping hospitals bend the cost curve… telehealth and digital medicine tools are enabling a 'care anywhere' model. Organizations are building and deploying new staffing models, such as allowing nurses to work remotely, while still building strong patient relationships."
And people want telehealth services. Consider:
91% of employers are expected to offer telemedicine services to their employees by 2020, according to a First Stop Health survey of midsize to large employers.
79% of patients said that scheduling a telemedicine follow-up visit was more convenient than arranging an in-person follow-up, according to Massachusetts General Hospital.
How is telehealth affecting nursing in the United States? What opportunities does it present to nurses? Is telenursing a solution to the access-to-care crisis facing the nation? This article explores these questions.
Read More: Telehealth Is a Top Nursing Trend >>
What Is Telemedicine?
"Telemedicine involves the use of technology to provide clinical services to patients without the traditional inpatient visit," explains Michele McMahon, Academic Department Chair, College of Nursing (NP programs), Purdue Global. "It was developed as a tool to make health care more convenient, accessible, and cost-effective."
Telemedicine has been a game-changer—a lifesaver, even—for several demographics, including the elderly, people living in remote areas, and those in communities without adequate health care options. Using cutting-edge technology, these patients can now access care delivered by doctors and nurses who may not even be in the same state, at a cost that's far less than an office visit.
Telemedicine has the potential to decrease emergency room visits and hospitalizations, because medical issues can be monitored and treated on a regular basis and before they get severe. It has also streamlined the process for nurses, allowing them to take care of more patients, more frequently.
"Many services can be provided, including health education, e-consulting, diagnosis and management of an acute condition, and remote monitoring of specific conditions," McMahon says.
Nursing's Role in Telehealth Services
As advancements in technology have taken hold in telemedicine, the role of nursing in telehealth has evolved as well.
"Initially, nurses provided counseling and education over the phone," McMahon explains. "Advancements in IT have enabled nurses to monitor patients more closely and accurately and interact with them using a multitude of different audio-visual modalities. The level of monitoring and management can vary from follow-up interviewing to having the ability to monitor a patient's oxygen levels, heart rate, blood pressure, blood glucose, and more.
"In emergency situations, nurses can participate in tele-triage, instructing patients on how to treat a minor burn or dress a wound until further help arrives. Oftentimes, presurgical screening or postoperative care can occur via a telemedicine nurse-initiated call or interaction."
Four Ways Nurses Deliver Telehealth Services
According to McMahon, there are four main ways that telenurses deliver services:
Live video conferencing: This is live, two-way (synchronous) interaction between the nurse and patient. This is commonly used to treat minor illnesses or direct the patient to the emergency room at the nearest hospital.
Store and forward (asynchronous): This is a version of a recorded health history. The patient is asked questions, and their responses are recorded and sent to the nurse. This is often used in remote areas, where providers want the opinions of specialists or consultants that are not available in the area.
Remote patient monitoring: This is the collection of a patient's personal data from one location that is transferred electronically to a nurse or provider, who monitors patients remotely (weight, blood pressure, vital signs, etc.)
Mobile health: This method uses smartphones and tablets or computers to convey information about a patient to another location. In hospital settings, a device like this may be used in a patient room as a "safety sitter," where an off-site nurse or provider watches the patient in real time and calls a nearby nurse or unit if the patient is at risk of fall or another safety concern.
"Telemedicine is continually evolving and poses some challenges due to resources, reimbursement, and legalities," McMahon says. "The use of technology, as well as opportunities to work in a remote/web-based location, has been enticing to nurses as they navigate this new arena. Even with these challenges present, the role of the telehealth nurse and the job outlook remains a promising one."
Questions About Telenursing Remain
As the use of telemedicine grows, there are issues that will need to be ironed out. How will health insurance coverage work for telemedicine consultations? What are the standards of online care? Will a virtual patient-nurse relationship ever be as comprehensive as an in-person visit? And can an internet-based service ever be fully confidential?
"There are currently no required certifications to provide care in telemedicine as a nurse/provider," McMahon says. "Nurses work under the same license/certification that they maintain in their usual practice area. Nurses are encouraged to provide care under the same standards that apply to any inpatient visit."
Visit the American Telemedicine Association for resources and news about telemedicine.
Earn Your Next Nursing Degree Online With Purdue Global
If you're interested in expanding your nursing opportunities, consider earning an online nursing degree at Purdue Global. We provide a world-class nursing education and the flexibility that working nurses need. Purdue Global offers the RN-to-BSN degree, Master of Science in Nursing, postgraduate certificate programs, and the Doctor of Nursing Practice. Learn more about our online nursing degree programs or request more info today.
---
Your Path to Success Begins Here
Learn more about online programs at Purdue Global and download our program guide.
Request Information