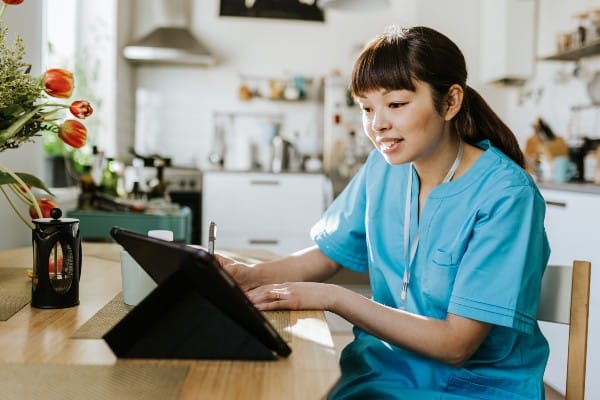 August 29, 2022 | Purdue Global
Over the past few years, many in-person jobs have transitioned to remote models. It might surprise you to know that there are a variety of work-from-home jobs for nurses.
While most nurses still work in hospitals, doctors' offices, or other traditional care settings, increasing numbers of nurses are finding jobs they can perform from home. The growth of telehealth since the onset of the COVID-19 pandemic is one reason why remote nursing jobs are on the rise.
Consider the following:
The use of telehealth services skyrocketed during the pandemic. According to McKinsey, as of mid-2021, telehealth use had increased 38 times compared to pre-pandemic levels.
From March 2020 to March 2021, listings for remote nursing jobs on Indeed increased by 392%.
A survey by Upwork predicts that by 2025, 22% of the American workforce will be working remotely.
To learn more about work-from-home nursing opportunities, we spoke with Jerrica Sheridan, DNP, FNP-C. She is the assistant academic chair of Purdue Global's Master of Science in Nursing program.
Types of Work-from-Home Nursing Jobs
Sheridan says there is a surprising amount of legitimate work-from-home jobs for nurses. "Work-from-home opportunities for nurses are more varied than people may think. In addition to providing virtual care to patients, there are several more unconventional careers that call for a background in nursing."
Nurses may find remote opportunities in the following areas:
Telehealth: Telehealth refers to any health-related services that are performed over video call, phone, or text message, as opposed to an in-person visit. Telehealth nurses can help address health issues that do not require immediate care.
Call center or triage nursing: A call center or triage nurse works with patients over the phone, assessing the patients' needs and determining the level of care required. Based on their evaluation of symptoms, they may recommend that patients visit an emergency room or schedule an appointment with a doctor.
Health informatics: Professionals working in health informatics organize and analyze health care data with the goal of enhancing access to electronic health records. A career in health informatics may be a good fit for nurses who have strong analytical skills and enjoy working with technology.
Research: Nurses have the opportunity to perform research that can help shape health care practice and policies. Nurse researchers may work with universities or professional nursing organizations such as the National Institute of Nursing Research.
Education: Current and former nurses make great nurse educators, since they can incorporate their personal experiences and insights into their lessons. Becoming a nurse educator requires a minimum of a master's degree. Nurse educators may be employed by a hospital or health care facility, or they may choose to become a professor for a nursing degree program.
Case management: A nurse case manager is responsible for managing long-term health care plans for patients with chronic conditions. They offer guidance to patients and families and may assist with tasks such as booking appointments or following up with insurance providers.
Legal nurse consulting: Legal nurse consultants work closely with attorneys to provide information on medical issues. For example, they may analyze medical records related to a criminal case and pass their findings along to an attorney.
Insurance claims: Individuals with a background in nursing may find remote jobs in insurance claims processing. In this role, you will work closely with insurance companies and health care providers to ensure that claims are being processed efficiently.
Recruiting: Another work-from-home job for registered nurses is to become a nurse recruiter. Nurses who work in recruiting help their employers find and evaluate qualified health care professionals.
Freelance writing: Professional writing is a skill required in many nursing roles. If you're looking for a remote job that allows you to leverage your writing skills, you may want to look into becoming a freelance writer. You could start a nursing blog, become a contributor for a nursing website, or edit articles for a medical journal.
Many of these careers are full-time, but there are also several part-time remote jobs for nurses. Whether or not you are able to work a part-time schedule largely depends on your employer. In some instances, you may even be able to set your own hours.
>> Read: 10 Top Non-Hospital Nursing Jobs for Nurses
What Does a Typical Day Look Like for a Work-from-Home Nurse?
Your day-to-day responsibilities as a work-from-home nurse will vary greatly depending on the type of job you have. For example, if you work in health informatics or research, you might spend most of your time analyzing data and collaborating with colleagues. If you work as a telehealth nurse or triage nurse, you will spend much of your time directly interacting with patients either over the phone or on a video call.
"If you're working as a telehealth provider, you may meet live with patients, or you may chat with the patient back and forth asynchronously without holding a live call," says Sheridan. "This largely depends on the telehealth laws of the state you're working in as well as the platform you're using to provide care."
Nurses interested in remote roles should be aware that not all remote nursing jobs allow you to work flexible hours. If you frequently meet with patients, students, or colleagues, you may have particular hours you are required to work.
Sheridan describes her own experiences working in academia. "Even though our faculty at Purdue Global teach remotely, they do hold live, synchronous seminars with students," she says. "Other duties include responding to students' questions, mentoring students, managing clinical experiences, and coordinating professional development opportunities."
How to Decide If a Remote Nursing Job Is Right for You
Working from home isn't for everyone. There are several factors you should consider before committing to a remote nursing position:
Read the job description carefully. Don't apply for a job just because it's a remote position. You'll want to make sure that the job duties align with what you're looking for and that the job requirements align with your qualifications, education, and experience. You should also consider whether the job is full-time or part-time and the types of benefits the company offers.
Make sure you have the required equipment and a dedicated workspace. This includes internet connectivity, internet security, phone equipment, and other technology requirements. Access to a quiet, dedicated space is also key, especially if the position requires video visits or calls.
Consider your personal strengths and weaknesses. Remote positions typically require someone who is tech-savvy, flexible, self-motivated, and organized. "It's all about your personal preference," says Sheridan. "Some people find it difficult to stay motivated when they're working from home, while others find they work more efficiently at home than in the office." Also consider personal situations that may affect your ability to work effectively. For example, simultaneously caring for a young child at home and working remotely may be too distracting.
It's important to remember that working from home comes with a set of unique challenges. "There are advantages such as a potentially more flexible schedule and no daily commute, but there are also disadvantages," says Sheridan. "Some of these disadvantages include feelings of isolation, blurring of work and home life due to lack of clear separation, and a total dependence on technology."
Where to Find Remote Nursing Jobs
Sheridan recommends looking for remote nursing jobs by filtering for remote opportunities on employment websites such as Indeed or ZipRecruiter. Professional nursing associations such as the American Nurses Association (ANA) and American Association of Nurse Practitioners (AANP) also have areas on their website where employers can post job opportunities.
When you find a job you would like to apply for, be sure to tailor your nursing resume or CV for the specific role. "If you're applying for a remote position and haven't worked remotely before, you'll want to list qualities on your resume that show you would be a good fit for this type of work," says Sheridan.
Sheridan explains that many nurses have transferable skills for remote work, but do not always know how to effectively describe these skills on their resume or during an interview. "For example, assume you're a registered nurse working in the ICU and would like to teach nursing courses for an online university. You have likely spent time teaching families and patients about their care and may have even assisted nursing students completing clinical work experiences in the ICU. These are things you would want to highlight on your resume and during your interview."
>> Read: How Nursing Students Can Prepare for Telehealth Opportunities
Prepare for Remote Opportunities with a Nursing Degree from Purdue Global
Whether you're new to nursing or are hoping to advance within your existing nursing career, Purdue Global offers a range of online nursing programs that can help you meet your career goals. Explore our online nursing degree programs or reach out for more information.
---
Your Path to Success Begins Here
Learn more about online programs at Purdue Global and download our program guide.
Request Information