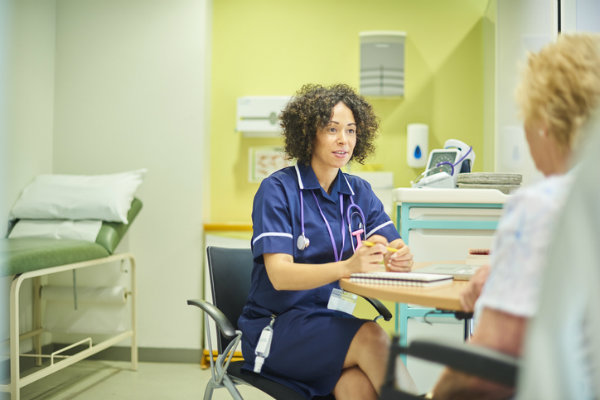 May 20, 2019 | Purdue Global
|
Updated January 14, 2021
Though the health care system has long emphasized preventive medicine as a means of controlling costs and improving outcomes, the 2010 passage of the Affordable Care Act (ACA) placed a renewed focus on measures that would cut costs and improve health outcomes. In turn, this has increased attention on how RNs can help keep people healthy while saving money.
Enter the role of nurse case manager—those RNs who leverage their medical knowledge and interpersonal and management skills to meet their patients' health care needs.
What Does a Nurse Case Manager Do?
"Unlike other kinds of health care practitioners, case management nurses perform a variety of tasks across a wide range of disciplines," says Tracy Towne, PhD, faculty member in the Purdue Global School of Nursing. "Alongside doctors and other health care professionals, they coordinate their patients' care, advocating for them and getting them the services and education they need."
Nurse case managers perform the following tasks:*
Develop and manage the overall long-term health care plan for patients with chronic or serious conditions such as Alzheimer's disease, diabetes, and heart disease.
Book their patients' doctor appointments and follow up to make sure they keep them.
Serve as a resource for their patients, offering education and guidance to patients and their families as they navigate complex medical decisions.
Act as a liaison between patients and their insurance providers to make sure they receive excellent health care at a fair price.
"Because nurses are trained to work on interdisciplinary teams and understand how to deal with patients' psychosocial needs, they are the perfect choice to manage their care," Towne says. "It's a more holistic approach to care and services, and it is an incredibly valuable role when it comes to supporting those with chronic illnesses."
Where Do Nurse Case Managers Work?
Case management nurses work in varied settings.
"They may work in acute care settings, with, say, someone getting a joint replacement or an organ transplant," Towne says. "They would help that person manage their many appointments, treatments, and therapies. You also find them in ICUs, trauma units, burn units—in places where patients might take weeks to months to recover."
You will also find these roles working in:
Outpatient clinics
Oncology
Hospice
Palliative care
Community and public health centers
Many times, their specialty influences their choice of work settings. If, for instance, a nurse specializes in working with elderly populations, they may work in a rehabilitation center, home health care service, assisted living facility, or long-term care facility. Many case management nurses also operate as consultants, working with a variety of health care clients.
What Type of Education and Experience Is Required?
"Case management nurses are registered nurses, so they have either an associate's or bachelor's degree in nursing at a minimum," Towne says. "Oftentimes, they are hired into a case management position. ASNs can work as nurse case managers, but generally, a BSN or above is wanted. Many will get a master's degree down the line to increase their specialization in a particular area."
One can become certified in nurse case management by the American Nurses Credentialing Center. To be eligible for certification, nurses must:
Possess an active RN license
Accumulate at least 2 years of full-time practice
Complete a minimum of 2,000 clinical hours along with 30 hours of continuing education coursework within the field
Job Outlook for Nurse Case Managers
The U.S. Bureau of Labor Statistics doesn't make employment projections for nurse case managers, but they do predict that employment of all registered nurses will grow 7% from 2019 to 2029, faster than the average for all occupations. Prospects are also positive for patient representatives, according to O*NET.
Among other factors, the ACA is expected to continue driving demand higher for preventative care health care workers, especially as millions of Americans continue to obtain health coverage.
Case management nurses play an instrumental role in supporting primary care practitioners as they help reduce overall medical costs by boosting efficiency, cutting unnecessary spending, and improving patient outcomes.
Earn Your Next Nursing Degree Online
If you're interested in earning a higher degree as part of your journey to becoming a nurse case manager, look into the online nursing degree programs with Purdue Global. We offer an online RN-to-BSN degree, the Master of Science in Nursing, as well as the Doctor of Nursing Practice and a variety of postgraduate certificates. Request more information today.