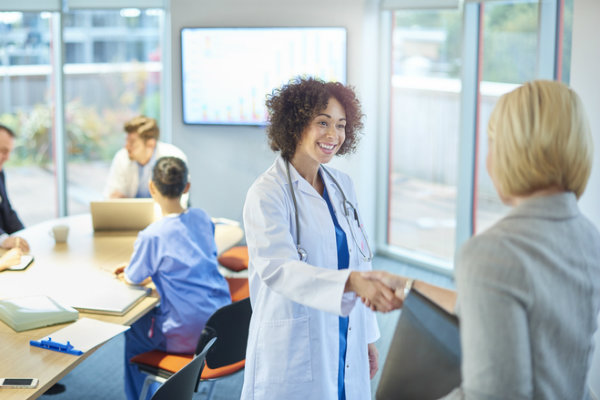 January 13, 2020 | Purdue Global
Perhaps you're newly out of school and looking for your first job. Or, maybe you're a seasoned nurse with an advanced degree who's ready to expand your career. If you're applying for a nursing position, your potential employer will want to see a resume or CV (curriculum vitae—Latin for "course of life").
This article examines the difference between a nursing CV and a nursing resume and how to create these important documents.
What's the Difference Between a Nursing Resume and a Nursing CV?

A resume is a brief overview of your experience and education. "A nursing resume shouldn't be longer than two pages, whereas a CV is much more in-depth," says Angela Owens, academic department chair for systems programs at Purdue Global.
According to Owens, a nursing resume should contain details of your:
Education
Experience
Special skills
Certifications
Awards and other achievements
Affiliations with professional organizations and/or volunteer and community organizations
Presentations you may have completed and papers/articles that you've authored
Get Tips for Writing Your Resume >>
Which one should you have—a resume or a CV?

"Nurses should have both," Owens says. "Depending on the position, you may be asked to include a resume and a CV."
If the recruiter or job description doesn't specify which one to send, use the following guidelines.
When Should You Use a Resume and When Should You Use a CV?

For entry-level nursing jobs, send a resume.
"They are simply looking for your educational background, work experience, and any special skills you've gained in clinical," Owens says.
For nurse educator positions and positions in higher education, send a CV.
How to Create a Nursing Resume (With Example)
Your nursing resume should be one to two pages and should feature:
Contact information (name; city, state, and ZIP code; telephone; email; and LinkedIn profile link, if available)
Licenses
A summary of your experience and the skills you can bring to the role, written specifically for a job posting (3–5 sentences; avoid personal pronouns such as I, me, and my)
Education (degrees, awarding institutions, and dates)
Professional experience (limit to the past 10 years, unless your past work directly applies to the position you seek)
Clinical experience (highlight your clinical skills if this is your first nursing job)
Volunteer work (optional)
By necessity, new nurses will have a short resume, unless they are second-career nurses. "If you have a previous degree and career in another area, and there's value to highlighting that previous career, I would recommend you use a CV," Owens says.
Example of a Nursing Resume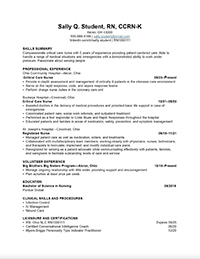 View a sample nursing resume.
How to Create a Nursing CV (With Example)
There's no cap on how long your CV should be. It should be as many pages as you need to give a comprehensive overview of your education and experience.
A nursing CV should feature:
Contact information (name; city, state, and ZIP code; telephone; email; and LinkedIn profile link, if available)
Education (degree(s), awarding institutions, and dates)
Dissertation or thesis title(s), names of advisor and committee members (if applicable)
Awards/grants
Academic appointments
Hospital affiliated appointments (if applicable)
Publications and conference presentations
Teaching experience and interests
Related experience (for example, administrative or editorial experience)
Languages or other skills (including technology)
Extracurricular activities/community service
Service and membership in professional associations
Certifications
Example of a Nursing CV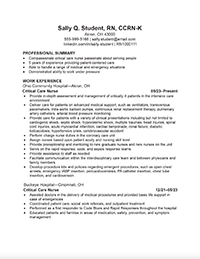 View a sample nursing CV.
Earn Your Next Nursing Credential Online With Purdue Global
If the time comes when you want to earn another nursing degree, remember Purdue Global. Our online nursing programs are accredited by the Commission on Collegiate Nursing Education and taught by experienced practitioners.* The flexible online format enables students to continue working while they pursue their educational and career goals. Request more information today.