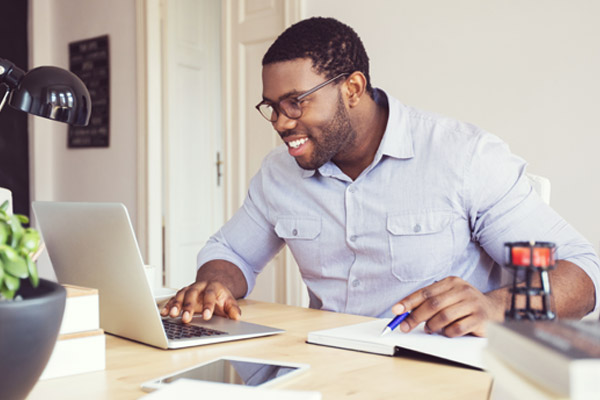 March 11, 2021 | Purdue Global
Preparing a solid resume is a critical step on your path to a rewarding job. While you may have years of experience, your resume can still go unnoticed if you don't optimize it for applicant tracking systems (ATS) and ensure it stands out to human reviewers, too. As you create your new resume or modify your last one, keep the following 15 tips in mind.
1. Tailor Your Resume to Your Desired Position or Industry
As you create your resume, keep in mind the needs of your target employer and tailor your resume to show how you fit the needs of that employer. If you're applying for a specific position, review the job requirements and description carefully and make sure that your resume reflects how you fit those requirements.
You should also research the employer and then review your resume to see if there is additional, relevant information you can add. For example, if you're applying for a job in the medical field, make sure your resume includes any medical or health care-related experience you may have.
2. Use a Clean, Visually Appealing Format
While your qualifications are usually the greatest indicator of whether you're a good candidate for a role, a resume that's clean, easy to read, and visually appealing could play a part in a hiring manager reading it.
As you create your resume, focus on formatting your resume so that it's easy to read. For example, your resume should include:
1-inch margins
Section headers
Bulleted lists
The same font throughout the document
Consistent line spacing
3. Use an Appropriate Font
Use a professional, clean, modern font. Times New Roman has been a historical go-to for resumes, and is still acceptable, but you may want to consider a different font, like Arial.
Additionally, ensure that your font is appropriately sized. A 10- to 12-point font is usually best.
4. Use a Professional Email Address
You might be surprised at how many people still include unprofessional email addresses in their resumes. Have a dedicated professional email address, if you don't already. Your first initial and last name is a common and recommended format for your email address. You may want to avoid using a number in your email address because this could be assumed to be your birth year, which could lead to perceived ageism.
Imagine you were a hiring manager, and you saw the following two email addresses:
no1.football.fan55@yahoo.com
jane.brooks@gmail.com
As much as we love sports, we're willing to bet most hiring managers would rather continue reading the resume of the second candidate.
5. Include a Summary Statement
A summary statement at the beginning of your resume is important. It's a brief statement that covers your experience and goals as they relate to the position you're applying for.
Keep it concise at about 3 to 5 lines.
"Think about the words you are using and try to use quantifiable information," says Jennifer Lasater, vice president, employer and career services at Purdue Global. "Instead of 'hard worker,' it's better to state that you 'increased sales by 25%'."
Use this space to summarize your experience, strengths, and goals as they relate to the position you are applying to.
6. Ensure All Information Is Up to Date
Some job-seekers create many resumes for many different positions. When reworking your resume for the job you're applying for, ensure that all the information is current and relevant to the given position. Check that you haven't left anything behind from an older version of your resume or one that was written for a different role.
7. Use Reverse Chronological Order
Putting your work history in reverse chronological order (so your most recent role is listed first, under "Experience") is the standard practice, and it's what your reviewer will be expecting.
The same is true for your education section. Your most recent schooling is most likely most relevant to the role you're applying for now, so list education in reverse chronological order as well.
8. Be Concise About Experience and Job Duties
Your experience and previous job duties are some of the most important words on your resume. It's tempting to want to elaborate on your accomplishments and make sure they're properly explained, but hiring managers want to get right to the meat of your experience to see how it aligns with their current needs.
Be concise about your previous duties and accomplishments. Use bullet points instead of full sentences or paragraphs. Instead of elaborating on your biggest accomplishments, clearly communicate them in 1 to 2 bulleted lines that begin with action verbs such as "managed" or "developed."
9. Make It ATS-Friendly
An applicant tracking system (ATS) is a type of software that helps employers collect, organize, and rank candidates' resumes. Three-quarters of recruiters and talent managers use some form of recruiting or applicant tracking software, Capterra reports.
An ATS helps hiring managers find the most relevant candidates by searching for certain keywords in resumes. To optimize your resume for an ATS, review the job description carefully for important keywords and include those that are relevant to your job or educational experience in your resume.
>> Read More: How to Optimize Your Resume for Applicant Tracking Systems
10. Decide: Education or Experience—Which Comes First?
The answer to this question is fairly simple. If you recently graduated from school with little to no relevant work experience, list your education first. This will be more relevant to employers than any unrelated jobs you held while earning your degree. If you had any internships that are relevant to the role you're applying for, put the internships first, then education.
Moving forward in your career, your experience should be placed above the section about your education. Your professional experience will almost always be more relevant to hiring managers than your education, unless there are strict educational requirements in your field. But even in that case, experience should be listed first.
11. Include Only Relevant Educational Information
You want your resume to be concise, so if you've enrolled at a college or university, you can exclude education previous to that, including your high school. You should include any education that you're currently working on, but don't include educational programs from the past that you started but didn't complete.
List any academic honors you've received, and only include your GPA if it's above 3.0.
12. Exclude the Reference Statement
Historically, standard practice when writing resumes was to add a statement along the lines of "References available upon request." This is unnecessary. Again, you want your resume to be as sleek and streamlined as possible, and excluding this statement saves room. Hiring managers know they're able to request references from you if they're interested.
13. Include Additional Section(s) if Relevant
The important thing here is "if relevant." If you have other past experience that's not necessarily related to the position itself but speaks to you as a candidate, you can include it. Some examples of additional sections include:
Internships
Volunteer experience
Community service
Languages spoken
Professional memberships
Associations/affiliations
Awards
14. Include a Cover Letter
You might think it's unnecessary or unlikely to actually be read, but a cover letter gives you the opportunity to provide your potential employer with a well-spoken narrative about your qualifications and career objectives. It also serves as a way to get ahead of or explain certain aspects of your resume—for example, a gap in employment—if necessary.
Try to include some aspects that aren't in your resume—you don't want your cover letter to repeat your resume in story form. "We recommend that students identify three qualifications from the job description that they have and illustrate in the cover letter how they meet those requirements," says Jennifer Katz, director of career services at Purdue Global.
Your cover letter should also be highly targeted and unique to each position you apply for.
>> Learn More: Tips on Writing a Stellar Cover Letter
15. Proofread (Then Proofread Again)
This tip can't be emphasized enough. This is your chance to make a good first impression, and one spelling or grammatical error could compromise the credibility of your entire resume. That might sound harsh, and not all hiring managers are such sticklers on this, but some are.
Read it and reread it. Send it to family and friends who will read it and give you feedback. In addition to helping identify any spelling or grammatical errors, this will also help identify any issues with words that have multiple spellings (e.g., role vs. roll, their vs. there). The more people that can help you review your resume, the better. Other people may be more likely to pick up something you missed, even if you have reviewed it yourself several times.
If You Need Additional Education to Land Your Dream Job
If you've already put in the work to become qualified for the position you're applying for, all you need to do now is clearly and effectively communicate that to your potential employers with a clean, concise resume. Good luck!
But if a college degree could help you reach your career goals, learn more about Purdue Global. We offer more than 175 online programs, from certificates to doctoral degrees. We've tailored higher education to meet the needs of working adults. Request more information today.
---
Your Path to Success Begins Here
Learn more about online programs at Purdue Global and download our program guide.
Request Information