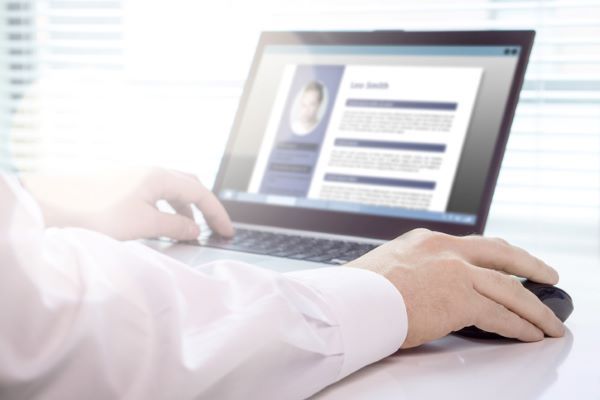 May 18, 2020 | Purdue Global
According to Capterra, a software research and review company, 75% of recruiters use an applicant tracking system (ATS). Jobscan, an application that helps job seekers prepare their resumes for applicant tracking systems, reports that more than 98% of Fortune 500 companies use an ATS.
What does this mean for job seekers?
We sat down with Jennifer Katz, director of Career Services at Purdue Global, and Samene Randolph, assistant director of Career Services, to learn why it's important to optimize your resume for an ATS and how to create an ATS-friendly resume.
What Is an Applicant Tracking System?
An ATS is software used by employers to track job applicants throughout the hiring process. Applicant tracking systems enable recruiters to collect and organize resumes, filter resumes by keywords, and rank job applicants. When someone applies for a position online, they're entered into the ATS and appropriately updated as they're reviewed, interviewed, and extended job offers.
Having ATS software enables businesses to identify high-quality candidates and fill positions more efficiently and cost-effectively than they could before this technology existed. Randolph explains how an employer could receive around 300 resumes for 1 open position.
"Many of those resumes are from applicants who aren't qualified for the position. Using applicant tracking systems allows businesses to actually pay attention to individuals who meet the qualifications for the position, so they're able to fill positions a lot quicker," she says. "Time and money go hand in hand."
Why Is it Important to Optimize Your Resume for Applicant Tracking Systems?
If you don't optimize your resume for applicant tracking systems, you might get overlooked.
"ATS software scans resumes for keywords relevant to specific job descriptions," Katz says. "Keywords are based on things such as work experience, skills, location, and past employers."
It's easy to be missed in the initial screening process if you don't tailor your resume for each unique job description. For example, if an employer is looking for an accountant, the job description might list required skills related to Excel and other software. If your resume doesn't include those things, it can easily get thrown into the "no" pile.
How to Create an ATS-Friendly Resume
It takes extra time to make your resume ATS-friendly, but optimization improves your chances of getting noticed in a sea of applicants.
Understand and Research the Position
Before you apply for a position, review the job description to determine whether you're a good fit. Then, if you're a good fit, spend time researching the position, company, and industry. Randolph says this can help you identify relevant experience and transferable skills to include on your resume.
Include Your Most Relevant Experience
It can be tempting to list every accomplishment and job you've had on your resume, but this isn't the best strategy. Once you understand the position you're applying for, comb through your resume to get rid of anything that's irrelevant to the position. If you have any volunteer experience or extracurriculars that are relevant to the job, consider including it.
Include Relevant Keywords From the Job Description
"I would look at the job posting and see what keywords and qualifications they're seeking," Katz says. "Then integrate those same words into your resume where it makes sense." Adding a "skills" section can be a great way to highlight your relevant hard and soft skills.
Don't Overuse Keywords
Keyword stuffing comes across as lazy or disingenuous. Katz explains that if you copy the exact lines of a job description in an unnatural way, it will be obvious once a real person reviews your resume.
Don't Misrepresent Your Experience
It's not worth it to misrepresent your experience for the sake of aligning your resume with a job description. Even if you make it through the initial ATS scan, you still have to speak to a real person about your experience during an interview.
"I tell my students all the time that while we're using the job description to help us tailor a resume, you don't want to lie," says Randolph. "So if you don't have the experience, you may just want to bypass the job. It's okay not to apply for every position. If you don't have the qualifications, it's okay to continue looking for the job that is the right fit for you."
Need Help Writing an ATS-Friendly Resume?
You've worked hard to build your professional skill set. Crafting a resume that reflects your hard work and is optimized for applicant tracking systems is the next step to getting an interview.* Purdue Global students may reach out to our Career Services team for help throughout the job-search journey.
If earning a college degree could help you meet your career goals, learn more about the online college degree programs we offer. Or, request more information today.
---
Your Path to Success Begins Here
Learn more about online programs at Purdue Global and download our program guide.
Request Information