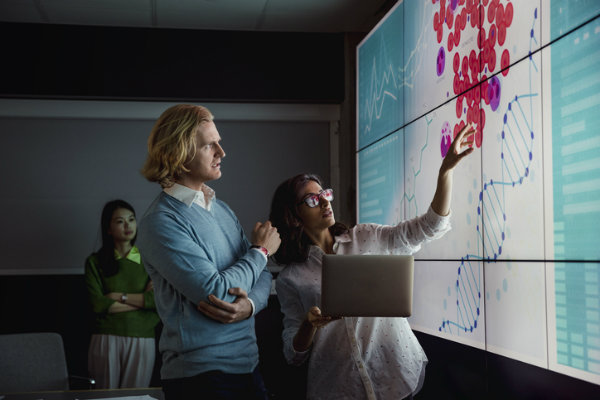 March 12, 2019 | Purdue Global
The field of health informatics emerged in the late 1960s, according to the Healthcare Information and Management Systems Society, when the American Society for Testing and Materials first began developing standards for electronic health record systems, electronic messaging, and data content and security. As technology evolved, the need to organize and analyze health information increased as well—and now, 50 years later, health informatics is both complex and growing.
What Is Health Informatics?
"Health informatics is both the processes and the tools used to record, store, and analyze health care information," says Zeynep Behjet, MD, MSHI, an adjunct faculty member in Purdue Global's School of Health Sciences. "Health informatics is where health care, computer science, and information management meet."
Health informatics professionals analyze information for health care companies, hospitals, and the government. The purposes of doing so are varied; a health informatics worker might analyze data to:
Report it to the government (such as the number of hospital admissions)
Conduct research (for example, examining large datasets to conduct population-based research)
Predict trends and outcomes (for example, the National Center for Biotechnology Information reports that health informatics specialists from the Johns Hopkins School of Medicine were able to analyze Google Flu Trends data to predict spikes in flu-related emergency room visits at least a week earlier than the Centers for Disease Control)
Why Is Health Informatics Important?
Health informatics plays an important role in improving patient outcomes. The ultimate goal of health informatics is to connect health care data to those who use it to advance medicine.
To that end, health informatics is used to:
Foster collaboration among health care providers
Establish policies and procedures that improve operations and the quality of patient care
Build and improve databases and develop information management and data security policies
Contribute to the body of shared knowledge that enables a society to report on itself and improve public health
What Can You Do With a Master's Degree in Health Informatics?
To enter the field, people typically earn a master's degree in health informatics. According to Behjet, two types of people usually enter health care informatics:
Experienced health care professionals who are looking to advance their careers, or
IT specialists looking to transition into the health care industry
"The precise job titles one can hold with a master's degree in health informatics are varied, because it depends on the background of the student," Behjet says. "This is also something that's not settled yet, because it is such a new field. Health care organizations are titling the jobs according to the responsibilities they want fulfilled."
A sampling of job titles for those who work in health informatics include*:
Health informatics specialist
Clinical informatics specialist
Clinical informatics manager
Clinical analyst
Application analyst
Data analyst—health care
Health informatics advocate
Public health information officer
It's possible to become certified in health informatics by the American Health Information Management Association.†
Learn More About the Master's Degree in Health Informatics at Purdue Global
Technology is at the center of the health care revolution, and health informatics will continue to grow in importance. Health informatics specialists are recording, storing, and analyzing health care data to improve collaboration, efficiency, and quality of care with exciting results, and those who work in health informatics have an opportunity to shape this young field and grow right along with it.
If you're interested in entering this intriguing field, learn more about the online master's degree in health informatics from Purdue Global. You'll learn from top faculty members with real-world experience, and our online format provides the convenience and flexibility that working professionals need. Request more information today.