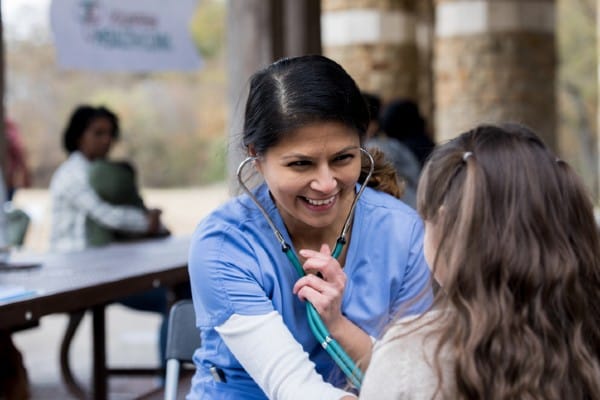 January 27, 2022 | Purdue Global
Community health nurses are a vital link in the health and welfare of neighborhoods. These registered nurses focus on improving the lives of diverse communities of infants, children, adolescents, and adults through education, prevention, and treatment.
"They assist with equalizing health care in diverse populations, so that care is more equitable, affordable, and well-coordinated," says Sheila Rucki, faculty member in the Purdue Global School of Nursing.
"Community health nurses look at the broader needs of a population, not just an individual," says Jessica Gordon, associate dean. "The agenda is health promotion, disease prevention, and recognizing the needs of the community."
Learn more about the role of community health nurses, what their future looks like, and how to become one.
What Is a Community Health Nurse?
Community health nurses start by building trust and relationships with individuals and local leaders. They also develop a strong understanding of people's backgrounds, experiences, and the social factors that influence health, with the goal of practicing cultural humility with empathetic care.
Many members of the community who take advantage of these services might not otherwise have access to private physicians or testing services, among other medical necessities.
"Ethnically diverse and culturally diverse populations are the most underserved," Rucki says. "Those are the individual groups that benefit most from this kind of health care."
Community health nurses often participate in mobile clinics to help underserved populations, she says.
"The homeless are hard to reach because they are mobile," Rucki says. "They benefit greatly from the care provided by community-focused providers, particularly nurses."
What Do Community Health Nurses Do and Where Do They Work?
Community health nurses work in a variety of settings from community-based centers to government agencies to shelters to vaccine distribution sites. They build coalitions, craft policies, educate the public, manage public health programs, and more.
Services Provided by Community Health Nurses
The American Public Health Association lists 10 essential public health services provided by community nurses and other front-line professionals:
Assess and monitor population health
Investigate, diagnose, and address health hazards and root causes
Communicate effectively to inform and educate
Strengthen, support, and mobilize communities and partnerships
Create, champion, and implement policies, plans, and laws
Utilize legal and regulatory actions
Enable equitable access
Build a diverse and skilled workforce
Improve and innovate through evaluation, research, and quality improvement
Build and maintain a strong organizational infrastructure for public health
"Community health nurses are this incredible file cabinet of resources. They can point people in the right direction for what they need at that time," Gordon says. "They're dealing with the community, but they provide education on where the community can get the help they need for individualized attention."
For example, if a community has a high diabetes rate, one of the focuses for that area might be diabetes prevention education.
"Every single community health nurse works based on the population and the needs of that population specifically," Gordon says.
Other health issues that could affect a community include:
HIV
Influenza
Obesity
Substance abuse
Teen pregnancy
Where Community Health Nurses Are Needed
Community health nurses, like other registered nurses, often work in local hospitals, trauma centers, and clinics. Many work in locations more focused on underserved communities, such as:
Aid organizations, such as Doctors Without Borders or the Red Cross, providing disaster relief along with other daily local needs
Community health centers, treating and educating around such topics as family planning, sexual health, and other preventative care
Correctional facilities, working to limit the spread of communicable disease, along with running educational programs for inmates and staff
Government agencies, helping with health policy development and implementation to create change on a large scale
Homeless shelters, focusing on preventative care through screenings and assessments, and helping people find social service assistance
Schools, providing education about illness prevention and good health habits, along with managing existing health problems and intervening in cases of abuse or neglect
"A lot of the community-based care centers are in parts of town or areas of the country or state where access to care might be limited or not affordable," Rucki says. "Being based directly in the community provides access opportunities that might otherwise not be available to diverse populations."
What Does the Future Look Like for Community Health Nurses?
Community health nurses have a bright future, but some serious challenges remain ahead.
"We're seeing an increased need because what we thought was the traditional way of delivering care is really no longer applicable," Rucki says. "Community-based care is becoming the primary way for many people today."
What Job Growth Looks Like
The national nursing shortage, which has been exacerbated by the pandemic, will continue to fuel a 9% job growth rate through 2030, according to the U.S. Bureau of Labor Statistics. The agency projects employers to add 276,800 RN positions from 2020–2030.*
Because of these growing needs, becoming a community health nurse has some advantages:
Creating strong partnerships between nurses and clients and/or community population
Enjoying collaborative nursing care working with clients in a nonhospital setting
Having a variety of work settings
Helping vulnerable communities
Providing holistic and more individualized care
Working a convenient schedule with little to no holiday or weekend hours
According to the U.S. Centers for Disease Control and Prevention, community health worker programs particularly need nurses trained in preventing and controlling infectious diseases, to deliver home-based care to low-income people.
What Challenges Remain Ahead
The National Institutes of Health indicate that public nurses face many challenges aside from the day-to-day demands of practice, including:
Concerns for personal safety
Frequent overtime
Inadequate staffing levels
Limited management support and supervision
On-call duties
Professional isolation
Restricted opportunities for career development
However, Gordon says a greater challenge facing community nurses is resistance.
"This can happen whether you're in acute care or community health, but you often see a population as a whole resisting care," she says. "It can be incredibly frustrating when you've provided quality education and care. But you persevere. The challenge is not being rejected, it's how you overcome it."
"It may take time to build trust in populations," Rucki says. "Once you build trust and build that ongoing relationship, you're more likely to see change, behavior changes in people's health care practices."
Who Would Make a Good Community Health Nurse?
You need certain qualities and qualifications if you're interested in becoming an effective community health nurse.
The Qualifications You Need
At a minimum, you must earn an associate or bachelor's degree in nursing and pass the National Council Licensure Examination for Registered Nurses (NCLEX-RN).† Some may wish to complete a two-year master's degree program in nursing. Employers often prefer community health nurses who have one to two years of nursing experience.
"Because this is such an education-heavy job, there's a strong preference toward those with a bachelor's degree," Gordon says.
Community health nurses also are strongly encouraged to have ties to the areas in which they wish to work. Participating in volunteer programs both before and after becoming a community health nurse is highly recommended.
Community health nurses should also consider certification. One exam, the Advanced Public Health Nurse certification exam, is being phased out.
"However, there are opportunities in interprofessional groups to demonstrate excellence and receive certifications," Rucki says.
Currently, there is no certification specific to public health nursing at the generalist level. However, nurses with a bachelor's degree and at least five years of public health experience can obtain the Certification in Public Health (CPH). Visit the National Board of Public Health Examiners for more information on the CPH.
The Qualities You Need
A panel convened by the National Institutes of Health agreed that a successful nurse needs such qualities as being analytical, communicative, cooperative, coordinating, disseminating knowledge, empathic, evidence driven, innovative, and introspective.
Community health nurses should also be connected to their community, open-minded to those different from them, sensitive to different opinions, and objective in their view of the communities they serve.
"An essential component to these roles is a passion for serving the communities that are around them," Gordon says. "These nurses have a connection and they understand the populations. They want to see them thrive and do better."
"What's really so rewarding for nurses is this long-term engagement with a population," Rucki says. "In an acute care setting, you're engaged with the patient and family for a short period of time. But in the community, they're your patients for life. You see families grow and care for them over a number of years.
"That ability to connect and learn and know about the individuals that make up your community is so rewarding for nurses."
How Purdue Global Can Help You Become a Community Health Nurse
"Community-based nurses are very strong force for change in a community," Rucki says. Gordon says this theme is woven throughout all programs at Purdue Global.
Purdue Global's online nursing programs can help you start on the road to becoming a community health nurse.‡ Reach out for more information today.