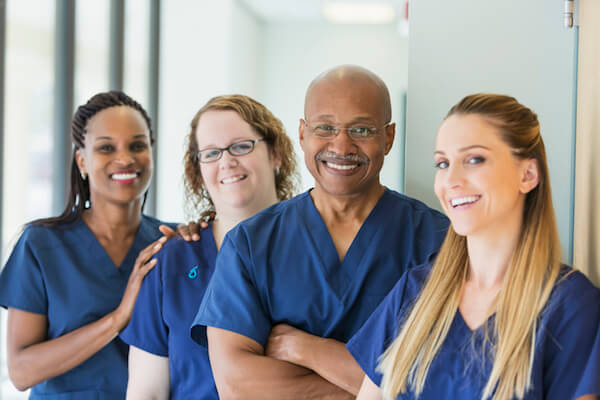 March 17, 2020 | Purdue Global
|
Updated November 10, 2022
Why become a nurse? High job satisfaction rates, fantastic benefits, abundant opportunities—the reasons are wide and varied. Below are 10 excellent reasons to become a nurse.
1. Nursing Is an Opportunity to Make a Real Difference in People's Lives
Time and again, nurses cite making a difference as the number one reason for choosing nursing—and for staying in the field.
"Being a nurse has been incredibly rewarding and humbling," says Melissa Burdi, dean and vice president of Purdue Global School of Nursing. "I've had the privilege and honor to be part of many intimate patient situations where they've placed their trust in me. And I'm truly grateful for all of those experiences, as they have enriched my life as a nurse and as an individual."
2. There Are Ample Job Opportunities
The country's nursing shortage is well-documented. An aging population, combined with an increased emphasis on preventative care, is expected to create demand for skilled nurses. In fact, registered nurse is one of the top 20 occupations expected to add the most new jobs from 2021 to 2031. This projected growth in job opportunities is one motive to be a nurse.
"In addition, nurses are able to transition into numerous aspects of nursing and health care, ranging from working within acute care at the hospital to outpatient settings focused more on preventive care," Burdi says. "From there, nursing offers opportunities in the fields of health policy, informatics, and academia.
"There are multiple opportunities within the profession that lend themselves to creating jobs and opportunity."
3. Nursing Is a Trusted and Respected Profession
Nurses were ranked the most trusted profession in 2021, according to the annual Gallup poll on honesty and ethical standards. Nurses have topped the list of 22 professions for the past 20 years. Most Americans polled (81%) described nurses' ethics as high or very high.
Nurses represent the largest component of the health care workforce, with over three million registered nurses employed in the U.S., according to the U.S. Bureau of Labor Statistics. "We are regarded as a very trusted profession," says Burdi. "And it is both an obligation as well as an honor to be the most trusted and respected profession."
4. There's Significant Opportunity for Interprofessional Collaboration Among Health Care Disciplines
Nurses have the opportunity to collaborate with a variety of health care partners, such as physicians, respiratory therapists, and allied health partners. Collectively, their interprofessional work helps to create quality patient outcomes.
"We use evidence-based practice to provide our patients with the most current interventions that foster healing and promote preventive health," says Burdi. "With that interprofessional collaboration, we are able to bounce ideas off one another to ultimately improve the patient experience."
5. Nursing Offers a High Degree of Job Satisfaction
According to a 2021 survey by American Nurse Journal, 80% of nurses would choose nursing as their profession again. "One reason for this high degree of job satisfaction is that we have an opportunity to grow within our skill sets. We can start off as a registered nurse practicing at the bedside; evolve into different areas of nursing such as patient care coordination, nursing education, and health care administration; and expand to working within the community in public health sectors," Burdi says. "So there's a lot of opportunity for nurses to branch out and deepen their skills and their knowledge, and there's also a plethora of opportunities to contribute to patient care."
These opportunities can be expanded to other settings such as ambulatory care, public health, community health nursing, and school nursing. "The options and flexibility are really what contributes to the satisfaction of the profession," Burdi adds.
Even though nurses report high levels of job satisfaction, it's important to remember that nursing is a demanding job that can lead to feelings of burnout. Thankfully, by understanding its signs and symptoms, nurses can work to prevent and address burnout.
6. Employment Choices Are Wide and Varied
Examples of nursing specialties include family practice, geriatrics, adult health, maternal-infant, pediatrics, mental health, and medical-surgical nursing. In addition, with advanced education you can work in:
Community education and public health
Nursing case management
Nursing management and leadership
Implementation of evidence-based practice
Patient care coordination
Nursing education
Health care administration
Academia
7. You Can Work Full- or Part-Time with Varying Shifts
Another reason why nursing is an attractive career is that it lends itself to flexible schedules and shift selection. There are plenty of full-time as well as part-time opportunities in nursing.
"You can also gradually begin to plot out your goals and achieve those goals over time as they become feasible," says Burdi. Benefits such as employer-provided tuition or considerations of work-life balance may also come into play.
"But the beauty is that you have these options that allow you to further your career through the lens of academic advancement and specialty certification."
8. Nurses Receive Excellent Benefits
Tuition reimbursement for continuing education, generous paid time off (PTO), tax savings plans, life insurance, pension plans, medical-dental-vision insurance, and the above-mentioned schedule flexibility—these are all common nursing employment benefits. You may even be able to have your student loans lowered or forgiven, as nurses have access to a variety of loan forgiveness programs.
"Nurses do have very good benefits, particularly with tuition reimbursement," Burdi says. "This is designed so nurses can be lifelong learners in pursuit of excellence, ensuring that we are always being driven toward the latest evidence in research so that our practice remains safe and accurate."
9. Nurses Can Travel the World
There is a great need for health care not just within the U.S. but worldwide, and travel nursing is a wonderful opportunity to fill those health care needs. According to data collected by Zippia, there are over 1.6 million traveling nurses employed in the U.S.
"This is also an opportunity for us to grow as individuals and deepen our perspective on cultural diversity," says Burdi. "As we broaden our lens on cultural diversity, it enriches our ability to provide care and changes our scope, so that we're not considering care in the moment. Instead, we're looking at population health needs within the United States and also worldwide."
10. You Can Nurture Your Love of Learning
Health care is constantly evolving, and a love of learning is just about mandatory in nursing. Continuing education requirements vary by state, but it's important that nurses continue to build their knowledge—their knowledge as nurses and their knowledge of the health care profession, the health care delivery model, and how they fit into that model.
"We are constantly searching for opportunities to improve the patient experience and to refine our knowledge and skills as nurses so that we can serve as advocates of patient safety who are practicing with the latest evidence possible," says Burdi.
Earn a Nursing Degree Online at Purdue Global
Ultimately, nurses are caregivers. It's vital that nurses be caring for people who love helping others and want to make a difference in the world. At the same time, nurses should be data-driven people with a focus on safety and evidence-based care.
Are you interested in becoming a nurse or furthering your nursing career? Purdue Global offers a range of online nursing degree programs, from RN-to-BSN and master's degree programs to post-master's certificates and Doctor of Nursing Practice. Prelicensure options are also available at select regional locations.
Make your nursing dream a reality with Purdue Global—contact us today for more information.