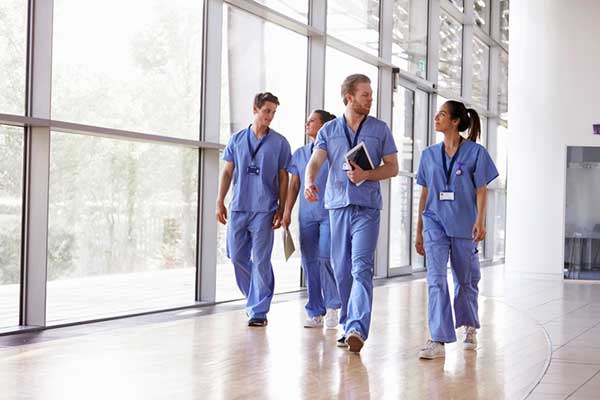 April 20, 2018 | Purdue Global
|
Updated January 20, 2023
The demand for nurses is expected to increase across all types of nursing, according to the U.S. Bureau of Labor Statistics. An aging population, a greater emphasis on preventive care, and an increase in chronic conditions are propelling this demand. Of course, maintaining a "complete" list of nursing specialties in the days of modern medicine is close to impossible. Specialties evolve in real time, driven by need. But if you're interested in nursing, this comprehensive guide is a good start. Find out about the types of nursing specialties and explore their related professional associations.
Ambulatory Care Nurse
An ambulatory care nurse provides health care for non-hospitalized patients who require minimal bedside services. They also care for discharged patients that require follow-up nurse visits.
These nurses work in such settings as clinics, hospitals, nursing homes, and rehabilitation centers.
Burn Care Nurse
A burn care nurse cares for patients who have suffered burn injuries. They assist these victims throughout their recovery, from initial trauma assessment to recovery to any post-trauma therapy required.
These nurses work in a variety of settings, including emergency rooms, hospital burn care units, intensive care units, outpatient facilities, rehabilitation centers, and trauma centers.
Cardiac Care Nurse
These nurses work with patients who have heart conditions or have had heart surgery. They administer medication, monitor patient progress, and follow treatment plans assigned by a cardiologist.
Cardiac care nurses, sometimes called cardiology or cardiovascular nurses, may work in hospitals, outpatient care centers, or physicians' offices.
Case Management Nurse
A case management nurse helps doctors and patients coordinate, implement, and oversee care plans throughout the course of an illness. They often specialize in a certain area, such as managing a particular chronic illness or long-term care.
These nurses work at a variety of medical facilities, from clinics, hospitals, and private practices to home health care companies, hospice facilities, and nursing homes.
>> Read: What Is a Nurse Case Manager?
Certified Nurse Midwife
In addition to assisting with births, a certified nurse midwife provides other gynecological services. They also provide menopause and post-menopause care, postpartum care, and reproductive services.
These nurses may work in birthing centers, hospitals, private practices, and public health clinics. They may even visit patients' homes.
Clinical Nurse Specialist
These nurses help identify gaps in health care delivery and work to design and implement interventions. They may administer basic treatments, make diagnoses, order tests, and prescribe medications, though the scope of practice for clinical nurse specialists varies from state to state.
Clinical nurse specialists may work in clinics, hospitals, nursing homes, private practice, and other facilities.
Critical Care Nurse
Critical care nurses specialize in monitoring and treating patients who are facing life-threatening illnesses or injuries. They must be able to endure stressful situations and think critically while performing their duties. Critical care nurses communicate with the medical team and the patient's family, so effective communication skills are essential for this role.
They typically work in intensive care units and other facilities where patients with long-term illnesses receive care.
Dermatology Nurse
A dermatology nurse cares for and treats patients who have skin diseases and conditions, injuries or wounds, or who undergo cosmetic surgery. They may also assist with chemical peels, laser treatments, tattoo removal, and other treatments.
These nurses work in a wide range of settings, including burn centers, clinics, hospitals, infusion centers, plastic surgeons' offices, and private practice offices. They also may provide treatments in cosmetic dermatology offices and day spas.
Developmental Disability Nurse
A developmental disability nurse works with patients who have autism, cerebral palsy, Down syndrome, or other cognitive or developmental impairments.
These nurses, also known as special needs nurses, work in care facilities, hospitals, institutions, schools, and other specialized settings.
Domestic Violence Nurse
These nurses treat victims of domestic violence. Along with treating physical injuries, they help victims heal and cope with emotional and mental wounds. Domestic violence nurses must keep meticulous notes and records that may be called upon in court.
Domestic violence nurses commonly work in hospitals but may also work in community clinics, shelters, and with other public health agencies.
Flight/Transport Nurse
A flight or transport nurse provides medical care during transport in any sort of aircraft. They provide comprehensive pre-hospital emergency critical care, either from the scene of an accident or during transportation from hospital to hospital.
These nurses work in the small spaces of a helicopter or airplane transport, along with emergency transportation vehicles.
Forensic Nurse
A forensic nurse treats victims of trauma. This could include assault, domestic violence, neglect, or other causes of intentional injury. They also provide information to law enforcement that will help with apprehending perpetrators. In some instances, forensic nurses may be called upon as a witness in court cases.
These nurses work in corrections institutions, coroners and medical examiners offices, psychiatric hospitals, and regular hospitals, along with anti-violence agencies or community crisis agencies.
Gastroenterology Nurse
These nurses help patients suffering from diseases and disorders of the digestive tract, including the stomach and bowels. They can perform diagnostic procedures or assist during endoscopy.
Gastroenterology nurses often work in clinics, hospitals, long-term care facilities, and private practice.
Genetics Nurse
A genetics nurse cares for patients with diseases that have a genetic component, such as Alzheimer's disease, cancer, diabetes, heart disease, and other conditions. They may also assess risk for patients, analyze results of tests, and counsel patients.
These nurses may work in specialty genetics clinics, cancer centers, hospitals, prenatal and reproductive centers, or specialty medical practices.
Geriatric Nurse
A geriatric nurse treats the physical and mental needs of older people, providing holistic and individualized care. They usually care for patients with long-term, chronic medical conditions not related to acute illness or injury.
They often work in hospitals, home health care, hospice care, or senior care facilities.
Hematology Nurse
These nurses treat patients with blood diseases or disorders, such as cancer, hemophilia, Hodgkin's disease, leukemia, lymphoma, and sickle cell anemia. They will perform checkups, collect blood samples, order blood tests, assist with blood transfusions, and perform or assist with many other medical procedures.
Hematology nurses work in blood clinics, cancer treatment centers, hospitals, specialty clinics, and other medical settings.
HIV/AIDS Care Nurse
An HIV/AIDS care nurse treats patients with HIV and AIDS, in all stages of their disease. Besides acting as caregivers, they are educators and patient advocates.
These nurses work in clinics, hospitals, and specialists' offices, along with assisted living facilities, community health centers, home care agencies, and hospice care centers.
Holistic Nurse
A holistic nurse treats all aspects of a person's being, from caring for their physical body to overseeing their emotional, mental, social, and spiritual well-being.
They work in traditional hospitals and medical facilities, along with consultancies, hospice facilities, long-term care, palliative care facilities, private practice, and other facilities.
Home Health Care Nursing
A home health care nurse works one-on-one with patients in their homes, providing services to a wide range of patients. They assess their patient's needs, help develop a plan of care, oversee that plan, and monitor patient response to medication, rehabilitation, or other treatments. They also help coordinate therapeutic services under the direction of the patient's health care provider. These may include occupational, respiratory, and physical therapy.
Home health care nurses may work with the chronically ill, disabled or elderly, or with people recovering from an accident, injury, or surgery. They can be employed by government organizations, home health and hospice agencies, hospitals, insurance companies, medical centers, and senior communities.
Hospice Nurse
These nurses provide comprehensive care for patients who are in their last weeks of life. They also support their patients' caregivers and loved ones, guiding all of them through the end-of-life transition.
Hospice nurses can work in a variety of locations, including hospitals, hospice centers, nursing homes, patient homes, or skilled nursing facilities.
Informatics Nurse
An informatics nurse combines nursing science with information and analytics to care for patients. They work with a diverse group of stakeholders, using clinical and technical perspectives to prioritize patient safety.
These nurses may work in clinics, health-care consulting firms, hospitals, long-term care facilities, and nursing schools.
>> Read: Health Informatics: A Guide to This Flourishing Field
Infusion Nurse
This nurse administers medication and fluids such as antibiotics, blood therapy, chemotherapy, immunotherapy, and other fluids. They use an intravenous line, venous access port, or a ventral line.
Infusion nurses can work in hospitals, home health, infusion centers, long-term care facilities, oncology centers, and skilled nursing homes.
Lactation Consultant
A lactation consultant specializes in the clinical management of breastfeeding and lactation. These consultants train mothers how to breastfeed their babies, providing education and instruction (mainly postpartum), but sometimes during the pregnancy.
These nursing consultants may work in birth centers, pediatric offices, postpartum hospital units, or public health clinics.
Legal Nurse Consultant
A legal nurse consultant consults with and provides expertise to attorneys when exploring medical issues. They bridge the gap between the legal process, health care science, and patient outcomes during legal cases.
These consultants work in independent consulting practices, insurance companies, and legal firms.
Licensed Practical Nurse
A licensed practical nurse plans and manages individualized patient care. They monitor patient health, administer basic care, provide for their comfort, discuss care, report to doctors and RNs, and keep records.
These nurses work mostly in nursing and residential care facilities. They may also work in hospitals, physicians' offices, home health care, or in government.
Long-Term Care Nurse
These nurses provide services for patients who require extended care, including those with injuries, severe illnesses, and other disabilities. They also care for elderly patients who need frequent care.
A long-term care nurse can work in assisted living facilities, home care agencies, nursing homes, and retirement communities.
Managed Care Nurse
A managed care nurse makes sure patients undergo only necessary medical procedures and take advantage of preventive medical care. They work with government agencies, insurance companies, medical facilities, nurses, patients, and physicians.
These nurses typically work in offices at clinics, community health centers, hospitals, and insurance companies.
Medical-Surgical Nurse
These nurses specialize in caring for patients with a variety of medical issues or who are preparing for or recovering from surgery. They help coordinate care among the health care team.
Medical-surgical nurses primarily work in hospitals, but may also work in homes, outpatient settings, or provide telemedicine.
Military Nurse
A military nurse, just like a civilian nurse, spends most of their time directing patient care. They administer medication, assess patients, collaborate with specialists, and maintain accurate medical records.
These nurses can serve at home or overseas. They may work in military bases, clinics, hospitals, or even on the combat field.
Missionary Nurse or Faith Community Nurse
Missionary or faith community nurses focus on the health care and prevention for patients within the context of a faith community. These nurses—also called church, congregational, or parish nurses—are expected to be knowledgeable about care practices along with the spiritual beliefs and practices of their faith communities.
Missionary nurses work in all major denominations and many non-denominational settings. They also can work in charities, faith-based organizations, and nonprofits.
Neonatal Intensive Care Nurse
Neonatal intensive care nurses work with newborn infants and premature infants who have a variety of medical conditions or birth defects.
Most of these nurses work in hospitals or nurseries in the neonatal intensive care unit (NICU). Some work in community settings, in-home settings, or follow-up care.
Nephrology Nurse
This nurse serves patients who require kidney care. They may specialize in pediatric nephrology or specific treatments such as dialysis or transplant.
Nephrology nurses may work in clinics, hospitals, medical facilities, and physicians' offices. Some homebound patients also require the care of nephrology nurses.
Neuroscience Nurse
A neuroscience nurse cares for patients affected by or living with a neurological illness. Their patients may experience a variety of effects due to a nervous system dysfunction, such as dementia, epilepsy, paraplegia, quadriplegia, stroke, traumatic brain injuries, and other events.
These nurses may work in elder care facilities, hospitals, outpatient clinics, and rehabilitation facilities.
Nurse Advocate
A nurse advocate works on the behalf of patients to protect patient rights and maintain quality of care. They are a liaison between patients and doctors, intervening when there is a concern about care and working to resolve patient care issues.
These nurses work in hospitals, long-term care centers, outpatient care centers, and specialty departments.
Nurse Anesthetist
These nurses provide pain medication for patients before, during, and after surgery. They administer this anesthesia to keep patients either asleep or pain-free during surgery. They also are responsible for monitoring the patient's functions during surgery.
Nurse anesthetists are in demand in many locations, from critical access hospitals to surgical hospitals to outpatient care centers. They also work in the offices of dentists, ophthalmologists, pain management specialists, and plastic surgeons.
Nurse Attorney
A nurse attorney is licensed to practice both law and nursing. They represent medical professionals in court in malpractice cases and work to change policies within the health care system.
These nurses can work in clinics, hospitals, or an educational setting while focused on health care. In legal settings, they may work with the government, insurance companies, law firms, or in private practice.
Nurse Executive
A nurse executive is the most senior administrator in a nursing organization. They lead the nursing team, oversee management of patient care services, and make administrative decisions.
These nurses work in consulting firms, health care organizations, home health agencies, hospitals, nursing homes, and nursing schools.
>> Read: What Is a Nurse Executive?
Nurse Life Care Planner
These nurses help patients who may suffer from debilitating illnesses, injuries, or disabilities and therefore may be in need of care for the rest of their life. Their patients may have HIV/AIDS, autism, diabetes, mental health disorders, or paralysis.
Nurse life care planners often work in medical facilities that cater to long-term patients. They may be in clinics, hospice care centers, hospitals, nursing homes, or rehabilitation centers.
Nurse Practitioner
A nurse practitioner has a graduate degree in advanced practice nursing. They are trained to assess, diagnose, order, and interpret medical tests. They also collaborate in the care of patients and prescribe medications.
These nurses work in nearly every health care setting, including clinics, emergency rooms, hospitals, nursing homes, and urgent care facilities. There are a variety of specialty areas available for nurse practitioners, including family practice, acute care, psychiatric mental health, and more.
>> Read: How to Become an APRN With the Help of Purdue Global
Nurse Researcher
A nurse researcher studies aspects of illness, health, and health care, with an eye to find ways to improve services and outcomes.
These nurses work in many settings, from health care facilities to laboratories to research organizations to universities.
Nursing Author, Historian, or Writer
A nursing author, historian, or writer contributes to articles, educational materials, books, or even movie or television scripts about nursing. They'll consult, fact check, and review written materials. In some cases, they'll even write the material themselves.
These nurses often pursue writing on top of their usual nursing duties. They may work with a specific publication or they may often provide freelance services.
Obstetrics Nurse or Gynecology Nurse
Obstetrics or gynecology nurses typically work alongside OB/GYN physicians. They provide prenatal, postpartum, and reproductive health care through all stages of a woman's life.
OB/GYN nurses work in a variety of health care environments, including community clinics, family planning centers, maternity wards, and in private practice.
Occupational Health Nurse
These nurses work to promote or restore health, prevent illness and injury, and protect people from environmental and work-related hazards. They also deliver health and safety programs and services to workers and community groups.
Occupational health nurses work in hospitals and medical centers, along with manufacturing and production facilities, and in government.
Oncology Nurse
An oncology nurse is a vital part of cancer care teams, administering treatments, communicating with care providers, providing expertise, and helping develop a plan for each patient.
These nurses work in cancer centers, clinics, doctors' offices, hospitals, and outpatient care centers.
Ophthalmic Nurse
An ophthalmic nurse focuses on eye health, assisting with assessment, care, and treatment of patients with diseases and injuries. These can include astigmatism, blindness, cataracts, glaucoma, and other conditions.
These nurses work in clinics, eye care centers, hospitals, and ophthalmologist offices.
Orthopedic Nurse
These nurses care for people with musculoskeletal diseases and disorders, including arthritis, broken bones, fractures, joint replacements, and osteoporosis. They also assist doctors with surgery, administer pain medications, and treat injuries.
Orthopedic nurses can work in ambulatory infusion centers, hospitals, and long-term care centers.
Otorhinolaryngology Nurse
An otorhinolaryngology nurse specialized in care for patients with ear, nose, or throat problems. They help treat acute and chronic problems, from allergies to infections to injuries to abnormalities.
These nurses work in allergy clinics, assisted living centers, community clinics, hospitals, otorhinolaryngology offices, and plastic surgery offices.
Pain Management Nurse
A pain management nurse cares for patients who are suffering from chronic or acute pain. They assess and examine patients, perform diagnostic tests, and help them manage their pain safely.
These nurses work in clinics, hospitals, and physicians' offices. They also work in rehabilitation centers and sports medicine offices.
Pediatric Nurse
These nurses work with babies, toddlers, tweens, and teens. They focus on conditions and issues specific to younger people and with the stages they will go through as they grow.
Pediatric nurses work in ambulatory care centers, doctors' offices, hospitals, and long-term care centers.
Psychiatric Nurse
A psychiatric nurse helps assess, address, and monitor behavioral and mental health conditions. They can treat patients with anxiety, bipolar disorder, depression, schizophrenia, and substance abuse.
These nurses can work in a wide variety of locations, from assisted living facilities to behavioral care companies, to primary care offices, to rehabilitation centers, to state and federal facilities.
>> Read: How to Become a Psychiatric Mental Health Nurse Practitioner
Public Health Nurse
Public health nurses work with whole communities, educating them about health issues, improving community health and safety, and increasing access to health care. They often go into communities to provide services instead of waiting for patients to come to them.
These nurses often work for community health centers, government agencies, nonprofit groups, and other care groups that work with underserved communities.
>> Read: The Importance of Community Health Nursing
Radiology Nurse
A radiology nurse cares for patients who need diagnostic imaging or radiation therapy. They evaluate, plan, and provide care for patients during their procedures.
These nurses usually work in a health care facility or hospital. They may specialize in one medical department or may rotate throughout a medical facility.
Rehabilitation Nurse
These nurses specialize in patients with chronic illness and disabilities. They help them to attain optional function and health, and to adapt to an altered lifestyle. They work with patients of all ages.
Most rehabilitation nurses work in either inpatient or outpatient rehabilitation centers. They might also work in acute and subacute rehab facilities.
Reproductive Nurse
Reproductive nurses, also known as fertility or IVF nurses, care for patients who are seeking counseling or treatment options related to reproductive health. They most often treat or advise couples or individuals on matters of conception, fertility, and reproduction. They also help advise women going through menopause.
These nurses work at counseling programs, egg donor centers, hospitals, obstetrics and gynecological offices, and reproductive clinics.
Rheumatology Nurse
A rheumatology nurse helps patients with rheumatic diseases that affect joints and muscles, including fibromyalgia, lupus, myositis, rheumatoid arthritis, and more.
These nurses work in hospitals, specialty clinics, and physicians' offices.
School Nurse
A school nurse, aside from providing medical care for students of all ages, creates, coordinates, and distributes care plans for patients who need additional physical and mental health support.
School nurses work at all education levels, from preschool through college.
>> Read: Should You Become a School Nurse?
Substance Abuse Nurse
These nurses assess and monitor a substance abuse patient's treatment strategy and recovery, evaluating the program for strengths and weaknesses. They also administer medications and can help deploy behavioral therapy techniques.
Substance abuse nurses work with alcohol, drug, and other substance abuse patients in community health clinics, mental health clinics, psychiatric wards, and treatment centers.
Toxicology Nurse
A toxicology nurse treats patients who have been exposed to toxins or poisons, have severe allergic reactions, or have had drug overdoses. They may help develop treatment plans for patients and may work with poison control hotlines.
These nurses work in doctors' offices, emergency rooms, and hospitals.
Transcultural Nurse
A transcultural nurse provides culturally sensitive care to patients from different backgrounds and ethnicities. These nurses focus on individual needs and preferences of their patients while showing respect for their culture and beliefs.
These nurses work in community clinics, hospitals, and outpatient facilities.
Transplant Nurse
Transplant nurses work closely with the patients either donating or receiving organs or tissues. These nurses coordinate a patient's care throughout the transplantation process. They also administer medications, dress wounds, monitor patients' vital signs, and watch out for infections and organ rejection.
These nurses, sometimes called a transplant nurse coordinator, work in ambulatory surgical units, hospitals, and organ transplant facilities.
Trauma Nurse
These nurses specialize in diagnosing and treating illnesses or traumatic injuries that may be life-threatening. Some of these nurses are first responders, caring for victims of self-inflicted injuries and violent crimes.
Trauma nurses are often deployed to ambulances or other vehicles that transport patients. They also work in hospitals, intensive care units, and trauma centers.
Urologic Nurse
A urologic nurse cares for patients with urinary tract diseases, such as issues with the bladder, kidney, and urethra. They may administer medications, assist with catheterization, and teach patients about hygiene and sexually transmitted diseases.
These nurses work in doctors' offices, hospitals, and outpatient care centers.
Veterans Affairs (VA) Nurse
Nurses who work with veterans affairs help coordinate patient care for those who have served in the U.S. military. Besides physical needs, they may help veterans with psychological and emotional care. For example, they may work with veterans suffering from post-traumatic stress disorder.
VA nurses work in outpatient care centers, patients' homes, and VA hospitals.
Wound, Ostomy, and Continence Nurse
A wound, ostomy, and continence (WOC) nurse provides care for those with abdominal stomas, drains, fistulas, pressure injuries, wounds, or continence disorders. They teach those with ostomies and wounds about care and rehabilitation.
WOC nurses work in home health care, hospitals, long-term care centers, and nursing homes.
Want to Learn More About Nursing?
The nursing profession is one of the most rewarding and stimulating careers you can have. You can find even more national, state, and international nursing organizations here.
Interested in advancing your nursing career? Purdue Global offers online nursing programs for busy working adults. Learn more about our online nursing programs.
---
---
Your Path to Success Begins Here
Learn more about online programs at Purdue Global and download our program guide.
Request Information