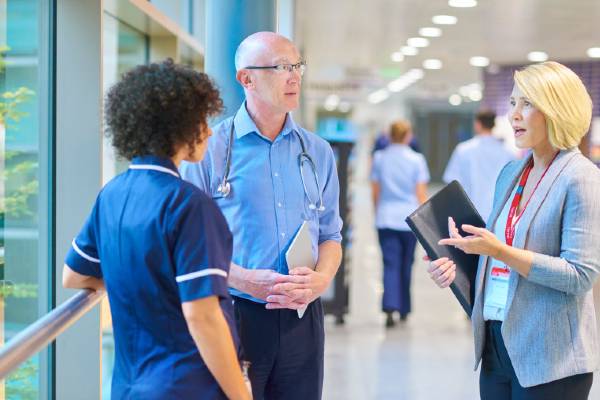 June 12, 2021 | Dr. Candi Constantine-Castillo, DHA, MBA, MSN, RN, FACHE, CEN, CPHQ, CPHRM, CENP, NEA-BC, HACP, CNML
The American Organization of Nurse Executives (AONL) describes the nurse executive role as "[setting] the vision for nursing practice in the delivery of safe, timely, efficient, equitable, and patient-centered care. Working within a collaborative and interprofessional environment, the nurse in executive practice is influential in improving the patient experience of care (including quality and satisfaction), improving the health of populations and reducing the per capita cost of health care." A specific set of defined competencies guides the nurse executive practice. Additionally, nursing leadership theories provide a foundation for care provision leadership in the organization.
But what exactly is the nurse executive? What embodies the essence of the acute care nurse executive in today's challenging and volatile world of health care?
The honor of serving in the chief nurse executive role is without parallel. Where else can one demonstrate operational and financial acumen, lead members of the most trusted profession in the world, and enjoy profound accomplishment from affecting the health outcomes of thousands through the daily activities of a single role? The following model addresses the unique and desirable qualities of the nurse executive. Not all the components are driven by published evidence or theory, but rather from observations, experiences, execution, and passion for the nurse executive's role.
The NURSE LEADER Model
N – Novel
Novel, as defined by Merriam Webster, is "strange or unprecedented." As a nurse executive, theory and evidence guide the practice, but the passion and execution of the role must be creative and innovative. The opportunity to develop and test new strategies while grounding interventions in established evidence and theory is the novel nurse executive's hallmark quality.
U – Unwavering
The chief nurse must be unwavering in their execution of duties to ensure safe and quality patient care. Obstacles will always be present in pursuing excellence in patient care provision. The chief nurse's role is to ensure the organization maintains its focus on the business's purpose—the patient. Steadfast adherence to values of efficacy and benevolence is crucial for the nurse leader.
R – Resourceful
As health care reimbursement continues to decline and the cost of health care provision increases, the chief nurse must be highly competent in creative cost-saving and alternative strategies to achieve improved outcomes. Utilizing the resources currently available while adding improvements within financial or resource constraints to enhance care provision or working dynamics is a key ability for the nurse executive. Creativity is the key.
S – Strategic
While the passion and clinical science of nursing are at the core of the chief nurse, articulating operational and financial strategies and executing those strategies are vital for the organization's sustainment, the nursing division, and the patient care provision. Nurse executives now must be as operationally focused and competent as their chief financial officer and chief operating officer peers in the C-suite.
E – Empowering
Empowerment is an essential function of the chief nurse. Nursing leaders and their teams must be empowered to make decisions, develop performance improvement approaches, and advocate for their patients to ensure excellent outcomes and foster a nursing team's unique culture. The nurse executive should provide an environment supportive of risk taking, creativity, and innovation to provide consistent stimulation and recognition. This culture promotes team interconnectedness, efficacy, and ultimately retention.
L – Legacy-building
A chief nurse should have a passion and strive to create a legacy—a personal goal of how they would hope to be remembered. Many leaders want to leave a legacy of inclusion, education promotion, fairness, or professional promotion development for the nursing division. Creating the vision of your legacy will lend to your daily execution and performance in the chief nurse executive's role.
E – Engaging
The nurse executive's essence and ability to engage with all stakeholders is an essential trait. The chief nurse must possess the ability to engage various audiences and stakeholders to promote the nursing profession and achieve goals for the provision of care and the organization at large. Frontline and ancillary team promotion must be as equally important to the nurse executive as engagement with physician partners on the medical executive committee or the governing board.
A – Authentic
The nurse executive has the opportunity to create their authentic leadership style. Nurse leaders have the opportunity to embrace elements from various leadership styles such as transformational, transactional, and servant leadership, to name a few, as they define their personal, authentic leadership presence. To narrow the leadership approach to one style prevents the leader from applying strategies to different situations, stakeholders, and audiences, and stymies the moral compass.
D – Delivering Diversity
Great nurse executives embrace diversity by recognizing the unique contributions of individuals from diverse backgrounds and preferences. Celebrating diversity and ensuring cultural competency and inclusion are key responsibilities for the nurse executive. Universities and health care organizations are on the journey to improvements relative to diversity and inclusion, and the nurse executive can foster this development and commitment within their organizations.
E – Emotionally Intelligent
One of the most important competencies for the nurse executive is emotional intelligence—the ability to be self-aware, consciously manage emotions, and assist others in challenging situations. Application of emotional intelligence is a daily activity for the nurse executive as reporting leaders face challenging situations and bring frustration, fear, and uncertainty to the chief nurse for counsel.
R – Resilient
Resilience is perhaps the most important trait of the chief nurse. The recent health care crisis and pandemic have been the most challenging time in our lifetimes. Our nursing teams have faced unprecedented emotional and moral injury as they have cared for greater volumes, higher acuity, and complex patients while trying to maintain the safety of themselves, their health care team members, and their families. Our nursing leaders have undergone significant staffing acquisition challenges, requiring emotional support for moral distress and fear, and even lost team members. Creating an environment of support and safety is likely the greatest challenge the chief nurse executive has recently faced. Turnover is high for direct care nurses and management roles, and the chief nurse must work diligently to provide resources to assist the team and find support.
There is never a routine day in the role of the chief nurse executive. Responsibilities and activities in a given day include operational leadership decisions with interprofessional collaboration, clinical decision making, and evidence-based guidelines development to address performance opportunities, regulatory adherence, compliance monitoring, and leader and frontline support and management. Interspersed between the responsibilities are unanticipated events, prompting exacting decisions to ensure nursing operations and continuing patient care provision. The role is awesome and humbling, and at the end of each decision is a patient who has invited you into, and entrusted to you, their life.
Learn More About Executive Leadership in Nursing With Purdue Global
If you're interested in earning a degree to support your nursing career goals, learn more about the online programs offered by Purdue University Global. We offer a Master of Science in Nursing with a focus on executive leadership and an Executive Leader Postgraduate Certificate. Both programs are offered online to meet the demands of busy working nurses. Request more information today.
Your Path to Success Begins Here
---
Learn more about online programs at Purdue Global and download our program guide.
Request Information
Your Path to Success Begins Here
---
Learn more about online programs at Purdue Global and download our program guide.
Request Information