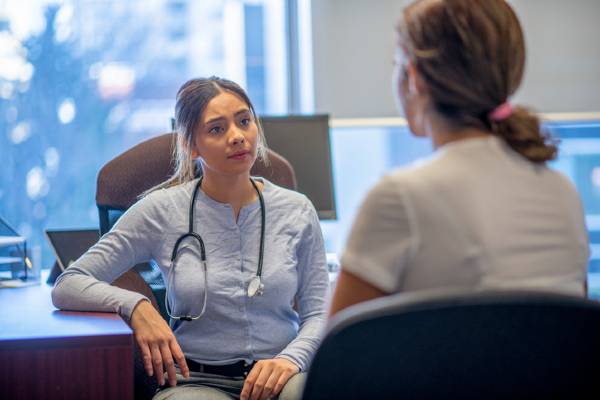 March 16, 2022 | Purdue Global
Millions of people are affected by mental illness each year in the U.S. According to the Substance Abuse and Mental Health Services Administration, 21% of adults experienced mental illness in 2020—that's almost 53 million people. The JAMA Network states 16.5% of children—7.7 million—have at least one mental health disorder.
The need for psychiatric mental health nurse practitioners (PMHNP) is strong. John Sparks, DNP faculty in the Purdue Global School of Nursing, spoke about how to become a PMHNP and the challenges and rewards of treating those with mental health needs.
What Does the Future of Mental Health Care Look Like?
The need for mental health care providers has grown due to two factors, Sparks says. He cites a shortage of psychiatric care providers in general and an increasing national conversation about mental health.
Continuing Growth
The need for psychiatric mental health nurses in general is reflected in overall labor statistics. Employment of nurse practitioners is projected to grow 52% from 2020 to 2030, much faster than the average for all occupations, according to the U.S. Bureau of Labor Statistics.*
"A position statement from the American Psychiatric Nurses Association says there's a critical shortage of behavioral health providers," Sparks says. "I think that indicates the strong demand for psychiatric mental health nurse practitioners going into at least the foreseeable future."
Greater Need
The pandemic has had a major psychological impact around the world. In the U.S., 19% of adults in 2020 said their mental health was worse than it was the previous year, according to a survey by the American Psychological Association. In the survey, 78% also say the pandemic is a significant source of stress, and 67% say they have experienced increased stress throughout the pandemic.
Sparks says he's seen an increase in people seeking psychiatric services since the onset of the pandemic.
"I've seen many patients who had never sought services before, but now they find themselves depressed, anxious, or otherwise unable to carry out their daily activities. The pandemic is a huge source of stress and anxiety for many."
Patients are telling him that social media platforms are shining a light on mental health, leading them to seek help.
"That's a good thing," he says. "That puts it front and center in a national conversation."
What Does a Psychiatric Nurse Practitioner Do?
According to O*Net Online, the duties of a psychiatric nurse include:
Administer basic health care or medical treatments
Analyze patient data to determine patient needs or treatment goals
Collaborate with health care professionals to plan or provide treatment
Design health programs
Develop medical treatment plans
Establish nursing policies or standards
Evaluate patient functioning, capabilities, or health
Maintain medical or professional knowledge
Monitor patient progress or responses to treatments
Prescribe medications
Record patient medical histories
Refer patients to other health care practitioners or health resources
Teach health management classes
Treat patients using psychological therapies
"We also manage medication and guide patients as they seek therapy and group services," Sparks says. "We coordinate care, often at the primary level."
Many states are starting to move nurse practitioners into full practice authority, he says, which means they manage patients, dispense medications, and many other things a medical psychiatrist can do.
"In many states, a psychiatric nurse practitioner sees the same caseload as a medical psychiatric provider," Sparks says. "I treat everything from basic anxiety and depression to bipolar disorder and schizophrenia. In my state, I can see, in the community setting, the full spectrum of patients seen by a medical psychiatrist now."
How Long Does It Take to Become a Psychiatric Nurse Practitioner?
The time needed to become a licensed nurse practitioner can vary, depending on program and state. Sparks says it may take 5-6 years of schooling.
"If you're not a bachelor's-prepared nurse, you have to get a bachelor's degree, and then you can obtain your master's degree," Sparks says.
Here is a typical list of how to become a mental health nurse practitioner:
Complete a nursing program, either an associate's or bachelor's degree
Obtain an RN license
Pursue an RN-to-BSN degree if not already a BSN-prepared RN
Complete a master's degree, such as the Master of Science in Nursing
Pass the national exam for psychiatric and mental health nurse practitioners†
Apply for state licensure
Who Would Make a Good Mental Health Nurse Practitioner?
Sparks says there are certain traits someone should have to be a successful mental health nurse practitioner.
"You should pick this role if you want to help people, to recognize their unique experiences, to validate them, to respect them as individuals, and to help guide them make choices to improve their life," he says.
Without that commitment, Sparks says, the job can be difficult.
"It's going to be a pretty hard field, because some cases can be very taxing," he says. "You're dealing with a lot of trauma and distress in people's lives, and without that desire, it would weigh on you."
What Are Some of the Rewards of Being a Psychiatric Nurse?
Being a psychiatric nurse practitioner is challenging but rewarding, Sparks says.
"I chose this field because I wanted to help people reach their goals for a better quality of life," he says.
He says helping patients to recognize and accept that they have mental health issues that need to be managed and then move forward is a rewarding outcome. "It's no different than what you would do for a person with a medical condition such as diabetes. You help them have the highest quality of life possible," Sparks says.
Build Your Career at Purdue Global
Purdue Global offers both an online RN-to-BSN program and an online Master of Science in Nursing with a degree pathway as a psychiatric mental health nurse practitioner. As a working nurse, you need flexibility in your schooling, and Purdue Global provides that flexibility so you can work and go to school at the same time.
You can also obtain a Psychiatric Mental Health Nurse Practitioner Postgraduate Certificate.
Contact us today to find out more about your options.