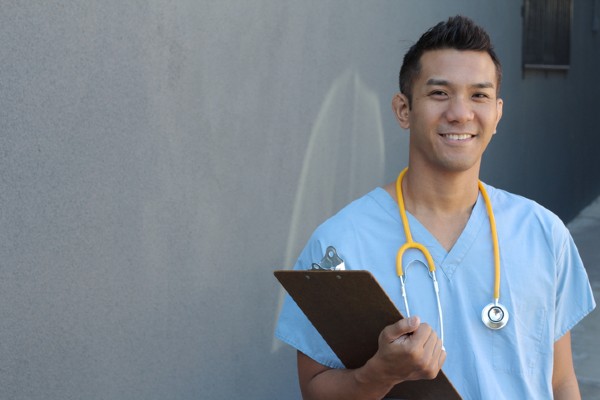 May 28, 2021 | Purdue Global
The national nursing shortage doesn't show any signs of easing up. The U.S. Health Resources and Services Administration projects that by 2030, 7 states will have a shortage of registered nurses and 33 states will experience a shortage of licensed practical/vocational nurses.
This shortage shows how much nurses are needed. The U.S. Bureau of Labor Statistics states jobs for registered nurses will grow faster than the average rate of all professions from 2019 to 2029. Nurse practitioners will see jobs grow by 52% in the same time period, according to the BLS.
Many of those gaps are being filled by travel nursing. Employers often give attractive incentives to entice travel nurses to come to their facility.*
"The option of becoming a travel nurse can be especially attractive right now," says Julie Grissom, PHD, RN, MSN, COI, and Purdue Global faculty member. "They're in high demand and can turn that need into a great opportunity."
What Is a Travel Nurse?
Travel nurses are registered nurses who work in short-term assignments at health care facilities around the nation and world. They go to areas where there are nursing shortages and help fill the gaps. Travel nurses usually perform the same duties as on-staff nurses.
Typically, travel nurses are employed by a nursing staffing agency, not hospitals or clinics. They can travel as far as a different country, or they can work at local hospitals that need temporary nurses.
"Travel nursing is very attractive, particularly for younger nurses who do not yet have families and are more mobile," Grissom says.
Some of the additional benefits of being a travel nurse include:
You choose the facility. You can pick whether to work in a rural facility, an urban university teaching hospital, or somewhere in between.
You choose the job location. Big cities, resorts, and small towns are all within reach as a travel nurse.
You choose when to work. You decide on your start date and include time off in your contract as desired, opening up flexibility for family and other obligations.
"The perks are almost endless," Grissom says. "If you are an adventurous person, it can be a very exciting lifestyle."
How Do You Become a Travel Nurse?
Travel nurses must be registered nurses with a license in good standing. Typically, they need 2 years of nursing experience.
The Nursing Licensure Compact (NLC) allows nurses to have one license to practice in multiple states. As of 2021, more than 30 states are members of the NLC, according to NCBSN. Travel nurses don't need any additional certifications or credentials other than the general ones already required of their position or specialty, according to athna.org. These general certifications typically include:
Advanced Cardiovascular Life Support (ACLS)—Required for RNs working in the ICU or with adults.
Basic Life Support (BLS)—Required for all registered nurses.
Pediatric Advanced Life Support (PALS)—Required for RNs working with pediatric patients.
A reputable agency may be the best way to become involved with travel nursing. Agencies have connections with various hospitals, clinics, and medical facilities all over the world.
Here's how to find a travel nurse agency:
Ask other travel nurses for recommendations
Compare salary and housing options
Do your research on the agency's reputation
Find out benefits and available assignments
Know what you want so you will be prepared
In addition, Purdue Global's Career Services department can help nursing students and graduates find traveling nurse positions.
How Has COVID-19 Affected Travel Nursing?
Nursing shortages have been exacerbated by the COVID-19 pandemic, which means the role of travel nurses has grown.
"Travel nurses are usually used to jumping in and learning on the fly, which makes them especially valuable to health care facilities in the current environment," Grissom says.
"Nurses who have ICU and ER experience are in very high demand right now. COVID-19 has really increased the need for traveling nurses."
Regions or cities that have been hit hardest by the pandemic are offering major monetary and other incentives to help. It's important to remember, however, that being a nurse is more difficult—and risky—in a location experiencing a COVID-19 spike.
"Right now, hospitals and health care staffing agencies are waiving state nursing licensure requirements in some states, asking retired RNs to come back to work, and taking other steps to fill the gap," Grissom says.
Find Out More About Online Nursing Programs
Shortages have opened opportunities for traveling nurses and nurses of all specialties. Purdue Global offers online nursing degree programs to help you reach your goals. Contact us today for more information.