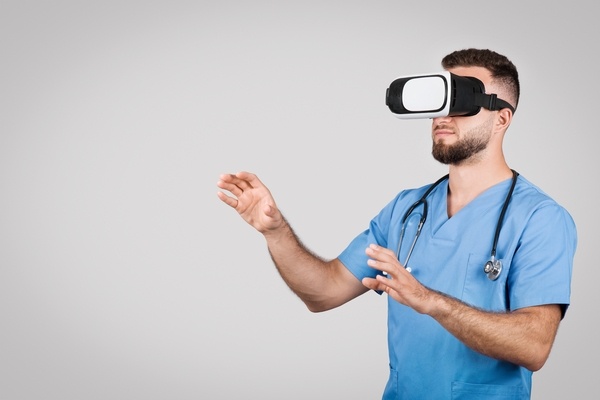 June 11, 2021 | Purdue Global
According to the National Institutes of Health, virtual reality (VR) uses computer technology to give students the feel of a 3-D world, so they have an impression of reality. In nursing education, these techniques have helped optimize teaching and learning processes and helped students gain clinical experience during the COVID-19 pandemic. Purdue Global uses innovative VR and immersive learning technologies to help nursing students develop skills in virtual settings, preparing them for real-world clinical practice.
We discussed the role of VR in nursing education with the associate dean of graduate nursing, Michele McMahon, DNP, and the national senior manager of simulation, Abbey Elliott, DNP, at Purdue Global School of Nursing.
Is Virtual Reality in Nursing Education Effective?
A study published in IntechOpen says immersive VR simulations in nursing education are effective because they give students experience in clinical decision-making, collaboration, communication, critical thinking, management, and problem-solving without endangering patients. They can also help students grow confidence and readiness for real clinical practice.
"Immersive learning and virtual reality experiences offer unique opportunities for learners," says McMahon. "Cloud-based delivery allows for 'anywhere, anytime' access. The availability to practice is nearly unlimited."
Elliott notes that Purdue Global has been ahead of the curve in implementing VR in its nursing programs, and she expects more educators to follow suit and employ this technology.
"Purdue Global had moved to implement immersive learning experiences across the School of Nursing and was already using VR in our nursing programs before the pandemic," McMahon says, "but the pandemic catapulted us a bit faster into that space and helped our vision come to fruition."
A study by the National Institutes of Health says experts feel that the academic changes brought on by COVID-19, including the growing use of virtual reality simulations, will likely be everlasting.
The Benefits of Virtual Reality in Nursing Education
There are a variety of reasons for nursing educators to employ VR technology. Among the top reasons are to provide more clinical experience in a controlled environment, to increase patient safety, and to facilitate distance learning.
1. Virtual Reality Can Provide Valuable Experience
VR gives nursing students a chance to practice solving problems they may encounter in real-world clinical settings.
"The students' experience in the VR lab mimics the current 'see one, do one, teach one' format used in clinical practice. The lab offers guided, practice, and exam mode. The guided lab walks the student through the steps of the procedure and then the student uses the practice mode until they are comfortable completing the assignment in exam mode," says Elliott.
"With virtual reality, the students have the opportunity outside of the face-to-face lab to practice skills at any time prior to presenting or reporting for their clinical experiences."
Elliott says virtual reality also gives nurse educators the opportunity to evaluate students.
"Through virtual reality, we can make sure students are effective and competent," she says. "As they work through these VR learning experiences, we use analytics to monitor their progress and effectiveness."
2. Virtual Reality Helps Protect Patient Safety
Nursing students can also practice rare, challenging, costly, and complex interventions in VR settings. These simulations provide students the opportunity to perform high-cost and high-risk interventions and gain experience without jeopardizing the safety of real patients.
"We can give our students all of these opportunities in virtual reality before they work in the clinical units and have to work on live people," Elliott says.
3. Virtual Reality Facilitates Distance Learning
The use of VR offers expanded access to nursing education and increased flexibility for students to learn on their own schedule. In this way, incorporating VR in nursing education helps combat the nursing shortage and can relieve strain on nursing students and working nurses alike.
"Before the pandemic, our acute care students were required to fly to a prelicensure campus to complete a face-to-face acute care skills lab where they could practice intubation, central line placements, suturing, and other skills that they would need postgraduation," McMahon says. "Due to the pandemic, with concerns about travel and safety, and to mitigate the spread of the virus, immersive learning experiences were implemented."
How COVID-19 Has Changed the Use of Virtual Reality in Nursing Education
Before the pandemic, 65% of nursing education programs were already using virtual simulation and other digital methods, while nearly half expect to use VR within 5 years, according to a survey by Wolters Kluwer.
"We've seen a huge growth in virtual reality in nursing education because of COVID-19," Elliott says. "Before, there was some use in medicine and physician education, but now we're starting to see more use in nursing."
A study by the National Institutes of Health says experts feel that the academic changes brought on by COVID-19, including the growing use of virtual reality simulations, will likely be everlasting.
"I don't think VR replaces face-to-face instruction," Elliott says. "It augments it. I do believe, though, that it's the future of health care education."
Find out More About Nursing at Purdue Global
Purdue Global offers a range of online nursing degree programs. Learn more about degree plans, requirements, and schedules by contacting us today.
---