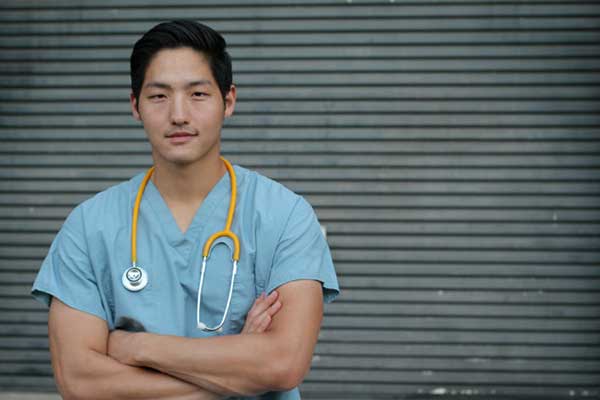 May 31, 2018 | Purdue Global
|
Updated January 21, 2021
Do you dream of becoming a registered nurse? That dream could begin with an Associate of Science Degree in Nursing.
The associate's in nursing is the degree you need to earn to qualify to sit for the NCLEX-RN, the licensure exam that, once passed, gives you the registered nurse (RN) credential.
According to the U.S. Bureau of Labor Statistics (BLS), career opportunities for RNs are expected to be plentiful over the years to come. Employment of registered nurses is projected to grow 7% from 2019 to 2029, faster than the average for all occupations.* The BLS attributes this rapid growth to numerous factors, including:
Increased demand for health care services from aging baby boomers
Our society's growing emphasis on preventive care
Increasing rates of chronic conditions (such as obesity and diabetes) that require health care services
Earning an Associate of Science in Nursing (ASN) is one way to start a nursing career. Let's look at how Purdue Global can help you get on the path to becoming a RN.
Earn an Associate's Degree in Nursing With Purdue Global
Purdue Global offers an associate's degree in nursing through a blended learning program—meaning, the program combines online coursework and real-life clinical experience. It is currently available for students living in Iowa and Maine.
"All of the theoretical learning is completed online," explains Andrea Gibson, associate dean of campus nursing at Purdue Global. "The laboratory, clinical, and simulation experiences are completed on-ground, either on our campus or at a health care facility in the community."
In the online portion of the program, students study pharmacology, medical-surgical nursing, maternal infant nursing, pediatrics, mental health care, and leadership, and trends in nursing. Then there are the laboratory requirements and the faculty-led clinical experiences, which are held at a clinical site with a group of students and a faculty member.
Why Choose Purdue Global for Your Associate's Degree in Nursing?
There are three main reasons to earn your associate's in nursing with Purdue Global:
The speed with which you can complete the program. "An associate's degree in nursing takes longer to complete than a non-nursing associate's degree, because of the clinical and extra course requirements," Gibson says. "Our students can complete it in as few as 18 months of full-time study, whereas it's about 3 years in a community college program."
The flexibility of an online education. Most on-ground programs require students to be at campus or clinical site 5 days a week. At Purdue Global, the nursing theory courses are online, thereby reducing the time commitment to about 3 days a week for labs and the clinical experience. "And for working adults, single parents, and non-traditional students, this enables them to better manage all of their other life responsibilities while they earn a degree," Gibson says.
The "stackable" nature of Purdue Global's nursing degrees. Purdue Global not only offers an associate's program in nursing, but also bachelor's, master's, and doctorate programs. "These are opportunities—built-in stepping stones to earn the next-level degree and go as high as you want," explains Dr. Connie Zak, associate dean for online programs at Purdue Global. "If you successfully complete the associate's degree program and pass the NCLEX exam, you are then eligible to enter our online RN-to-BSN program. It starts students on a trajectory of success."†
What Can You Do With an Associate's Degree in Nursing?
It's important to reiterate that completing an associate's degree in nursing does not make you a registered nurse; it qualifies you to take the RN licensing exam. Once you pass the exam, you earn your RN credential and are then qualified to pursue entry-level nursing positions in such fields as geriatrics, labor and delivery, pediatrics, mental health, and trauma.
Of course, having an associate's degree also qualifies you to continue your education and pursue a Bachelor of Science in Nursing. "Most of the major medical centers require nurses to have a bachelor's degree in nursing to apply for jobs there," Dr. Zak says. "Associate's degree nurses can get jobs very easily in rural areas, but in the major metropolitan areas, they will often only hire BSN-prepared nurses."
Overall, earning an associate's degree in nursing is one way to start your nursing career or your education.
Take the Next Steps to a Career in Nursing
Purdue Global can help you get on the path to a nursing career you'll love. Learn more about our Associate of Science in Nursing or request more information today.