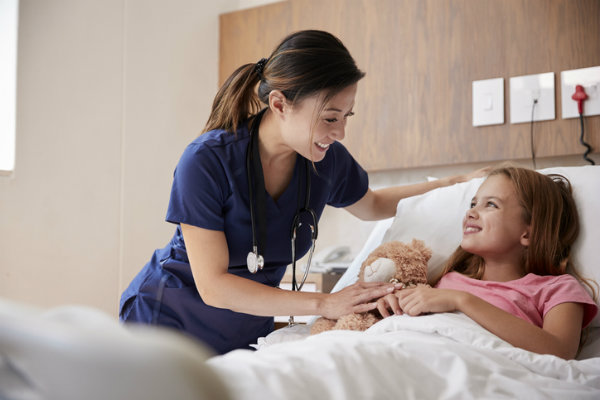 January 27, 2020 | Purdue Global
When choosing a nursing specialty, there are two main factors to consider: joy and passion.
"It is important for all nurses to understand their passion and pursue what brings them joy," says Bonnie Fuller, certified nurse educator, School of Nursing, Purdue Global. "I can't emphasize enough how important it is for the profession to have nurses who love their job and want to continue to develop their career in nursing."
Beyond that, what goes into choosing a nursing specialty depends on where you are in your career. Nursing students and new nurses will take a slightly different approach than nurses who have been working in the field for some time.
Before we examine how to choose a nursing specialty, let's define "specialty."
Defining "Nursing Specialty"
There are two types of nursing specialties:
Those you can hold with your general nursing education
Those next-level specialties that require you to get additional training or certification
"When we talk about specialties, we may be referring to specialty areas of patient care that nurses work in—for example, pediatrics, intensive care, or operating rooms," says Fuller. "The reason these are considered specialties is that, historically, the general areas of nursing such as adult medical/surgical are where many nurses begin their careers."
However, nurses can start in specialty areas right out of school. Sometimes, nurses will move to a specialty area after getting experience in a general adult care unit. With experience in a particular specialty area, the nurse can then become certified in that specialty through their professional organization.
"There are also specialists within the specialty area," Fuller says. "For example, in the emergency department, nurses can become a forensic nurse examiner, or nurses who work in mother/baby units can become a lactation consultant. In all areas of nursing, there are continuing education opportunities to support specialization in an area, and many lead to certifications."
Another level of specialization requires advanced education. For example, nurse practitioners require a master's degree, and they are specialists in a particular area such as pediatrics, family practice, mental health, etc.*
Choosing a Specialty for Nursing Students and New Nurses
Nursing students and newly graduated nurses who are considering their first job should think about their different clinical experiences. Ask yourself:
What areas interest me?
What areas am I more comfortable in?
What kind of a patient do I enjoy interacting with?
This will help guide you as you think about moving into a specialty area.
Your desired career trajectory is the second thing you should consider as a new nurse.
"Where do you see yourself in 10 years?" Fuller asks. "There are many specialties in nursing, both within the acute care hospital setting, in the community, and in businesses. It's important that new nurses think about where they see themselves and how they might design their career path going forward."
Choosing a Specialty for Experienced Nurses
Experienced nurses should consider what kind of career track they want and the education they need to get there.
Frequently, seasoned nurses have two ways of moving through their career. They may stay in the same area, grow their experience, and become a specialist in that area, or they may choose to select a new area of nursing. For example:
An ER nurse can become a forensic nurse examiner through continuing education.
An experienced nurse who works in a community health clinic may pursue advanced education to become a family nurse practitioner.
"Do you want to stay within the area where you have been, or do you want to move into a new area?" Fuller asks. "Then you need to consider what's required to be considered a specialist."
It could be any combination of experience, continuing education, formal graduate education, certification, or licensure. Each specialty area has different requirements.
"Clearly, you will make an investment in becoming a specialist, so it's important to think about the gain from that investment from a variety of perspectives, such as professionally and financially," Fuller says.
Learn About the Benefits of Advanced Nursing Certifications >>
Additional Considerations for Choosing a Nursing Specialty
In addition to the above, Fuller recommends thinking about the following when choosing a nursing specialty:
The Health of Your Community
Consider the needs of your community that can be filled by different nursing specialties.
"Does your community lack a certain type of nursing, and can you enhance the health of the community by moving into that specialty?" Fuller asks.
Innovation and Entrepreneurship
Consider the opportunities for entrepreneurship and innovation.
"There are many specialty nursing areas that can be innovative, such as a childbirth educator," Fuller says. "Can that childbirth educator develop their own business and meet the needs of the community? Think about a legal nurse consultant or a camp nurse. The opportunities to expand a nursing career or even start a business through specialization are great."†
Nurses should also look at what innovations are happening and where a specialty connects with those innovations.
"It is exciting for new and even future nurses to consider how expansive nursing is and how it can link to many other areas in health care," Fuller says. "We want current and future nurses to think 'Wow, I could be a nurse specialist, and I could potentially start my own business.''"
Location and Availability
Another consideration is your current location and the availability of positions in the area of nursing that interests you.
"If you have a real interest in a specialty and the area where you live is filled with those specialists, are there other areas where you could go and be a specialist in that area?" Fuller asks.
Interdisciplinary Collaboration
"It's important we collaborate with other disciplines," Fuller says. "There may be a specialty certification from another discipline that can enhance your nursing career. Consider interdisciplinary opportunities that can expand what you're able to do in nursing."
List of Nursing Specialties
For a comprehensive list of nursing specialties and links to the professional associations related to each, visit our list of nursing specialties.
Become a Nursing Specialist With Purdue Global
Purdue Global offers several graduate nursing degree and certificate programs that can prepare you to advance your nursing career. The online format is tailored specifically for busy nurses who are going to school while continuing to work. We also offer an online RN-to-BSN degree program for nurses who want to earn a bachelor's degree. Request more information today.
---
Your Path to Success Begins Here
Learn more about online programs at Purdue Global and download our program guide.
Request Information