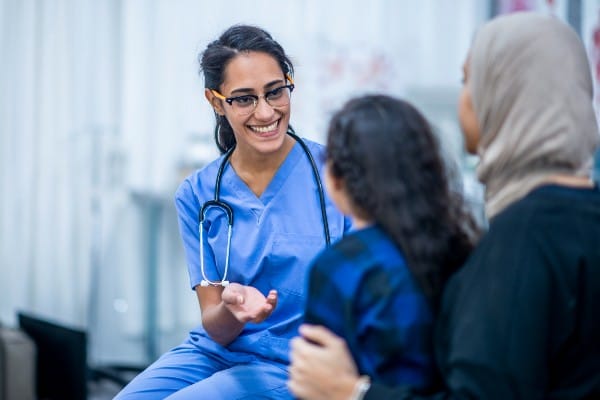 September 9, 2022 | Purdue University Global
Family practice is one of the most common specialization areas for nurse practitioners (NPs). The American Association of Nurse Practitioners (AANP) estimates that approximately 70% of NPs in the U.S. are certified as family nurse practitioners (FNPs).
Despite the sheer number of FNPs in the country, demand for the role continues to grow. According to the U.S. Bureau of Labor Statistics (BLS), employment for nurse practitioners as a whole is projected to rise 45% between 2020 and 2030, which is much faster than the average for all occupations. The BLS attributes the demand for NPs to a growing aging population and an increased emphasis on preventative care.
If you're interested in joining this fast-growing nursing career path, it's important to know what to expect. To learn more about what FNPs do and where they work, we spoke with Laura Shenkman, MS, nursing faculty member at Purdue University Global.
What Are the Day-to-Day Responsibilities of a Family Nurse Practitioner?
Shenkman explains that family nurse practitioners are trained to provide care across a patient's lifespan. "In primary care, you can see all types of patients," she says. "It can be babies all the way up to the elderly."
Most FNPs work with patients of all ages and treat a wide variety of health concerns, ranging from ongoing, chronic conditions to acute injuries. "You may see one patient for a sore throat or a rash, and your next patient may be coming in for a chronic illness, such as diabetes or hypertension," says Shenkman. "No matter what brings the patient in, the goal is to provide comprehensive care at every visit."
Duties of an FNP include evaluating medical conditions, ordering diagnostic tests, prescribing medications, administering treatments, and providing patient education. In addition, FNPs often work closely with physicians to develop health care plans for patients.
FNPs tend to have more autonomy than registered nurses. However, your level of independence as an FNP will depend on where you live and what type of setting you work in. In some states, FNPs are required to practice under the supervision of a physician, but other states permit FNPs to run their own independent clinics. To find out what the nurse practitioner scope of practice policy is in your state, visit the AANP's Practice Information by State resource.
Where Do Family Nurse Practitioners Work?
Some settings where FNPs may work include:
Doctor's offices or private clinics
Acute or urgent care centers
Hospitals
Long-term care facilities
Hospice centers
Correctional facilities
University health centers
The most common work setting for FNPs is private practice offices. However, this doesn't mean that FNPs are limited to primary care clinics. They may also work in specialized clinics that focus on specific areas of medicine, such as dermatology or cardiology.
Shenkman explains, "You can still be a family nurse practitioner and work in a specialized setting, such as a hospice center. In that situation, you're working with a specific population, but you're still providing primary care to your patients because you're taking care of everything they need."
How Does a Family Nurse Practitioner Compare to Other Nurse Practitioner Specialties?
There are many different specialization areas for nurse practitioners. For example, Purdue Global's Master of Science in Nursing program prepares students to specialize in family practice, adult-gerontology acute care, adult-gerontology primary care, or psychiatric mental health.
One of the main differences between family nurse practitioners and other types of nurse practitioners is the range of patients FNPs treat. Acute care nurse practitioners working in emergency rooms will see new patients every day, but as an FNP, you provide ongoing care to your patients. This allows you to form relationships with patients over time.
"When you work in primary care, you really get to know your patients," says Shenkman. "I think that's what stands out the most about family practice compared to nurses that work in acute care settings."
If you're having trouble deciding which nursing specialty is right for you, keep in mind that you don't have to be glued to one specialty for your entire career. Even if you decide to become an FNP, you can pursue additional nursing certifications later on and become dual-certified.
"Getting certified as an FNP prepares you to care for a variety of different patients, as opposed to specializing in one particular type of health care," says Shenkman. "If you're interested in earning a Master of Science in Nursing but don't know what type of nursing field you want to go into, I would recommend enrolling in a family nurse practitioner program because it allows you to work in many different areas."
>> Read: Choosing a Nursing Specialty: Guidance for New and Experienced Nurses
Steps to Becoming a Family Nurse Practitioner
Family nurse practitioners are a type of advanced practice registered nurse (APRN)—meaning that a graduate-level or higher nursing degree is required to pursue this career path.
Below are the typical steps to becoming a family nurse practitioner:
Earn a Bachelor of Science in Nursing (BSN). Family nurse practitioners need to earn a master's degree or higher. "If you're a registered nurse but don't have your bachelor's degree yet, you'll need to go back to school and earn your BSN before moving on to an MSN degree," says Shenkman. Registered nurses with an associate degree may be able to earn their BSN more quickly with an RN-to-BSN program.
Earn a Master of Science in Nursing with an FNP specialty. FNPs are required to complete an FNP nursing education program at the graduate level or higher. In most cases, aspiring FNPs earn an MSN degree with a family nurse practitioner focus area or specialization. Alternatively, if you already have an MSN in another nursing specialty, you can earn a family nurse practitioner postgraduate certificate.
Get certified as an FNP. There are two different organizations that certify family nurse practitioners—the AANP and the American Nurses Credentialing Center (ANCC). "Every 5 years, you have to renew your certification," says Shenkman. "And depending on whether you're certified under AANP or ANCC, there are different guidelines you have to follow."
Apply for state licensure. Some states may have additional requirements you need to meet before you can qualify for licensure. States also vary in terms of how much autonomy is granted to nurse practitioners, so Shenkman recommends that students who are interested in becoming FNPs research state-specific policies before they graduate. "Ask yourself—what type of setting would you like to go into after you graduate? Are there any state restrictions you need to be aware of?"
>> Read: How Do Online Nursing Programs Work at Purdue Global?
Become a Nurse Practitioner With Purdue Global's Online Program
Shenkman says one of the best things about completing an FNP is that it can open many doors. "It's a great nursing specialty for someone who wants choices in terms of where they'll work and what type of patients they'll see," she says.
Purdue Global offers a Master of Science in Nursing program with a family nurse practitioner pathway, as well as a postgraduate family nurse practitioner certificate.
Our advisors can help you determine which nursing program best aligns with your career goals. Reach out today for more information.