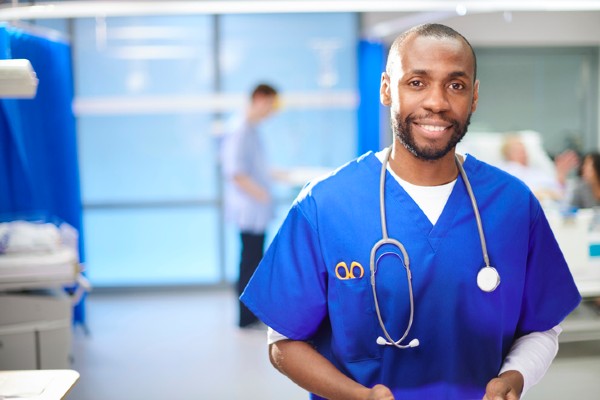 December 17, 2020 | Purdue Global
Nurses enjoy some of the best job opportunities in the country. Growth is steady due to a number of factors, including more emphasis on preventive care, increasing incidence of chronic illnesses, and growing demand from baby boomers for health care services, the U.S. Bureau of Labor Statistics reports.
The numbers are excellent for both registered nurses and nurse practitioners. Registered Nurses (RNs) can expect faster than average job growth through 2029, according to the BLS. Nurse practitioners can expect 52% job growth in the same time period.
More RNs are earning BSN degrees than ever before. In fact, RNs are heading back to school in record numbers, according to the American Nurses Association. Find out some of the top reasons to earn an RN-to-BSN degree.
Just about any online nursing school will give you flexibility to work while you earn your degree. What makes Purdue Global's online nursing programs stand out? We sat down with Michele McMahon, DNP, associate dean for the graduate nursing programs at Purdue Global, to learn more about the online nursing degrees with Purdue Global and six reasons they are exceptional.
1. How Our Nursing Curriculum Is Developed
The Purdue Global School of Nursing develops and creates curriculum based on essential standards set by the American Association of Colleges of Nursing (AACN) and the National Organization of Nurse Practitioner Faculties (NONPF). The AACN outlines the curriculum content needed and competencies expected of graduates from bachelor's, master's, and Doctor of Nursing Practice programs.
"The essentials provide a framework for positioning nursing programs at all levels to meet the challenges of a new century," McMahon says. "As a collaborative team, we build the curriculum to prepare nurses to graduate as highly qualified professionals to navigate a health care system that experiences continual change and ongoing challenges."
Our programs are accredited by the Commission on Collegiate Nursing Education (CCNE). Programmatic outcomes and curriculum are aligned to meet key elements or standards to ensure programmatic quality and rigor. Courses within each program are reviewed and course revisions are driven based on quality data metrics.
2. The Expertise of Purdue Global Faculty
Our School of Nursing is home to a dynamic and diverse group of dedicated nursing faculty with a wide range of clinical experiences. They provide our students with support from pre-licensure through graduate and doctoral degree programs.
"We provide our students with faculty that best suits their needs with an abundance of experience that aligns with the corresponding coursework," McMahon says. "Our faculty is dedicated to providing guidance and support with a shared goal of student success."
3. The Online Learning Platform
Our students and faculty use the Brightspace platform as our learning management system (LMS). Within their course, students accessing the Brightspace LMS have access to all course materials, assignments, discussion boards, eBooks, additional resources, a virtual office to contact their professors, and weekly live seminars in both synchronous and asynchronous formats.
"Brightspace is flexible and allows for creative solutions with integrated analytics, a user-friendly interface, robust teaching tools, assessments, and clearly defined rubrics that support student learning and success," McMahon says. "Brightspace can be accessed from any mobile device. This anywhere, anytime, any-device learning experience is perfect for the needs of today's on-the-go learner."
Find out more about how online college works.
4. Technology That Enhances Your Education
All programs within the School of Nursing have incorporated new technologies to enhance the student experience. We have incorporated tools at all levels from pre-licensure through the graduate space to allow students to navigate fundamentals, patient assessments, diagnostics, and physical exams. Our acute care nurse practitioner program recently launched a virtual reality skills lab.
"Our students now have the opportunity to practice essential acute care skills from the comfort of their own home and receive real-time feedback from their faculty," McMahon says.
Other simulation platforms have been implemented in the pre-licensure and non-nurse practitioner space to provide opportunities for students to develop a skillset and knowledge. They grow from understanding fundamentals of nursing to preparing to identify current challenges for nurse educators and executive leaders.
"In the midst of the COVID pandemic, these innovative technologies have provided tremendous opportunities for our students to improve skills acquisition and recall," McMahon says.
5. ExcelTrack® Accelerated Degree Programs
Many of our online nursing degrees are offered in both traditional and ExcelTrack® course options. The ExcelTrack® program is competency-based, offering students the ability to build on the skills and knowledge they have already mastered through their work experience. This means you earn the same degree faster and for less money.*
"This option is very popular for our RN-to-BSN students," McMahon said. "Students have the opportunity to complete courses at their own pace and have the potential to move through their degree plan at a faster pace."
"Historically, RN-to-BSN completion time frames can range from 3 to 10 terms, but we recently had a student complete their RN-to-BSN in 1 term," she said.†
6. We Work With You to Help You Succeed
Many adult learners have challenges with work-school-life balance. Most online nursing programs will tout their ability to help you find that balance, but Purdue Global is invested in your success. We are particularly qualified to work with your unique situation when circumstances warrant.
"The School of Nursing had to be creative amid the COVID-19 pandemic to allow for flexibility in scheduling to support students as they matriculate through their degree plans without delays," McMahon says. "Some students were unable to report to clinical sites due to the impact of the pandemic. Creative scheduling and course sequencing has allowed students to continue to work through their programs and return to their clinical courses when sites and state regulations allow them to do so."
Students are further supported by our Academic Success Center—in fact, some of our nursing courses have the Academic Success Center offerings embedded into the course, to encourage student interaction and highlight opportunities with the academic support team. Our Career Services department offers help with resume preparation, interviewing, and networking skills, and additional resources for tutoring and writing assistance are available from our library services.
"As a university, we strive to provide continuous personalized support and engage our students and promote student success and performance," McMahon says.
Contact Purdue Global
Purdue Global offers a variety of online nursing degree programs including:
Together, our faculty and leadership team strive to provide a flexible, innovative, and personalized approach to suit the needs of the adult learner.
Reach out today to learn about our online programs and opportunities to suit your needs.
---