May 14, 2018 | Purdue Global
Take a virtual campus tour of the student experience.
At Purdue Global, we understand that the idea of earning a college degree online can be a little intimidating if you've never taken part in online education. That's why we created a guide to answer the most frequently asked questions about how online college works, receiving credit for previous work experience, and staying connected to the University and your fellow classmates personally, socially, and professionally.
Although this guide offers an overview of online college, you will attend our live seminar "Purdue Global Orientation" before you start class. This will give you an opportunity to learn more about the classroom and ask questions.
How Do Online College Classes Work?
Purdue Global strives to offer the best online learning platform to make your classes easy to access. Online learning with Purdue Global has two parts:
The live seminars—the live, interactive portion of your education, led by a faculty member in real time
The online classroom—where you go to complete your work, take quizzes and tests, hold discussions, and more.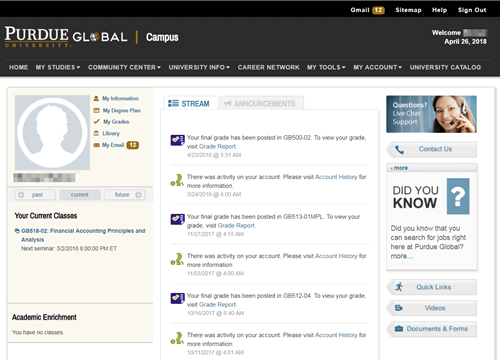 You access your online classroom via the Purdue Global Campus portal.
Just log in to our classroom portal with your user name and password and you're ready to go. From the portal, you can access:
Current classes
Degree plan (and your progress toward it)
Grades
Important updates and notification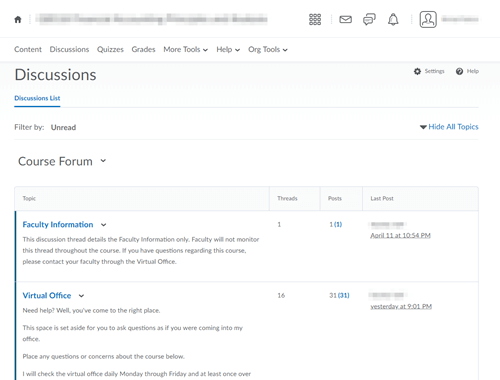 What Does an Online Classroom Look Like?
From the list of your current classes, access the classroom you want to enter. Here you'll find the necessary resources and tools to be successful, including:
The course syllabus (a guide that outlines what you'll be studying and what's expected of you)
Grading rubrics (an outline of the expectations for an assignment)
A list of checkpoint activities (these must be completed before you can advance to the next unit)
The classroom discussion board
The assignment drop box
Quizzes
Reading materials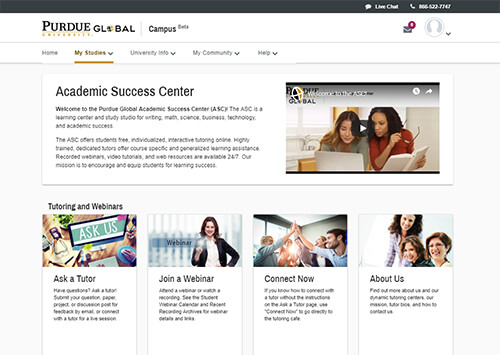 How Can I Access Academic Support?
There are numerous resources offering round-the-clock assistance. From the student portal, you can access the Academic Success Center through the dropdown list under "My Studies":
Here you'll find dozens of student resources, including:
Tutors for writing, math, science, technology, and business
The ability to submit a paper or ask a question about writing, math, science, and business
Time management help
Plagiarism information
Webinars
Numerous writing workshops on topics such as:

Professional writing
Grammar and mechanics
Thesis development
Citations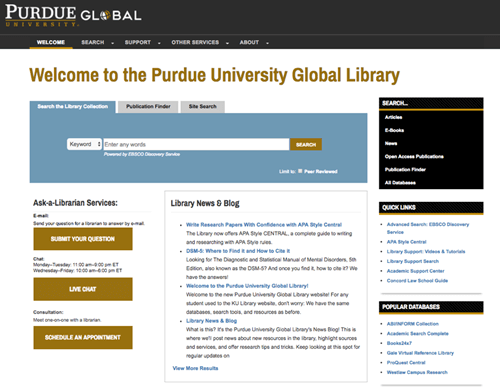 Is There a Library I Can Use?
Yes! We have an extensive online library filled with numerous databases, search tools, and resources to aid you in your study. Access the Purdue Global Library.
Our library features:
Ask-a-librarian Services–email your question, live chat, or schedule an appointment
ABI/INFORM Collection–search thousands of scholarly journals and trade publications
Books24x7–a database offering access to more than 18,000 books on business, information technology, and health and wellness topics
Gale Virtual Reference Library–dictionary, encyclopedias, and myriad other reference works
ProQuest Central–periodical resource center
Westlaw Campus Research–legal information, court opinions, state and federal regulations, legal definitions, etc.
EBSCO Discovery Service–advanced search access to research databases, e-journals, magazine subscriptions, and e-books
APA Style CENTRAL–learning and teaching tools from the style experts behind the Publication Manual of the American Psychological Association
Library Support–videos and tutorials
Can I Receive Credit for My Work Experience?
You may be eligible to earn credit toward an undergraduate degree. We offer two courses in which you learn how to organize your experience, so it can be assessed for college credit. Here's how to do it:
Enroll in either EL206: Academic Prior Learning Portfolio or LRC100: Documenting Your Experiences for College Credit.
Both classes are completed online and come with a mentor to help you navigate the process.
You'll learn how to best present your skills in an online portfolio, which will then be assessed for credit and applied toward your degree.
Students who submit a portfolio for evaluation save an average of more than $12,000 on tuition and earn 37 quarter credits toward their degree. Learn more about receiving college credit for work experience.*†
What If I Need Technical Support?
Our Support and Solutions team provides general and technical support to Purdue Global students 24 hours a day, 7 days a week by phone, email, and live chat. The Support and Solutions team can help you:
Troubleshoot student login issues
Change your user name
Navigate the student portal
Find answers to questions related to the online portal, seminars, and classroom platforms
How Can I Stay Plugged in to What's Going on at Purdue Global?
You can stay connected with us on social media and get involved with student groups.
Like us on Facebook
Follow us on Instagram
Follow us on Twitter
Follow us on LinkedIn
Subscribe to our YouTube channel
After graduation, join the Purdue Alumni Association
Access the CareerNetwork, the social platform for Purdue Global students and alumni to collaborate with each other and the Career Services team
Visit the Office of Student Life in the online portal and check out the list of registered student organizations
Ready to Enroll?
Start the process of applying for admission. We're here to answer your questions and guide you through every step of the process.
---
Your Path to Success Begins Here
Learn more about online programs at Purdue Global and download our program guide.
Request Information