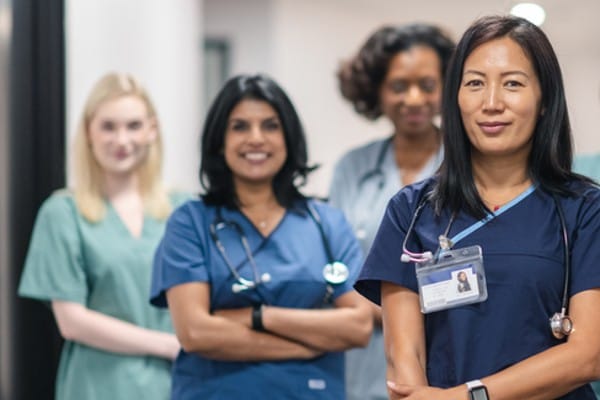 February 4, 2022 | Purdue Global
According to the 2020 National Nursing Workforce Survey, people from racial and ethnic minorities accounted for 39.9% of the nation's population in 2019. In the nursing field, the racial imbalance is greater; the same study reports that 23% of registered nurses were members of minority groups in 2020. This number is up from 22.4% in 2017.
However, this is slowly changing. By 2043, the U.S. will become a majority-minority nation for the first time, the U.S. Census Bureau reports. The non-Hispanic white population will make up the largest group, but no racial or ethnic group will make up a majority.
This changing makeup of the nation offers opportunities to make nursing itself more diverse.
"Diversity in nursing ultimately enhances the nursing workforce," says Lorrie Davis-Dick, nursing faculty member at Purdue Global. "Nursing education and nurse leaders recognize there's a link between a culturally diverse workforce and the ability to provide quality, competent patient care.
It's also important to recruit nursing students that mirror the demographics of our changing, diverse patient populations."
Here is why cultural diversity in nursing is important, what health care organizations are doing about diversity in the nursing workforce, and how nurses themselves can help the process.
Why Is Cultural Diversity Important in Nursing?
As nursing itself becomes more diverse—encompassing age, disability, education status, ethnic heritage, gender, national origin, physical characteristics, race, religion, sexual orientation, socioeconomic status, and veteran status—studies show improvements for patients and providers.
According to a National Medical Association study, patients generally fare better when care is provided by more diverse teams. Providers also see improvements to innovation, risk assessment, and team communications.
Empowering Nurses
Nurses may face discrimination for their skin color, sexual orientation, or other reasons. In particular, Davis-Dick says, as nurses age out of the profession, more say they have faced age discrimination.
"We need to recognize this ageism and help those nurses as they continue to work," she said. "Just because they're a specific age doesn't mean that they don't equally contribute. Senior nurses have wisdom that comes with their years. These nurses are actually seasoned and experienced, and still have a lot to contribute. We need to include all nurses of all groups into the conversation and make sure that they feel that they're appreciated, seen, and heard."
Understanding Patients
Davis-Dick says understanding patients from a cultural and social perspective is vital.
"Nurses who are more culturally sensitive to diverse patient populations and to issues surrounding inclusion are better able to provide quality and effective care," she says. "It's really important to meet your patient where they are and to value who they are."
She says that by acknowledging their lack of knowledge, nurses can address health care disparities.
"We need to make sure that we're able to continue to learn and study and understand patients, especially from underserved or underrepresented backgrounds," Davis-Dick says.
Fighting Bias
One way the lack of diversity may hurt patient outcomes may be due to implicit bias, according to the Institute for Healthcare Improvement (IHI). It says health care professionals may harbor unconscious attitudes or stereotypes that can negatively impact patient care.
The IHI lists a few strategies nurses can use to reduce implicit bias in care:
Build partnerships: Reframe the interaction with the patient as one between collaborating equals, rather than between a high-status person and a low-status person.
Imagine counter-stereotypes: See the individual as the opposite of the convenient labels.
Increase scope: Expand your own network of friends and colleagues or attend events where people of other racial and ethnic groups, gender identities, sexual orientation, and other groups may be present.
Individuate: See each person as an individual rather than a broad type.
Replace stereotypes: Recognize that a response is based on stereotype and consciously adjust the response.
Take perspective: Show empathy by putting yourself in the other person's shoes.
What Are Health Organizations Doing About Diversity in Nursing?
Honoring diversity and inclusion in nursing is not just a company policy, Davis-Dick says. It needs to be an organizational core value.
To that end, the American Nurses Association, the go-to organization for policy, research, and education for nursing in the U.S., formed a national commission to address diversity, equity, and inclusion (DEI). The commission, the Organization for Associate Degree Nursing (OADN), looked at racial and social injustice across the health care system and in nursing education.
The group's Diversity, Equity, and Inclusion Task Force, which includes Davis-Dick, issued the OADN Position Paper on Racial and Social Equity to advocate for change.
The OADN statement pledges to take these five steps to address racial and social justice in health care and nursing education:
The OADN Board has appointed a Diversity, Equity, and Inclusivity Task Force that is charged with assessing the current state of Associate Degree Nursing education and proposing strategies to improve diversity, equity, and inclusion in nursing education.
OADN leadership and task force members are engaging in critical conversations between and among stakeholder groups with the specific aim to increase the diversity of the nursing workforce and address health inequities.
OADN will curate and share educational resources and tools for nursing faculty to support the development of antiracism and social justice competencies in nursing education.
OADN actively participates in the American Nurses Association National Commission to Address Racism in Nursing and is collaborating with other professional nursing organizations to adopt antiracist policies and practices.
OADN enhances the quality of nursing education by providing learning opportunities for nursing faculty and students that critically examine the social determinants of health, the social mission of nursing, and the needs of under-resourced communities.
Davis-Dick says the OADN is also looking at how to use research and data to help improve DEI efforts. She says the group has developed a research study to find out what nursing faculty think about DEI. It's being distributed to nursing faculty across the country, with feedback due soon and an analysis to follow.
"There's a lot of work to be done," she says. "Health care organizations may have unintentionally or inadvertently disregarded those who were less represented. So the impact of DEI really starts with CEOs and leadership saying that DEI is a priority."
>> Read Does Workplace Diversity Actually Impact a Business?
What Can Nurses Do to Promote Diversity and Inclusion?
"Nurses have a significant role to play in the promotion of diversity, equity, and inclusion," Davis-Dick says. She is part of a Purdue Global Equity Task Force to address DEI issues at the university level.
"Nurses hold a unique platform, especially nurses with advanced degrees and nurse educators," she says. "We're able to participate in DEI activities with other diverse disciplines within our university."
An article in the Atlanta Journal Constitution spoke to some of the tactics nurses can take to help encourage diversity and equity in nursing:
Broaden the view of diversity: Diversity isn't just about race and ethnicity. There is a wide range of differences in people from sexuality to disability, age, and beyond. Each person can bring a range of experiences unique to themselves.
Join a diversity committee: Whether at work or in the community, a DEI group can help open up opportunities. If there is no such group, nurses should start one.
Make new friends: Bigotry and bias can be overt or subtle. As nurses broaden their network of friends, they build trust and learn more about the needs of other groups.
Receive feedback openly: Take objections to behavior seriously, and start a dialogue about how to respond appropriately.
Strive for inclusion: Make sure those with different backgrounds or ethnicities, for example, are not just present but are part of processes and decision making.
Watch out for biases: As stated previously, bias can be subtle. Call it out during interactions with colleagues, gently pointing out when it slips into conversations or decisions, making sure all voices are heard and acknowledged.
"To continue moving in the right direction," Davis-Dick says, "we need to understand that this matter affects everyone and everything: nurses, patients, communities, and health care systems."
Purdue Global Can Help Your Nursing Career
Purdue Global can help nurses of all identities find their niche and advance their career.
"I'm really proud to be a part of Purdue Global and its Equity Task Force," Davis-Dick says. "We are able to see some of our goals right now start to come to fruition."
Find out more about Purdue Global's online nursing programs. When you're ready to learn more about earning an online nursing degree with us, please reach out.
---
Your Path to Success Begins Here
Learn more about online programs at Purdue Global and download our program guide.
Request Information