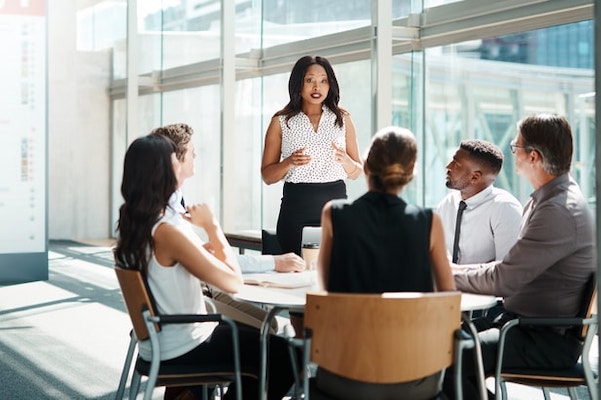 April 2, 2020 | Purdue Global
In recent years, major companies such as Apple, Google, and Hewlett Packard have visibly increased their efforts to support diversity in the workplace. Many companies are now releasing diversity reports and actively touting inclusion efforts. But that leads to the question: can workplace diversity both improve corporate culture and lift the bottom line?
What Is Diversity in the Workplace?
"Traditionally, diversity refers to differences in race, religion, gender, disability, sexual orientation, age, and education, among other variables, says Steven Cates, faculty member for graduate programs at Purdue Global. "But that definition is limiting in the current world of business. In 2020, diversity is a subset of the process as it relates to engaging and including everyone within an organization in an attempt to meld into one cohesive culture."
Cates refers to this mindset as DEI, for "diversity, equity, and inclusion." He says there are five main considerations that businesses—particularly human resources departments—need to pay attention to:
Multigenerational workforces, or the fact that workplaces increasingly are full of a mix of baby boomers, Generation X, millennials, and Generation Z, all of whom have different needs and working styles
Unconscious bias in the workplace, or dealing with different worldviews shaped by more than ethnicity or socioeconomic background
Gender identity and expression and the increasing visibility of LGBT employees in the workplace
Employee engagement as an extension of diversity and inclusion
Political expression and diversity in political thought in workplaces; Cates says younger generations value the opportunity for political expression
>> Learn More: Generational Differences in the Workplace [Infographic]
How Diverse Is the Workforce?
According to the U.S. Census Bureau, in the United States, the labor force has become more diverse since the mid-20th century. Women, in particular, have made great strides in workforce representation, rising from 30 million in 1970 to more than 75 million in the years since. According to labor force participation data from the U.S Bureau of Labor Statistics, Asian and Hispanic workers have similarly made gains, albeit incremental ones, and there is more visibility of the LGBT community in the workforce, according to a recent Catalyst study.
How Does Diversity Impact Business?
Diversity, it turns out, does pay. Over the past two decades, as scholars have sought to quantify the economic effects of workplace diversity, a growing body of research has emerged. Collectively, it suggests that diverse work environments boost profitability, culture, and public perception.
Diversity Improves Company Performance
Companies with diverse workforces often outperform companies that do not.
A Gartner study predicts that through 2022, 75% of companies with diverse and inclusive decision-making teams will exceed their financial targets. The study found that gender-diverse and inclusive teams outperformed their less inclusive counterparts by 50%.
Weber Shandwick, in partnership with United Minds and KRC Research, released a 2019 study in which 66% of executives at companies that aligned their business goals with diversity and inclusion goals agree that diversity is an important driver of company financial performance.
Companies with more diverse leadership teams report higher innovation revenue—45% of total revenue versus just 26%, according to a 2018 BCG report.
Diversity Improves Employee Retention and Engagement
Research has found that morale, culture, and employee engagement all thrive in diverse and inclusive workplaces:
In a Deloitte survey, 83% of millennials reported higher levels of engagement when they believed their company fosters an inclusive culture.
70% of respondents in a 2019 Yello survey said they would consider looking for a new job if their employer didn't demonstrate a commitment to diversity.
A 2017 report from The Kapor Center and Harris Poll found that workplace culture drives turnover, significantly affecting the retention of underrepresented groups, and costing the tech industry more than $16 billion each year.
Diversity Improves Public Perception of Your Brand
Purdue Global's Cates says that DEI affects all aspects of the business, including what prospective customers think of your business.
"Possibly 50 years ago, DEI might not have been an issue," Cates says, "but today, people want to know who made the product and who's involved in the service. Do any workers look like me? Do they talk like me? Do they act like me? Do they have the same value systems I do?"
In Cate's 2017 paper "Do Physical Traits of Sales Professionals Play a Role in the Customer Decision Process?" published in The International Journal of Business, Marketing and Decision Science, he argues that the diversity of your sales staff can impact purchasing decisions.
Diversity as a Core Value
Of course, promoting diversity is not a silver bullet. Increasing employee diversity cannot magically resuscitate a poorly run business or immediately spur disruptive innovation. Cates says that to really model DEI in the workplace, you can't just hire a diverse workforce; you need to keep diversity and inclusion as a core value of your business.
"DEI is not a policy. It has to be a mindset, and it has to be an organizational value," Cates says. "It becomes what your executives actually model so that it evolves into a deep, ingrained, corporate organizational value that is not questionable. It becomes part of the very fabric of the organization itself."
To reap the long-term benefits, a company must adopt a systematic approach, one that cultivates diversity continually, from the hiring process and staffing to leadership training and more. Many companies may balk at the scope of commitment, but when they look at the now-established benefits to morale, culture, and the bottom line in an increasingly multicultural society, it's the obvious choice.
Learn More About Purdue Global
Purdue Global is proud to teach a diverse population of students. Part of the respected Purdue University system, we provide a world-class education that's tailored to the unique needs of working adults. Learn more about our 175+ online college degree and certificate programs.
---
Your Path to Success Begins Here
Learn more about online programs at Purdue Global and download our program guide.
Request Information