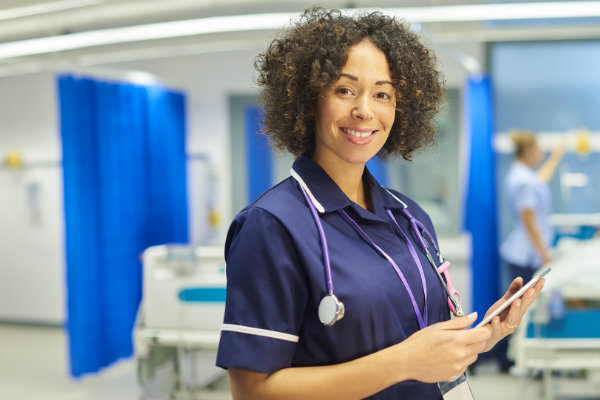 May 15, 2019 | Purdue University Global
Nursing is one of the most in-demand fields today, with the job outlook for all types of nursing professions growing much faster than average. Hundreds of thousands of new nursing jobs are expected to be added between 2016 and 2026, according to the U.S. Bureau of Labor Statistics.
If you are passionate about helping people and interested in health care, nursing school could be for you. If you're already working in nursing and want to advance your career, a bachelor's or graduate degree could help. Offset the costs of college by checking out these 25 scholarships for nursing students.
1. American Assembly for Men in Nursing Foundation
The American Assembly for Men in Nursing Foundation sponsors five student scholarships for men who are in undergraduate and graduate nursing programs.
2. AfterCollege/AACN $10,000 Scholarship Fund
Every quarter, the AfterCollege/American Association of Colleges of Nursing Scholarship Fund awards one scholarship in the amount of $2,500. Special consideration is given to students completing an RN-to-BSN or RN-to-MSN program.
3. American Cancer Society Graduate Scholarships in Cancer Nursing Practice
Students who are studying for a master's degree in nursing with a focus on oncology or a doctorate of nursing practice can apply for this scholarship from the American Cancer Society. The award may be given for two years, with a stipend of $10,000 per year.
4. A Nurse I Am Scholarship by Cherokee Uniforms
Cherokee Uniforms awards a $2,000 nursing scholarship every year.
5. Association of Rehabilitation Nurses Scholarship
Every year, the Association of Rehabilitation Nurses (ARN) offers undergraduate and graduate nursing scholarships to members, including one full tuition scholarship for a first-time attendee to the ARN conference.
6. Cascade Healthcare Solutions Nurses Make a Difference Scholarship
This annual $1,000 scholarship from Cascade Healthcare Solutions is awarded to a high school student who has been accepted into an undergraduate nursing program or to a student currently in an undergraduate nursing program. Applicants must complete an essay for consideration.
7. CastleBranch-GNSA Scholarship
Two $2,500 CastleBranch-GNSA scholarships are awarded twice a year to recognize the notable work of graduate nursing students. Applicants must be a member of the Graduate Nursing Student Academy and have at least a 3.5 GPA.
8. Emergency Nurses Association Scholarship
The Emergency Nurses Association offers educational scholarships for nursing each year, including academic scholarships available for members and non-members seeking education up to doctoral degrees.
9. The Foundation of the National Student Nurses' Association, Inc., General Scholarship Program
The Foundation of the National Student Nurses' Association, Inc. (FNSNA) awards scholarships ranging from $1,000 to $10,000 every year. Scholarships typically reflect a certain area of specialization or certain population of the nursing profession that is often under-represented.
10. Geraldine "Polly" Bednash Scholarship
Two $5,000 Geraldine "Polly" Bednash scholarships are distributed four times a year to top nursing school applicants. Applicants must maintain at least a 3.2 GPA in their current program or last school attended.
11. Health Resources & Services Administration Nurse Corps Scholarship Program
Participants in the Nurse Corps Scholarship Program can get financial assistance for tuition, fees, and education costs, as well as a monthly living stipend, in exchange for fulfilling a service commitment at a Critical Shortage Facility upon graduation.
12. Hispanic Scholarship Fund
The Hispanic Scholarship Fund awards are based on merit and range from $500 to $5,000. Applicants must be of Hispanic heritage and have a minimum of a 2.5 GPA for undergraduate and graduate students. Awards are given to high school seniors, undergraduate students, and graduate students.
13. Hurst Review Services/AACN Scholarship
Two $2,500 Hurst Review Services/American Association of Colleges of Nursing scholarships are awarded twice a year to students enrolled in AACN schools. Deadlines are January 15 and July 15.
14. March of Dimes Graduate Nursing Scholarships
Various $4,000 scholarships are awarded by the March of Dimes each year to registered nurses who are graduate students studying with a maternal-child nursing focus.
15. National Association of Hispanic Nurses Scholarship Programs
Members of the National Association of Hispanic Nurses (NAHN) can apply for its scholarships. NAHN members must have been in good standing for at least six months before the scholarship application deadline. The number of scholarships awarded each year varies. Recipients must demonstrate promise of professional contributions to the nursing profession.
16. National Association of Pediatric Nurse Practitioners Foundation Scholarships
Members of the National Association of Pediatric Nurse Practitioners Foundation can apply for grants and scholarships offered exclusively to members.
17. National Black Nurses Association Scholarship Program
Various scholarships ranging from $1,000 to $6,000 are presented each year to members of the National Black Nurses Association who are currently enrolled in a nursing program and have at least one full year of school remaining.
18. Nurses Educational Funds, Inc., Scholarship
The Nurses Educational Funds, Inc., awards scholarships and grants for nurses who already possess bachelor's degrees but are looking for funding to complete graduate studies. More than a dozen scholarships are available each year in a variety of graduate disciplines.
19. Nurse.Org Healthcare Leaders Scholarship
Every year, Nurse.org offers a $1,000 scholarship to an applicant who has been accepted to or is currently attending a nursing program and has a GPA of 3.0 or higher.
20. Nurse Practitioner Healthcare Foundation Scholarships
The Nurse Practitioner Healthcare Foundation (NPHF) offers several awards and scholarships based on efforts like community service and for particular nursing study focuses.
21. Oncology Nursing Foundation Scholarships
The Oncology Nursing Foundation makes college scholarships available for those studying for bachelor's degrees, master's degrees, and doctoral degrees in nursing.
22. Society of Gastroenterology Nurses and Associates Scholarships
The Society of Gastroenterology Nurses and Associates offers several scholarships for RNs working in gastroenterology who wish to pursue a degree. Full-time students are eligible for $2,500 awards, and part-time students are eligible for $1,000 awards.
23. Stephanie Carroll Scholarship
The Stephanie Carroll Scholarship is awarded to an undergraduate or graduate nursing student in an accredited nursing program who plans to practice in long-term care or geriatrics after graduation. Scholarship award values vary.
24. Tillman Scholar Application
Active and veteran service members and their spouses are eligible for scholarships from the Tillman Scholar program, with awards averaging around $10,000 each. Scholarships can be used to cover tuition, fees, housing, and child care.
25. Tylenol Future Care Scholarship Program
Every year, the makers of Tylenol award a total of $250,000 in scholarship funds to 40 undergraduate and graduate students pursuing health care education.
Want to Advance Your Nursing Education?
With so many nursing school scholarships available, now is a great time to advance your nursing education. Purdue University Global offers online study for nurses in undergraduate and graduate programs. Learn about Purdue Global's online nursing degree programs or request more information today.