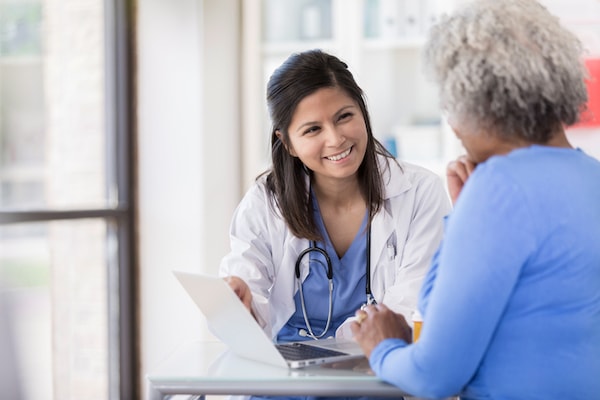 February 10, 2020 | Laura Shenkman, DNP, FNP-C, APRN, MSN
According to the Institute for Healthcare Communication, a nurse practitioner and/or staff member might conduct as many as 150,000 patient interviews during a typical career. If viewed as a health care procedure, the patient interview is the most commonly used procedure employed by the nurse practitioner and staff.
Yet communication training for nurse practitioners and other health care professionals historically has received far less attention throughout the training process than other clinical tasks. Patients' perceptions of the quality of the health care they received are highly dependent on the quality of their interactions with their health care provider and team. The connection that a patient feels with his or her provider can ultimately improve their health, mediated through participation in their care, adherence to treatment, and patient self-management.
Ineffective provider-patient communication has been linked to:
Increased malpractice risk
Nonadherence
Patient and provider dissatisfaction
Poor patient health outcomes
Given these links, the necessity of addressing communication in the primary care setting using a communication framework like the Teach-Back Method is of the utmost importance, according to the Centers for Disease Control and Prevention.
What Is Teach-Back?
Teach-Back is a patient-centered communication style based on the premise that nurses and providers (i.e., the "teachers" of the information) contribute significantly to the miscommunication issue, despite making every effort to be as clear as possible. This miscommunication occurs because we do not stop to verify whether the learner (our patient) has actually learned and processed the information or skill we are teaching. Therefore, providers must confirm that patients actually comprehend what we tell them.
This method is a way of checking understanding by asking patients to state in their own words what they need to know or do about their health. It is a way to confirm that you have explained things in a manner your patients understand.
Teach-Back is an evidence-based health literacy intervention that promotes patient engagement, patient safety, adherence, and quality. This low-cost, low-technology intervention can be the gateway to better communication, better understanding, and ultimately shared decision making. The goal of Teach-Back is to ensure that you have explained medical information clearly so that patients and their families understand what you communicated to them.
In Teach-Back, you ask patients or family members to explain in their own words what they need to know or do. It is more than just repeating what they heard—you ask them to teach it back. According to the Agency for Healthcare Research and Quality (AHRQ), Teach-Back is a strategy for you to validate that you have explained medical information clearly and that patients and/or family members have a clear understanding of what you have told them.
This method can be used by every member of the primary care team. It can be used by nurses and providers during the office visit. It can also be used by anyone who delivers patient education or provides the patient and family with information. For example, it can be used by the medical assistant when giving home care instructions or explaining how to use a device. It can also be used by front desk staff who give information about preparing for labs or scheduling follow-up appointments.
Support for the Teach-Back Method
The call to action from the Institute of Medicine (IOM) Report on Health Professions and Training underscores the importance of communication training for providers and health care team members. Similar to other health care procedures, communication skills can be learned and improved.
Communication improvement requires commitment and practice. Training providers and staff to use the Teach-Back method has proven to be an effective approach in provider and patient communication demonstrating positive health outcomes. Organizations such as the American Medical Association and the AHRQ endorse adopting universal health literacy precautions (i.e., Teach-Back; using easy-to-understand concepts and terms with all patients).
Nurses and health care providers are on the frontline and can have an impact on the literacy epidemic by providing early intervention to promote better communication of health information. Routine screening for health literacy has not shown to improve health outcomes and is not recommended. Instead, it is recommended that nurses and health care providers use understandable language and provide educational materials to all patients regardless of their literacy or educational level.
Patient communication should be purposeful and patient-centered. The likelihood that patients will gain knowledge and understanding of their health lies in the provider's ability to present information in an accurate and simple manner. Patient education materials can always be improved to be user-friendly and age-appropriate. The following strategies can be used by providers and staff according to the Institute for Healthcare Communication:
Speak clearly and use plain language, avoiding medical jargon and technical terms.
Listen carefully to the patient.
Limit information to 3 key points.
Allow time for patient understanding and questions.
Reinforce the spoken word with other teaching modules such as handouts, which should be written at a sixth-grade reading level.
Know when to involve an interpreter.
Incorporate videos, pictures, and graphs to enhance the patient's understanding.
Consider using large print for older adults.
Include the caregiver of an older adult.
Refer older adults to their community aging and disability resource center for additional assistance.
Verify the patient's understanding by allowing time for questions and clarification.
Schedule a follow up to ensure the patient understands the plan of care.
Use the Teach-Back method as it allows the patient the opportunity to explain the intended message.
Improve Your Patient-Provider Relationships With Teach-Back
Communication strategies such as Teach-Back improve health literacy which helps to transform clinics into patient-centered medical homes, addresses culture and linguistics which helps to reduce ethnic and racial disparities, and addresses national quality and safety goals; ensuring patients understand what they need to do to manage their own health.
---
---
Your Path to Success Begins Here
Learn more about online programs at Purdue Global and download our program guide.
Request Information