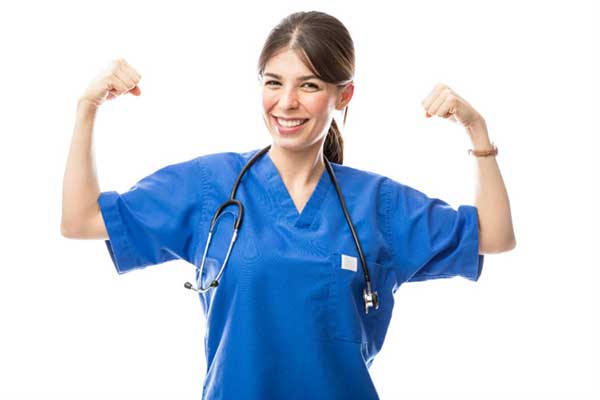 June 7, 2018 | Purdue University Global
Nursing is a job of service to others when they are most in need.
"I have been a nurse now for 29 years," says Dana Valletta, a registered nurse practicing in Phoenix, Arizona. "I have laughed, and I have cried. I have held the hand of someone in need when no one else would. I have been strong for someone when they couldn't be strong anymore. Nursing has filled my life with a truly grateful heart, and never once have I looked back to see if I made the right career choice. The career chose me."
Is this the type of career satisfaction you desire?
Every career has joys and frustrations. But nursing gets high ratings for job satisfaction—83% of respondents in the AMN Healthcare 2017 Survey of Registered Nurses either agreed or strongly agreed with the statement that they were satisfied with their choice of nursing as a career. That view stayed consistent across all age groups; 82% of millennials and Gen Xers agreed or strongly agreed, and 84% of baby boomers did as well.
If you're thinking about becoming a nurse, here are five things to consider.
1. Nurses Work Varying Shifts
The length of nursing shifts varies depending on the work environment. A nurse in a doctor's private practice or in a residential care facility might work five shifts of 8 hours each for a 40-hour workweek. A hospital nurse, on the other hand, might work three shifts of 12 hours each for a 36-hour workweek.
Why the difference? Hospitals are staffed 24/7, and 12-hour shifts provide better continuity because patients are under the care of a different nurse only twice a day. Hospitals generally consider 36 hours a full-time week. Part-time nurses work anywhere from 10 to 30 hours a week.
In the nurses' survey, the highest number of respondents, 62%, said they work between 30 and 40 hours a week. The next highest number, 29%, said they work more than 40 hours a week. And only 9% said they work fewer than 30 hours a week.
Why Is There a Nursing Shortage?
Many nurses work more than their shifts due to a nursing shortage rooted in both demographic and economic issues:
The aging of the baby boomers: This generation, born between the years of 1946 and 1964, began turning 65 in 2011 at the rate of 10,000 a day and will continue to do so until 2029. The ongoing retirement of the baby boomers is constantly affecting the number of employed nurses. In 2016, the federal Bureau of Labor Statistics found that health care was one of the few industries with more job openings than hires.
Nursing education needs reform: As noted in the 2010 report from the Institute of Medicine (IOM) and the Robert Wood Johnson Foundation (RWJF), titled "The Future of Nursing: Leading Change, Advancing Health," there is a need to transform nursing education is this country. "Nurses should achieve higher levels of education and training through an improved education system that promotes seamless academic progression," the report recommends. The number of nursing students, while growing, is not keeping up with the number of open nursing positions. A shortage of nursing faculty is one of the causes. Almost two-thirds of the nursing schools that responded to a 2016–2017 survey by the American Association of Colleges of Nursing reported that a faculty and staff shortage caused them to turn away nursing students.
The Affordable Care Act (ACA) expanded the role of nursing: Among other effects, the ACA expanded the roles of many nurses in health care overall. In its first 6 years, an estimated 20 million people were insured who previously had not been, according to The New York Times. Many of those newly insured patients were affected by chronic illnesses that had gone untreated, so they required more care. Emergency room visits increased, because those who had previously been uninsured were no longer reluctant to seek care. And an increased emphasis was placed on the role of such professionals as nurse practitioners and certified nurse midwives.
2. Nurses Love Their Work–But It's Not Without Challenges
The high satisfaction ratings reported in the survey discussed earlier are not unusual; the survey is done every 2 years, and respondents consistently report high levels of job satisfaction. Nearly two-thirds of the respondents to the 2017 AMN Healthcare survey said they would recommend nursing as a career choice. Connecting with patients, making a difference, contributing to better health, the variety of duties and environments you can work in—these are just a few of the reasons nurses are satisfied with their work.
As in any career, however, there are things that affect job satisfaction. Nursing is a demanding profession, both physically and psychologically. Some nurses worry that the demands of the job are affecting their health; others say they don't have the time they need to spend with my patients, and still others say they don't feel their leaders support them in their career development.
The nursing shortage only serves to exacerbate these situations. Most nurses enjoy the profession, but it's not without its tolls. Expect some stress and pressure.
3. Nursing Offers Numerous Career Opportunities and Paths
The career paths you can choose as a nurse are plentiful. Here are some general nursing categories:
Primary patient care: Nurses who work hands-on with patients are needed in hospitals, rehabilitation facilities, and residential care homes, and for in-home nursing care. Specialties can include neuro-trauma, neonatal, oncology, labor/delivery, anesthesia, geriatrics, acute care and orthopedics, to name a few.
School nurses: School nurses specialize in all matters affecting children from preschool through grade 12. In addition to taking care of students who get sick or injured at school, they help disabled students and those with chronic illnesses such as diabetes, allergies, or asthma with their medical needs. They have an active role in promoting hygiene, nutrition, exercise, and wellness, and they need to be familiar with the signs of substance abuse, physical and emotional abuse, and mental illness.
Nurses in private practice: Nurses in private practice enjoy an opportunity to practice independently. Of course, the type of nursing will be defined by the specialty of the doctor. Is the doctor an eye surgeon? A gynecologist? A general practitioner? The nursing care will follow suit.
Hospice care nurses: Hospice nurses care for patients at the end of life and help them live as comfortably as possible. These nurses specialize in palliative care and need extremely good communication skills to help patients and their families.
Nurse educators: Nurse educators are found in hospitals and nursing schools. In hospitals, they work with student nurses to teach patient care or alongside medical researchers. In nursing colleges, they are similar to any professor, creating lesson plans, teaching online and/or in the classroom, and evaluating students.
Leadership and administration: There are multiple levels of leadership in a hospital. Charge nurses are responsible for supervising nurses and patient care during a given shift. Nurse administrators wear two hats: They manage the nursing department as well as facilities and the budget.
Nurse practitioners (NPs): Nurse practitioners are common today in doctors' offices as part of the front line against illness and injury. Although they work under the oversight of a doctor, nurse practitioners can examine patients, make diagnoses, and prescribe medications. Nurse practitioners must earn advanced degrees in nursing, pass a licensing exam, and work for several years in the field to earn official credentials from the American Academy of Nurse Practitioners.
Certified nurse midwives: Certified nurse midwives are advanced practice registered nurses (APRNs) so they must earn an advanced degree and a certification and gain extra experience in order to practice. They monitor pregnant women throughout pregnancy and deliver their babies. In the case of complications that need a higher level of medical care, they take their patient to a hospital.
4. Nurses Combine Science and Service
If you've likely always liked science and helping people, you may have the ideal mix of left brain/right brain along with the hard and soft skills that are needed to be a nurse. But what does that mean?
Nursing is, of course, based in science. But nursing is also an art, based in the intuition and moral compass of the nurse at hand.
Put another way, a nurse needs both hard skills—education, technique, experience—and soft skills, such as communication, teamwork, problem-solving, intuition, empathy, and professionalism. According to American Nurse Today, the Journal of the American Nursing Association, "It is vital that nursing leaders mentor and create work environments that encourage nurses to develop soft skills, which will enhance the use of both teamwork and collaboration and lead to the ultimate goal of improving patient outcomes." If you want to become a nurse, you'll need to practice excellent soft skills.
5. Nursing Requires Continuing Education
Just as medicine advances, nursing care is ever-evolving, and continuing education has become a cornerstone of the profession. Requirements vary, but most states (and many hospitals) require nurses to complete a certain level of continuing education every 2 to 5 years to keep their license valid. Topics might include clinical management, controlled substances, HIV/AIDS training, pain management, bioterrorism, recognizing child or domestic abuse, ethics, and veterans' health conditions.
Should You Become a Nurse?
Let's review the points we've explored:
The hours in nursing are flexible, but sometimes expand due to the national nursing shortage (which makes for growing opportunities).
Career satisfaction is high, but nurses feel stress and pressure as well.
Career paths are plentiful, ranging from those in hospitals to private practices to nursing faculty.
Nursing is a profession well-suited to those with both hard skills, such as technique, and soft skills, such as empathy.
You'll always be learning; continuing education is common in nursing.
Learn More About How to Become a Nurse
If you think you'd be a good fit for a nursing career, it's time to take the next step. Learn more about the online nursing programs offered by Purdue University Global, a nonprofit, online public university for working adults. Purdue Global's nursing degree programs include associate's degrees (for students in Iowa and Nebraska), bachelor's degrees and multiple advanced nursing degrees. Request more information today.
Your Path to Success Begins Here
---
Learn more about online programs at Purdue Global and download our program guide.
Request Information
Your Path to Success Begins Here
---
Learn more about online programs at Purdue Global and download our program guide.
Request Information