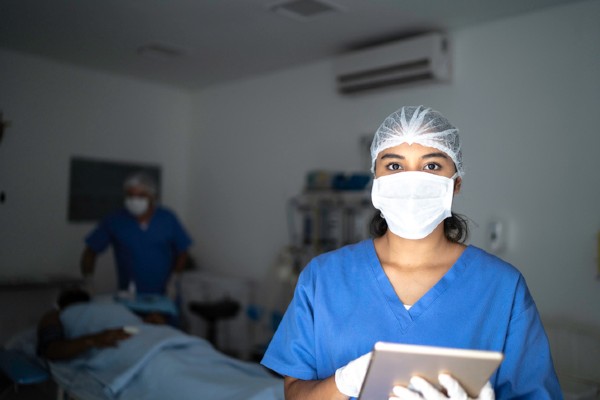 October 13, 2020 | Crystal Saulsberry, DNP
Transitioning from nursing student to a practicing registered nurse (RN) can be exciting and challenging for the advanced beginner. An advanced beginner, according to Patricia Benner's Stages of Clinical Competence, is a new graduate who has the knowledge to recognize components of situations but lacks the depth of experience. As a first-year RN who is just starting, it's useful to implement the organizational and time-management skills you developed in nursing school to prepare yourself for nursing practice. There are some steps you can take while transitioning to practicing that can help reduce anxiety and build confidence. Preparing to transition to practice as an RN includes:
Finding a mentor
Managing expectations
Improving time-management skills
Practicing self-care
Find a Mentor
Consider what qualities you want in a mentor. A mentor can exist inside or outside of the workplace and can help you build confidence and develop your communication, problem-solving, and critical reasoning skills. The mentor can be a resource for learning new skills, answering questions, and addressing concerns while creating a trusting relationship. That trusting relationship can translate to patient care. Nurses have been rated highest among a number of other professions as having high levels of honesty and ethics, according to a 2020 Gallup poll. Acknowledge you do not know everything and appreciate your mentor's advice as an honest assessment of your job performance.
Manage Expectations
An advanced beginner nurse brings basic knowledge and skills learned in nursing school to the practice setting. Plan realistic goals, as setting high expectations for oneself may result in disappointment. Understand that there is a period of new learning that happens during the transition period.
As a nursing student, your workload was supervised by a clinical instructor. As a practicing nurse, you are expected to provide care with a full workload, managing multiple patients with varying levels of acuity. Understand you will make mistakes and may not complete tasks on time, but realize this is all part of the learning curve during a new nurse's journey.
During orientation, it is important to have a discussion with your nurse preceptor, nurse manager, and charge nurse about how to gradually increase your workload. A gradual increase in workload will allow a new nurse time to gain confidence in clinical decision-making and manage any concerns about feeling overwhelmed.
Improve Time-Management Skills
Managing your time is a learned skill. Competent nursing care requires successfully completing multiple tasks with varying levels of priority. Effectively organizing patient care activities helps to reduce stress levels and increases patient safety. Strategies for developing good organizational skills include:
Creating lists
Prioritizing patient care from highest to lowest importance
Multitasking or clustering activities when possible
Delegating
Asking for help
Taking breaks
Practice Self-Care
Caring for others is a large component of being in the nursing profession. The interventions nurses perform for patients are direct examples of the altruistic morals that nurses possess. Nursing includes constant teaching, building trust, and advocating for patients and their families while laboriously administering care. This innate motivation to care for others often overshadows how nurses care for themselves.
The American Nurses Association (ANA) recognizes that the emotional and physical demands of nursing are stressful and affect the overall health of nurses.
Learning how to manage the stress and impact you might experience as a new nurse caring for others begins by caring for yourself. Caring for yourself will help to support your own mental and physical health. Some aspects of self-care should be easy to implement into your new working schedule.
In a 2018 article for Psychology Today, Tchiki Davis recommends several ways to incorporate self-care into your routine. These include:
Getting adequate sleep
Taking time for daily exercise
Eating right
Spending time outside
As you embark on your first year of practice, you will be challenged to grow both professionally and personally. The need to build and enhance clinical judgment, knowledge, interpersonal communication, and specialty- specific skills are important aspects of a new nurse's transition to practice. Utilize your mentor, nurse colleagues, nurse manager, and charge nurse for support with decision-making and seek out constructive feedback for areas of improvement on an ongoing basis. Nursing roles may vary based on specialty, but applying these important strategies will help ensure a seamless and successful transition into practice.
Enhance Your Education With Online Nursing Degree Programs
If you're interested in advancing your education to include an RN-to-BSN degree or an online master's degree in nursing, Purdue Global offers a number of online nursing programs to help you meet your career goals. Request more information to learn more.