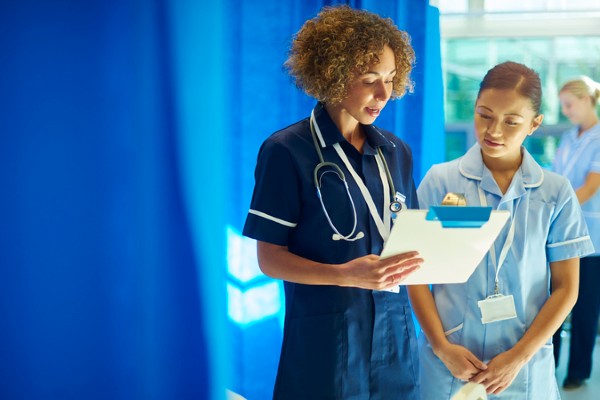 April 23, 2021 | Purdue Global
Securing clinical placement experiences is an essential component of graduate nursing education, one that requires a lot of preparation and work from each student. At Purdue Global, we encourage students to take the lead in identifying their clinical sites and offer resources and support to students throughout the process. We have found the most success with placements when students utilize their own personal and professional networks, so you need to know how to be prepared.*
To get insight on how to find a preceptor and what to expect, we talked to Michele McMahon, DNP, associate dean in the School of Nursing, and Raciela Austin, nursing faculty member at Purdue Global. Alexandra McCann, a Master of Science in Nursing student, also shared her experiences.
4 Things to Know When Exploring a Clinical Placement
Clinical experiences provide intensive training for students in clinic and hospital settings, and an opportunity to demonstrate the competencies required of a student in each specific concentration. These experiences provide robust real-time encounters to help them prepare for a number of clinical practice settings. Purdue Global requires a clinical placement for the Master of Science in Nursing and all postgraduate certificate programs.
Here are four things to know about a clinical placement for nursing students:
Take the lead in finding your clinical sites. It may be helpful to create a plan of action and execute it. Read on for tips on finding your placement and review the Purdue Global Clinical Site Checklist and Guide.


Know the requirements and the time commitment. Your Purdue Global clinical placement must be approved by the School of Nursing. There are specific types of sites you'll need to identify. Be sure you review the requirements in the clinical student handbook.


Remember that you will be a guest at the clinical facility and a representative of Purdue Global. Each clinical facility is unique and may do things in different ways. It's important to be open to following the policies and procedures of your clinical site. "Just remember—you can always learn something. Take from the experience everything you can," McCann says.


Watch out for organizations that advertise placements. These groups charge students to find a nurse preceptor. "We don't encourage students to spend their money on those," Austin says.
Seek help if you have any questions about clinical placement. Ask your clinical student manager (CSM) and take the time to familiarize yourself with the resources provided to assist you in navigating the process.
10 Things to Do When Seeking a Clinical Placement
McCann has completed her clinical rotation requirements at Purdue Global, using her personal and professional contacts to identify the clinical sites herself. Networking is key, as she states that she also has been successful in referring and connecting classmates to potential preceptors. She and Austin shared a few tips on how to find a nursing preceptor:
Start early. "Many preceptors can accommodate only one student," McCann says. "I started my preceptor requests as soon as the system would allow me to enter data—most at least 12 months out." By identifying a clear timeline for all clinical rotations within your program, you are able to anticipate the specific requirements for your rotations and begin outreach long before you move into the clinical courses.


Look for the experience you want. "I targeted specific offices and clinics," McCann says. "Then, I did my research online to find out who the players were, how many physicians and nurse practitioners were there, and then found phone numbers to call." Be sure you know the specific site requirements for each clinical course, found in your clinical student handbook. Example rotations are provided in the clinical student handbook to guide you in the right direction.


Talk to the right person. "When contacting an office, ask for the office manager and not the physician or nurse practitioner," she says. "The office manager controls the office staffing in most cases."

For bigger organizations, contact the corporate office. "Someone there can connect you to the nursing department or human resources," Austin adds.

We recommend that you approach clinical sites with all of the relevant information. You may want to consider creating a folder with your CV, clinical rotation dates, and the clinical facility handbook. This will provide the site with information about your experiences as well as the course descriptions and objectives for each course.


Check with nearby chapters of nursing practitioner organizations. "Become student members," Austin says. "Not only will you find people who are willing to precept students, you'll get a lot of information from them." The American Association of Nurse Practitioners is the largest organization, but others related to certain specialties are available, also. Do some research to find the best fit.


Network, network, network. "I went to a local church where I met two physicians. I am currently doing a preceptorship with one and the other has asked me to come to his clinic during the next semester," McCann says. Also, consider networking with your classmates. If students have a good experience at a clinical site, "their preceptors will be willing to accept referrals for future [terms] semesters," McCann says. In addition, many nurse practitioner organizations offer monthly meetings and lectures. This is a wonderful opportunity to network and build connections to providers in your local area or chapter.


Try preceptor networking websites. Each state usually has a nurse practitioner organization that includes resources to connect students with preceptors. Research any nurse practitioner organizations in your state. You can also consider professional networking sites, such as LinkedIn. Look for somebody in your area.


Have a resume prepared. "List all of your qualifications, your background, and the skills that you've already learned as a nurse," Austin advises. Contact Purdue Global's Career Services department if you need help developing your resume.


Move on as necessary—not everyone says yes. "For me, some [preceptors] were already booked, some only worked with one school, and some just didn't want to serve as preceptors," McCann says. "No problem—just pick up the phone and go to the next one."


Be ready for the unexpected. Clinical placements can be unpredictable. You may start early with your networking efforts and be persistent in your follow-up, but still find it challenging to find a site—until suddenly an opportunity becomes available. Or, you may have a site become unavailable at the last minute. It's important to be patient with the process and remember there are always options.

"As a student, my pediatric rotation had been secured a few months prior to my rotation start date, and the site had cancelled the day before I was supposed to report to clinical," McMahon, also a family nurse practitioner, recalls. "I spent the next day driving to multiple sites and was able to secure another preceptor by the end of the day. Ironically, as I approached the office manager for the last clinic I had on my list a student from another school had overheard that I was turned away for placement at that site. She caught me as I was approaching the door to leave and handed me a piece of paper with a clinic name and number and recommended that I call them. I called as soon as I reached my car and they scheduled a time to meet with me the following day. I was able to successfully secure my rotation and fulfill my program requirements."


Work with your Purdue Global clinical student manager (CSM). They can help you identify any other strategies to be successful in your outreach and assist in coordinating any questions your contact at a potential clinical site may have.
Lining up your placement will be a great accomplishment, setting you up for success on your way to your new nursing degree at Purdue Global. Next, prepare for the reality of the placement.
3 Things to Do When Taking a Clinical Placement
There are a few things to prepare for when taking a clinical placement. Austin and McCann offer the following tips:
Know that you'll have to wait for approval. "If Purdue Global has an established affiliation agreement, you could be ready to go in as few as two to four weeks," Austin says. "If there is no affiliation agreement, approval could take from one to two months or longer."


Show up to your clinical site ready to learn. "Let [your preceptor] know that you are there to learn and that you want to be totally immersed in whatever you can," McCann says. "Don't pretend to know everything. Be open to whatever you can learn."


Maintain a respectful and professional working relationship with your preceptor. "If you disagree with the preceptor, address it tactfully outside of the range of the patient," McCann advises. "Remember, the patient belongs to the preceptor and not to you. Respect the practice and hospitality of your preceptor. Remember, they are investing their time into you. Be professional."
Taking these tips to heart can help you get the most out of your preceptorship with Purdue Global and will help you meet your nursing clinical placement goals.
Take the Next Step in Your Nursing Career
McCann says choosing Purdue Global was the right decision to grow her career.†
"Purdue Global has a good reputation," she says. "Their fees looked reasonable, their curriculum is solid, and they did not require me to travel to be onsite every few months. Their time allotment fit my busy schedule, and it just made sense."
Purdue Global features several online degrees and certificate programs for nurses. Among these are the RN-to-BSN and Master of Science in Nursing degree programs. Find out more about your options and get your questions answered today by requesting more information.
---