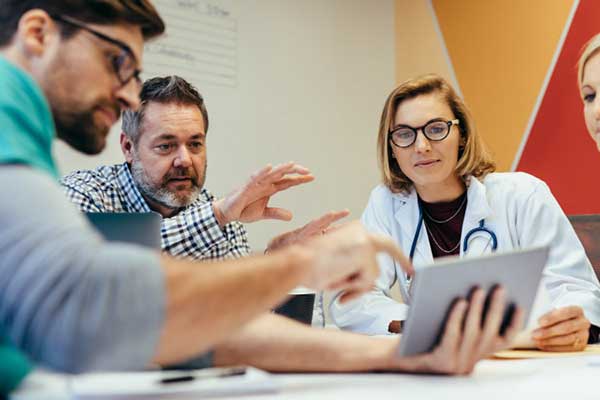 May 23, 2018 | Purdue Global
|
Updated January 15, 2021
A terminal degree is the highest degree that can be awarded in a specific academic track. In nursing, one terminal degree is the Doctor of Nursing Practice (DNP). If you are an advanced practice registered nurse (APRN) with a Master of Science in nursing (MSN) who's considering going back to school to earn a DNP, then this article is for you. We spoke with two leaders in the field about the MSN to DNP path and the possible career outcomes.
What Are the Benefits of Earning a DNP?
The DNP helps prepare nurses to pursue clinical and leadership positions as nurse practitioners, executive leaders, medical and health services managers, expert clinicians, and nurse educators. It's important to note, however, that the DNP is strictly an academic degree.
"It doesn't have any licensing or certification implementations," explains Deborah Adell, graduate academic chair in the School of Nursing at Purdue Global. "It does allow the student to function and provide services in the upper level of a larger health care system."
Amy Daly is the DNP program lead at Purdue Global. As Daly explains, "Someone with a DNP would collaborate with individuals or groups to initiate changes that improve health outcomes of large groups of people, such as in a policy development role for the government or a large health care system. This is as opposed to, for example, a BSN- or MSN-prepared nurse, who is more involved in one-on-one patient care or within a hospital system."
If you hold an MSN and aspire to go into upper-level management, administration, or policy writing at the governmental hospital system level, then earning a DNP might be a good starting point. And according to the Bureau of Labor Statistics (BLS), there is an increasing need for health services managers. The BLS states that the employment of medical and health services managers is expected to grow 32% from 2019 to 2029. This is much faster than the average for all other occupations (4%).*
"It would be rarer for an MSN-prepared nurse to become involved at the larger system level," Adell says. "Today, it is more likely that that person with the DNP is going to be the one working on policy development and management.".
How Long Does It Take to Earn a DNP in an Online Program?
An online MSN to DNP program is a good option for working nurses who already lead busy, full lives. Purdue Global offers an online DNP program which, Adell says, usually takes students anywhere from 18 months to about 2-1/2 years of full-time study to complete, depending on the number of supervised practice hours you bring into the program and how many classes you can take in a term.
The DNP: An Instrument for Change
"A DNP enables nurses to be instrumental in making policy changes and to serve as an advocate for patients, families, and communities," Daly says. "Many of our students feel that the DNP puts them at a level of collegiality with other disciplines, so they will be respected and their voice will be heard. I think that's a great point about the DNP program: It elevates the nursing profession to an even playing field."
If you'd like to learn more about the online DNP degree at Purdue Global, visit our program page. You can also request more information here.